The Inveresk Library designed by Wardle, was inspired by a sense of discovery and the excitement of remapping a historically significant part of the city to create an utterly contemporary learning environment. Set over three levels, the Inveresk Library offers group and quiet study spaces, digital and print collections and resources, meeting spaces and classrooms, featured artworks and cultural objects, plus shared spaces for the community surrounding the University of Tasmania campus in Launceston.
The design process of the Inveresk Library involved thorough consultation with the local community, including Tasmanian Aboriginal voices of the Palawa people. This inclusive approach ensured that Indigenous experiences and knowledge are interwoven within the spaces, creating a truly immersive and authentic environment. As a result, the library stands out as a prominent feature on campus, offering a distinct sense of arrival, journey and orientation.
With its open and welcoming design, the library serves as a vibrant hub for the community, encouraging active engagement and participation whilst fostering collaboration and knowledge-sharing among its diverse users. The Inveresk Library is a testament to the power of design to blend contemporary aesthetics with the rich heritage of a region, while embracing inclusivity and facilitating the pursuit of knowledge.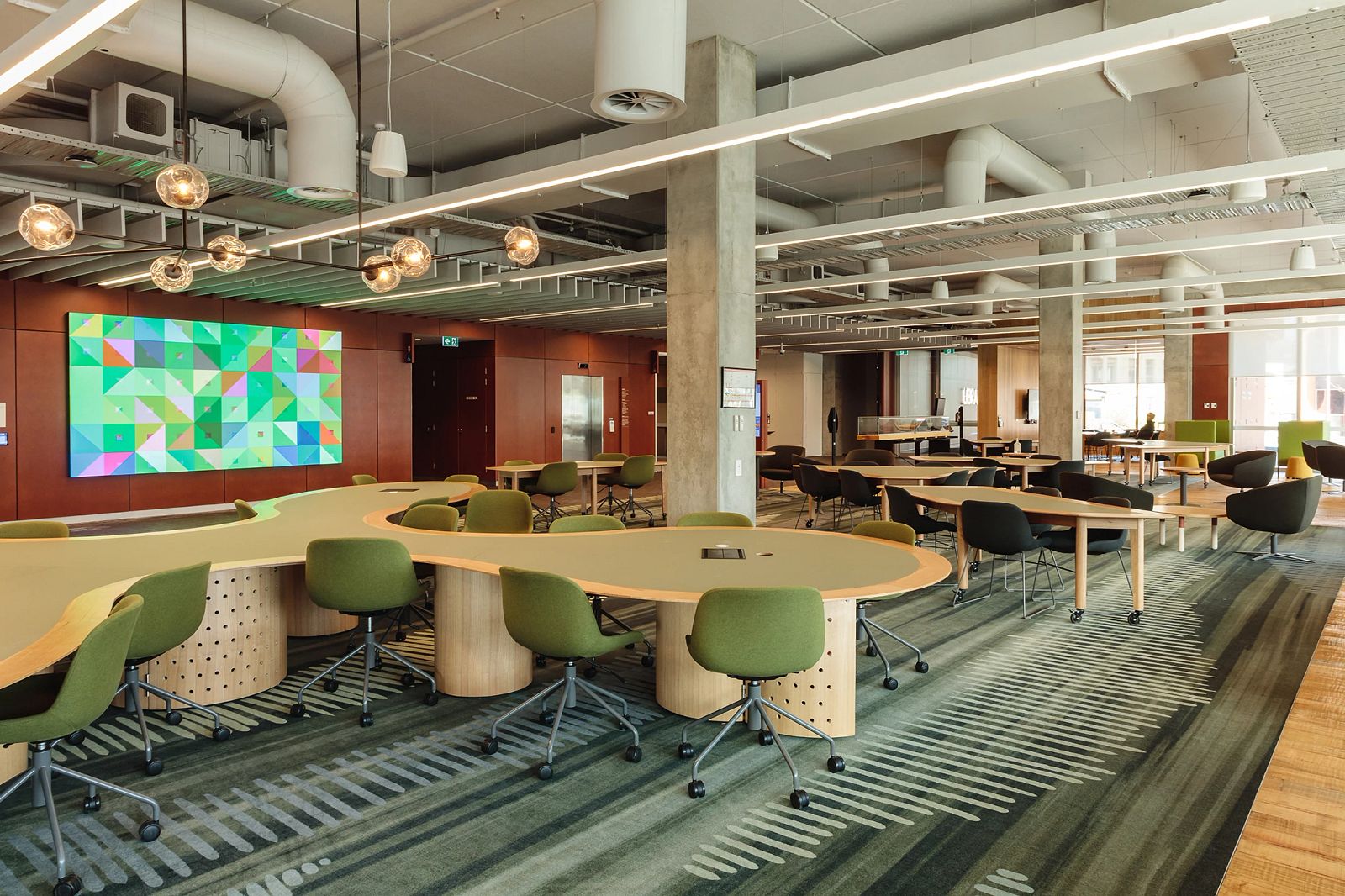 All photography by Kelly Slater
Drawing Inspiration from
Country and Culture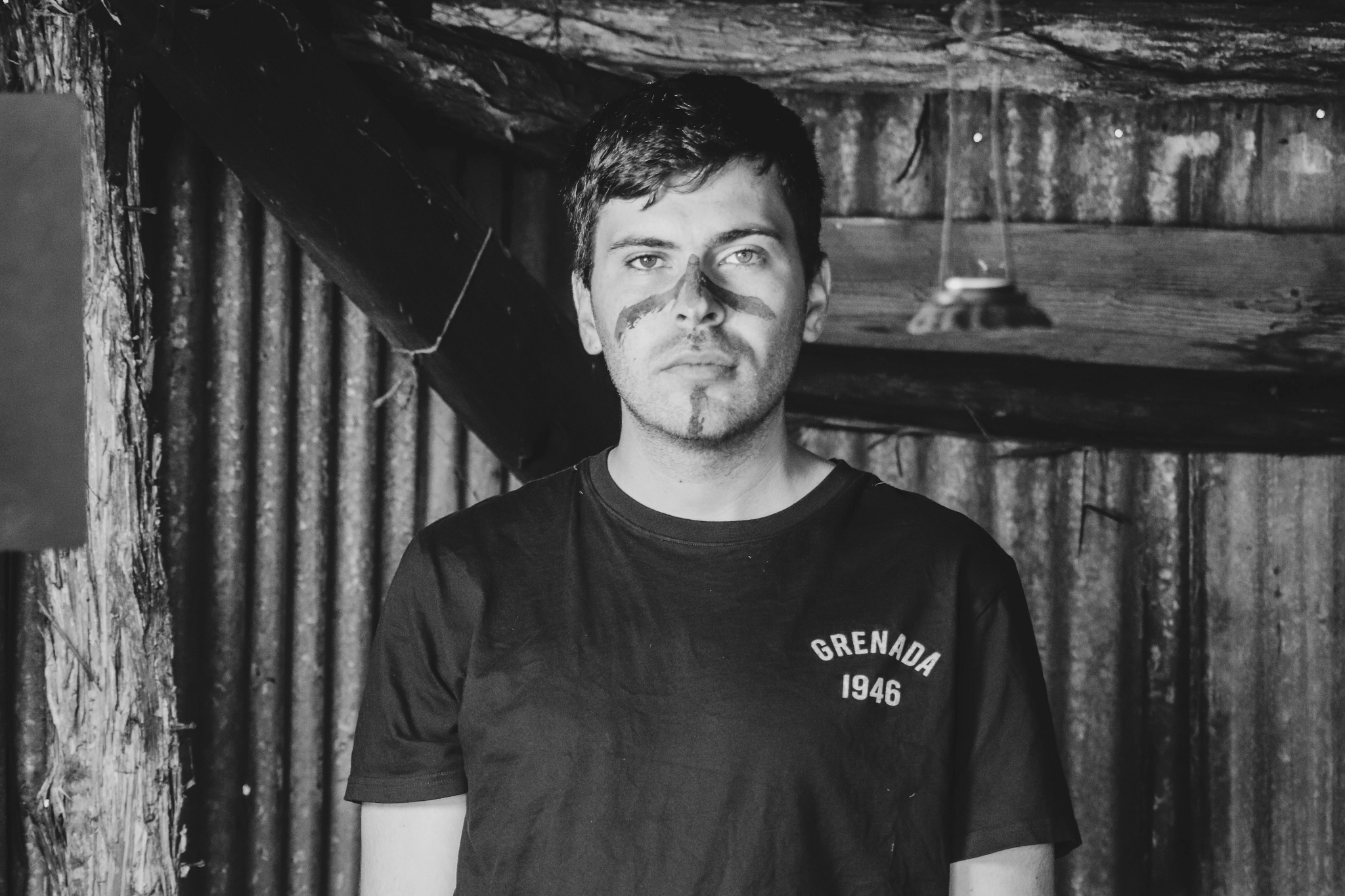 Inside the walls of the University's new Library are unique artworks telling the story of an ancient culture that lives on across the site. The University of Tasmania commissioned Tasmanian Aboriginal artist Caleb Nichols-Mansell to design feature rugs for the building's interior as a means of reflecting and celebrating culture, history, and identity. Caleb Nichols-Mansell is an early career mixed media artist and the Founder of Blackspace Creative Arts and Cultural Hub. He is a proud Tasmanian Aboriginal man with deep connections to country, community, culture, and spirit which all inform his practice and process as an artist and leader.
"Growing up in Launceston, I spent a lot of time exploring and connecting to Country. There was always something mystical about this waterway that drew me in, it was like an energy. It was important that I brought kanamaluka from outside into the campus and told the story of how it supported our Old People and still connects and supports our community today."- Caleb Nichols-Mansell.
Janette Burke, University Librarian, and Caine Chennatt, Director of Curatorial and Cultural Collections, jointly initiated and curated the art commission in collaboration with Arts Tasmania. Caleb spent several weeks visiting and studying the river's flow, lighting, colours, and natural forms, creating a mood board to help conceptualise his artwork. The designs were achieved with assistance from digital tools and all elements were individually hand drawn.
Caleb Nichols-Mansell created seven custom rug design concepts which are positioned across all three levels of the Library building - each anchored by kanamaluka, the nearby Tamar River.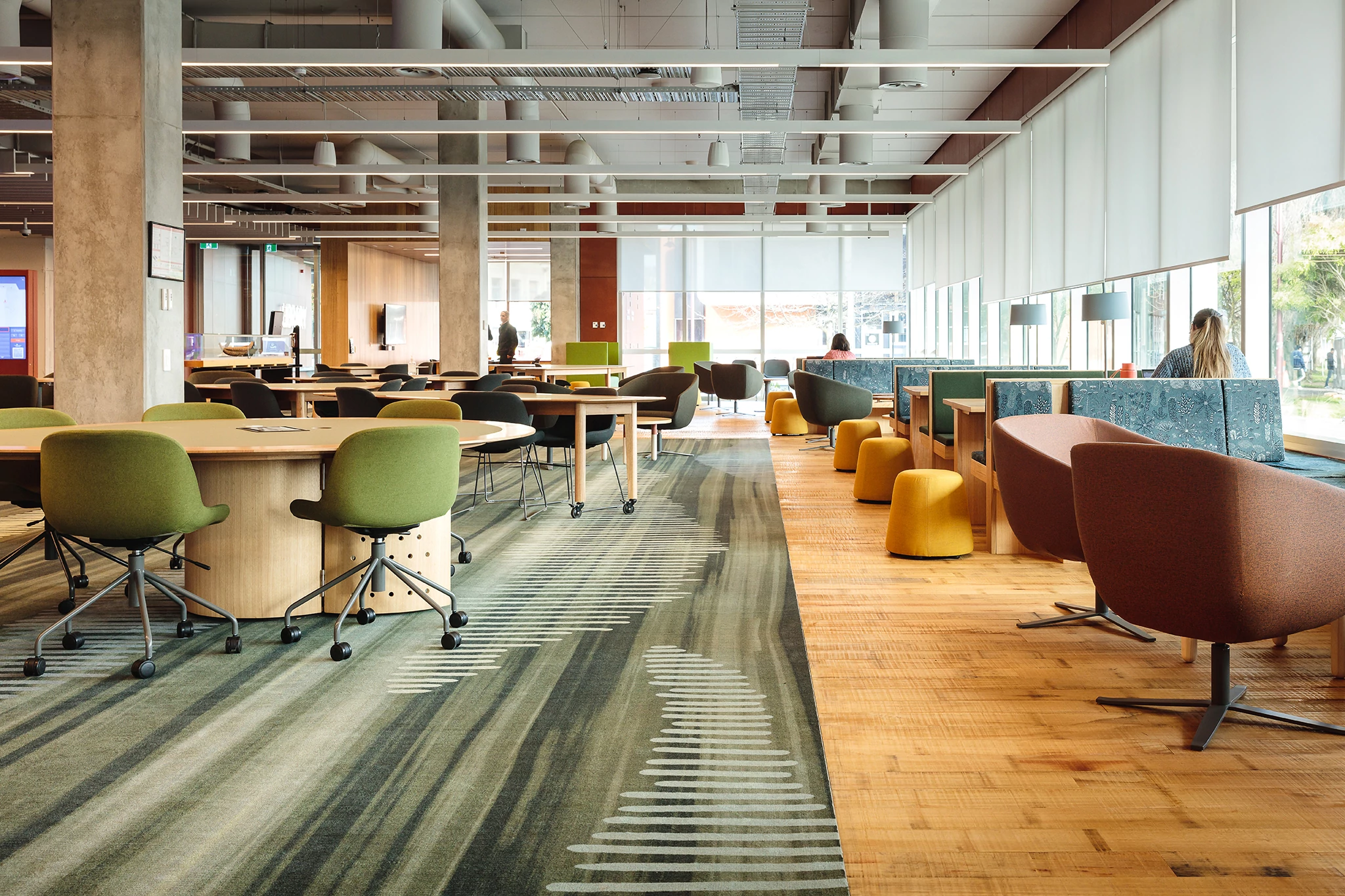 Wetlands
Wetlands represent the reeds and wetlands that surround the local area, in particular those attached to the kanamaluka. These wetlands sustain life and provide needed resources which are used to weave our cultural baskets. Our Old People would travel the kanamaluka in their ninga hunting native wildlife that was abundant. Moving through the reeds, living in harmony with the waterways and country they called home.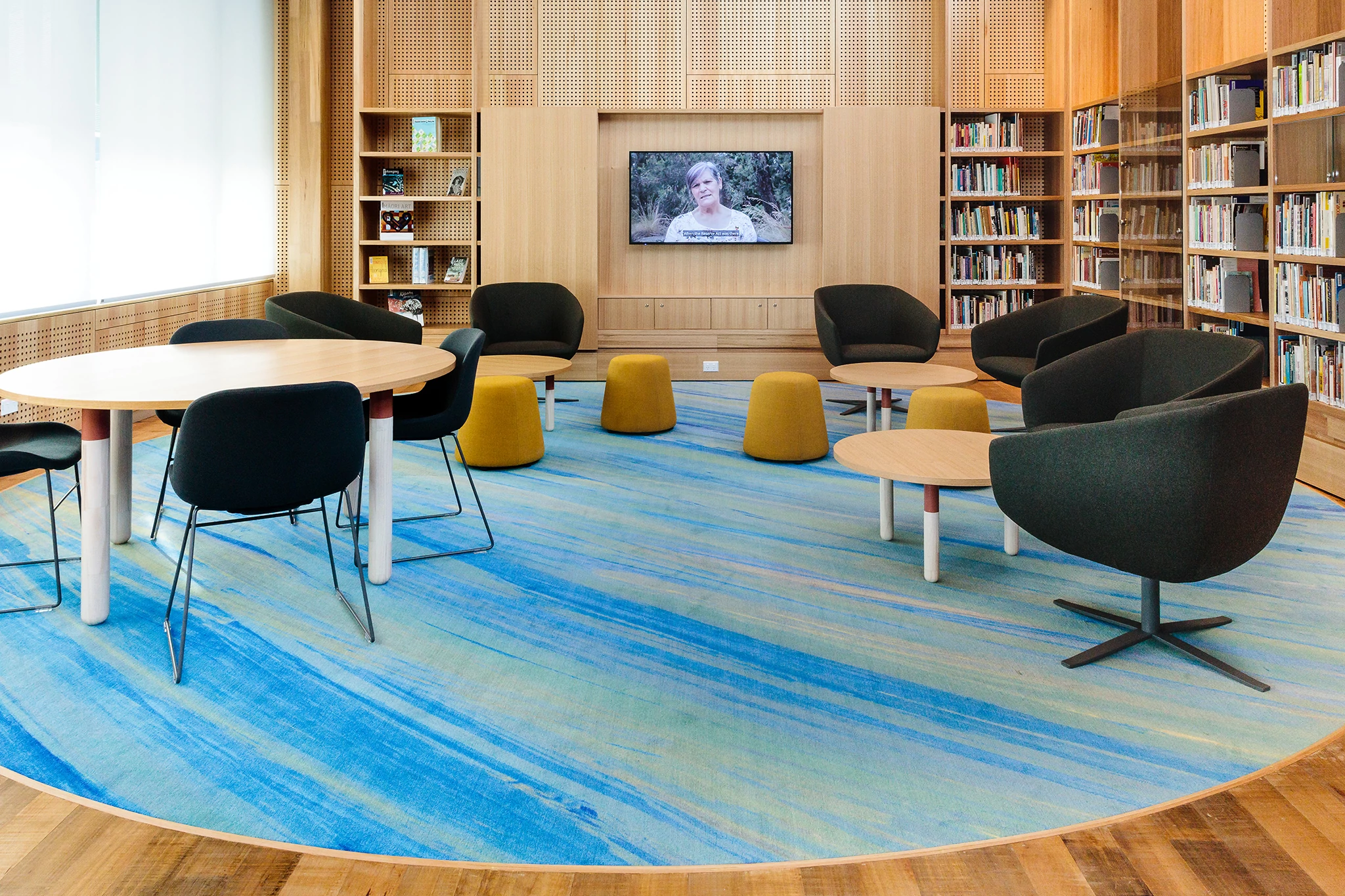 Muka/Salt Water
Muka depicts and pays homage to salt water Country. Country our community are familiar with and even more so our women who frequent these waters to harvest food and natural resources. The colour palette is feminine but the lines are strong. Just like our women this design represent strength and beauty. At the right time, on the right tide, Country gives us what we need and not what we want.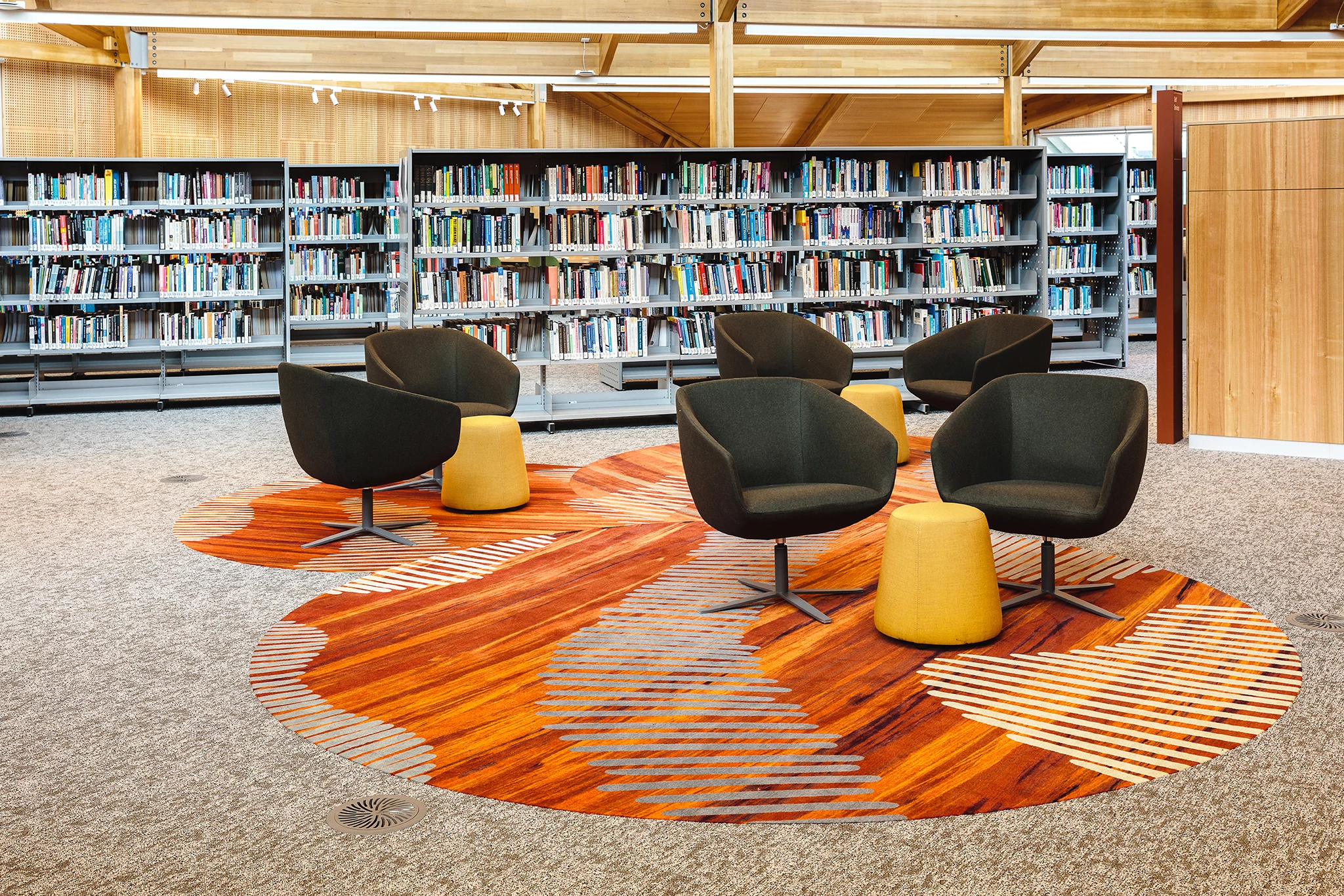 kanamaluka
The earthy tones are inspired by our natural ochre pigments found throughout the local region. The free flowing shapes, made by lines represent the winding flow of the kanamaluka and surrounding waterways which provided food and natural resources. The lines are a reference to the reeds and fibres found throughout the kanamaluka, in particular the wetlands in which this design is tied to.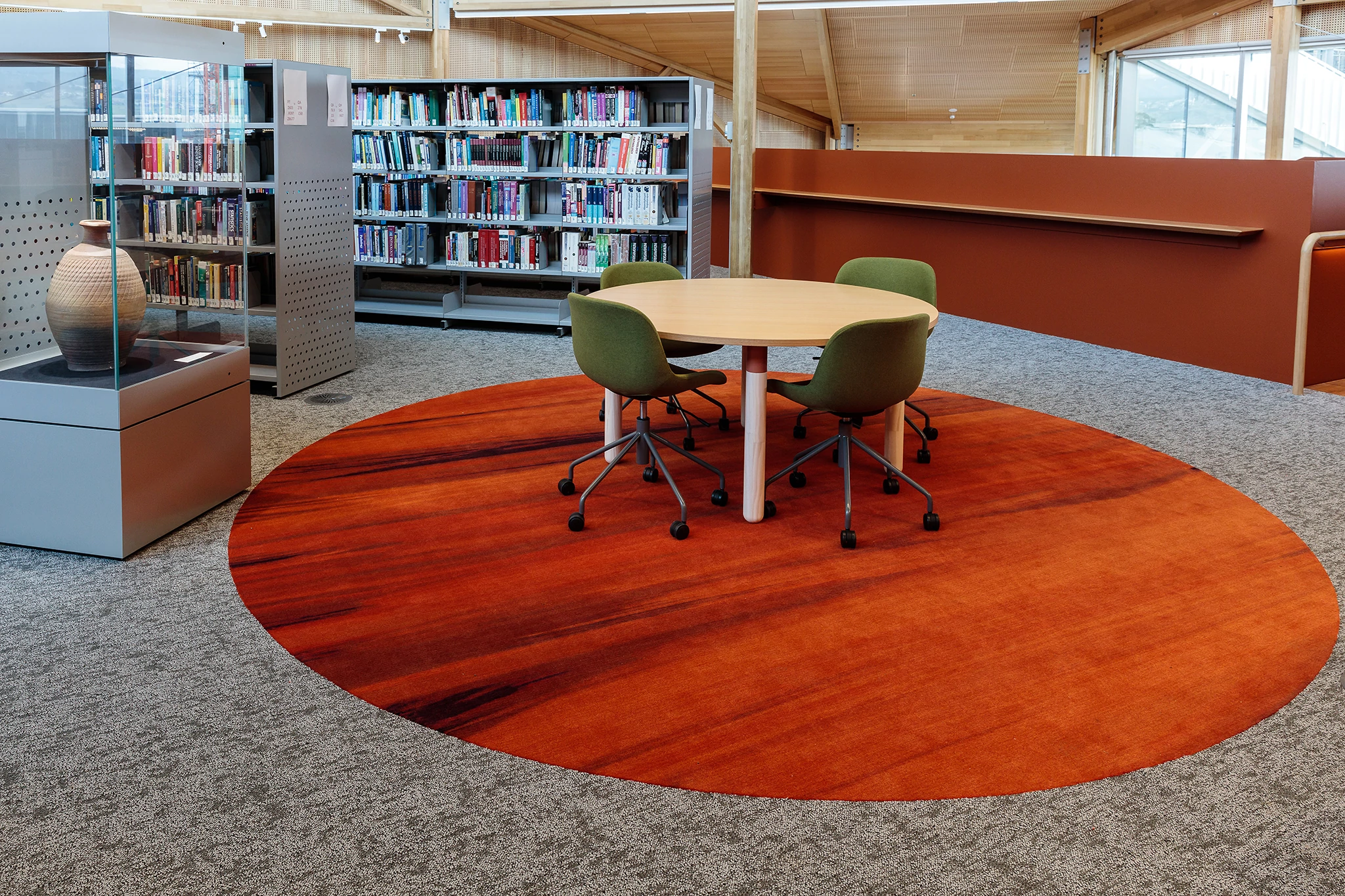 Flats
Flats depicts the tidal mud flats found along the banks and mouth of the kanamaluka as the tide comes in and out. This is a familiar sight for our community as it is usually on this low tide that we go out looking for our beautiful Maireeners shells to make kanalaritja/shell necklaces. The black that runs as stains throughout the design represent the soot that now pollutes this important waterway due to human interference.
The journey of an artist starts with a blank canvas, but now that canvas extends to the very floor itself. Caleb was able to reimagine what's possible in custom flooring design with Canvas by Shaw Contract, an innovation that blurs the line between space and design, opening the possibilities of custom carpet manufacturing. Canvas technology empowers artists to partner with Shaw Contract, combining their artistic vision with our manufacturing expertise. This collaboration begins with a blank canvas, where artists can unleash their imagination and bring their artwork to life.
"The opportunity to create artwork at the size and scale afforded by this technology dramatically changed the way I was able to conceptualise and then execute the design. It added a layer to my usual workflow which I really enjoyed as well, being able to work with the architects and really create something with depth and meaning not just on the cultural level but at an architectural level as well. Deepening the connection between place and space which was important with this particular project." - Caleb Nichols-Mansell
Through close collaboration and a meticulous printing process, an artist's vision is seamlessly translated onto our carpet. Shaw Contract's state-of-the-art custom Canvas printing capabilities ensure that every detail, brushstroke, and colour nuance is faithfully reproduced with exceptional clarity and precision using 76 dpi high-definition, dye injection technology.
The result is a stunning, one-of-a-kind carpet that transforms spaces into immersive works of art.
Canvas Technology by Shaw Contract
Canvas technology brings creativity to life in precise lines, photorealistic detail, vivid colour and smooth gradients – all translated in 76 dpi high-definition, dye injection technology delivering five times the clarity of existing carpet colour processing machines. Canvas offers high-speed
production without compromising colour, detail, precision and performance.
Caleb Nichols-Mansell
Caleb Nichols-Mansell is an early career mixed media artist working predominantly in graphic design and public art. He is a proud Tasmanian Aboriginal man with deep connections to country, community, culture, and spirit which all inform his practice and process as an artist and community leader.
Wardle

Wardle are a studio of architects, inventors, designers, and makers that navigate beyond conventional practices into the emerging. Their philosophy is underscored by five pillars: With Country, Climate Active, Collective Memory, Material Invention & Blurring Boundaries.
University of Tasmania

The University of Tasmania (UTAS) is a public university, located in Hobart, Tasmania. Founded in 1890, it is Australia's fourth oldest university. They value the creation, expansion and dissemination of knowledge, and the promotion of continual learning. UTAS are on a common journey to unlock and develop potential, foster talent and contribute to the life and work of our students, staff, alumni and wider society.