Pull a pop of energy into your interior
Using the colour orange in today's commercial interiors, injects a feeling of energy: bright, positive and exhilarating! Orange, like the colour yellow, is known as the colour of teamwork and is used in creative environments to raise feelings of positivity and stimulate mental activity.
This on-trend colour is represented in Shaw Contract's new carpet tile collections Colour Construct, Living Systems and Auxiliary too, all made in the UK. Our Design Manager EMEA, Kerry Deffley, has curated this special colour palette themed around the colour orange using our UK manufactured and stocked products.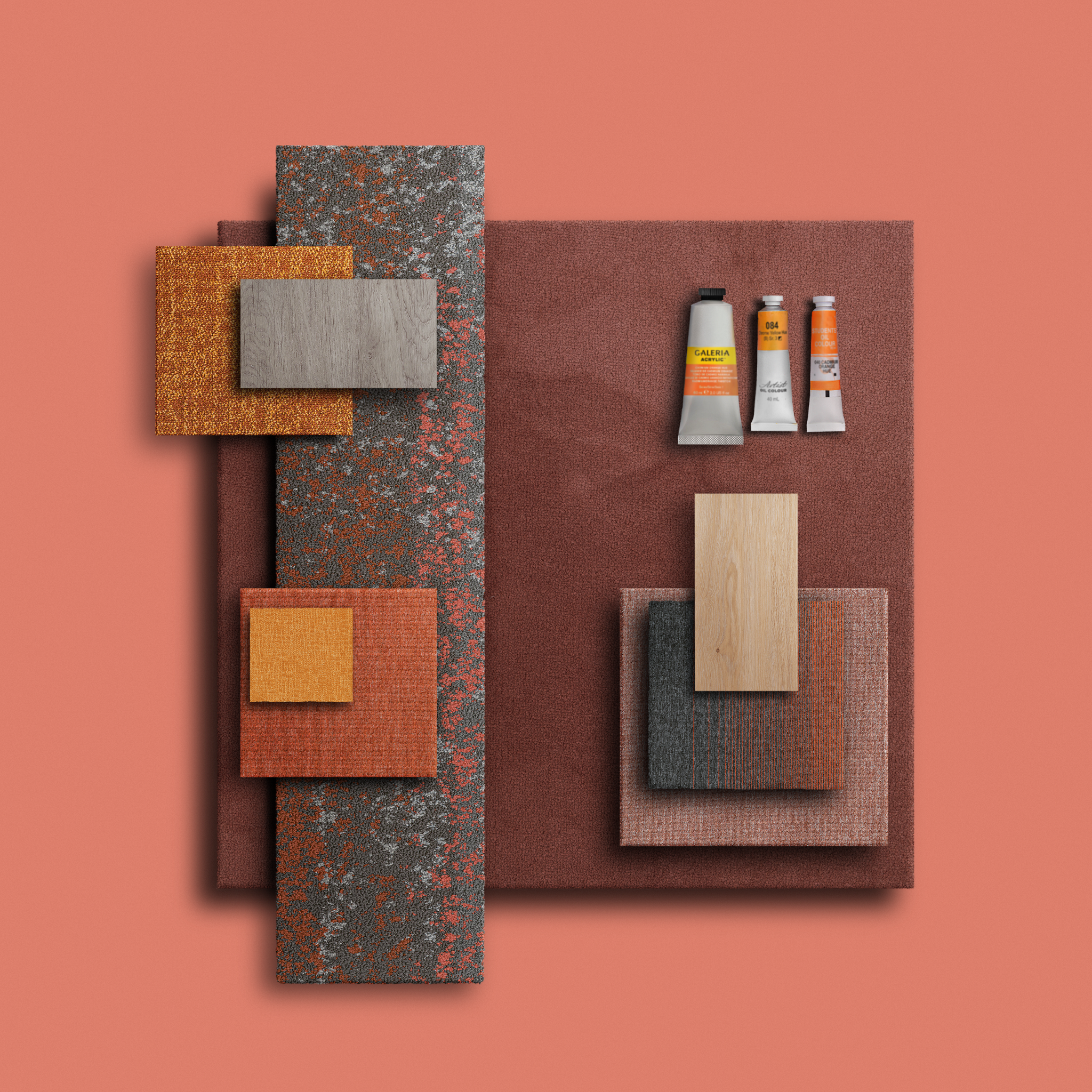 Orange, pink and yellow tones combine beautifully with soft greys and wood tones.
Take a look at these idea starters
All styles and colours are available from the UK and feature carpet tiles: style 5T386 Pixel Square in colours Tangerine (53675) and Orange (53668), style 5T383 Complement in colours Blush (83675) and Coral (83866), style 5T385 Feature in colour Pebble/Coral (83866); style 5T367 Observe Colour in colour Fragile Coral (05865), and style 5T014 Dye Lab in colour Sandalwood (41665).
Complemented by LVT style 1026V Inlet in Spindle (26140) and Beech (26502).
The Auxiliary carpet tile collection features a stunning deep orange/pink option called Coral. Available in style Complement it provides for simple or intricate transition layouts when this style and colour is combined with Pebble/Coral in styles Detail and Feature from the Collection.

In the new Living Systems collection, colour Fragile Coral offers a stunning look with orange and grey tones combining in patterns that are organic, with an authentic biophilic representation inspired by and mimicking vegetation and the grainy or broken textures of rock.
Meanwhile with Colour Construct, colours Tangerine and Orange are available in both shapes - Pixel Square (50 x 50 cm) and Pixel Rectangle (25 x 100 cm) and offer bright tones to work with.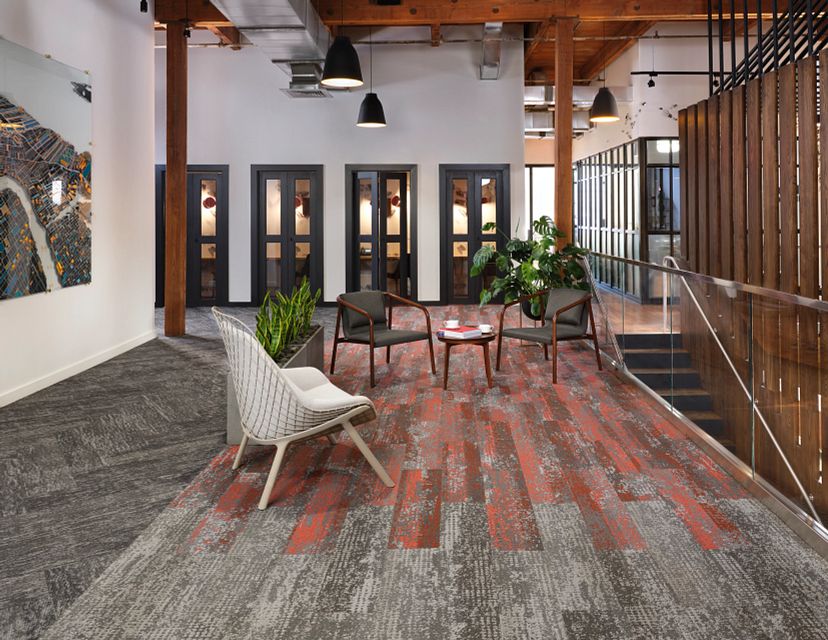 Featured: style Respond Colour in colour Fragile Colour
Choose coral tones and mix with neutral greys
The Living Systems collection features colour Coral in style Endless and Fragile Colour in styles Observe Colour, Respond Colour and Transform Colour.
Inspiration from natural dyes
When we revisited our iconic Dye Lab collection with newly curated colourways, colour Sandalwood was introduced. A native tree to India and Indonesia, sandalwood yields dyes ranging from pink and salmon to orange and brown shades.
Dye Lab tile draws inspiration from natural dyes and mimics the colour shifts rendered in naturally dyed textiles, creating an elegant and unpredictable visual. With colour Sandalwood, shades like rosewood, blush colours and greys work well in combination.
Dye Lab brings lush intimacy or expansive boldness to the spaces where we work, rest, collaborate and meet.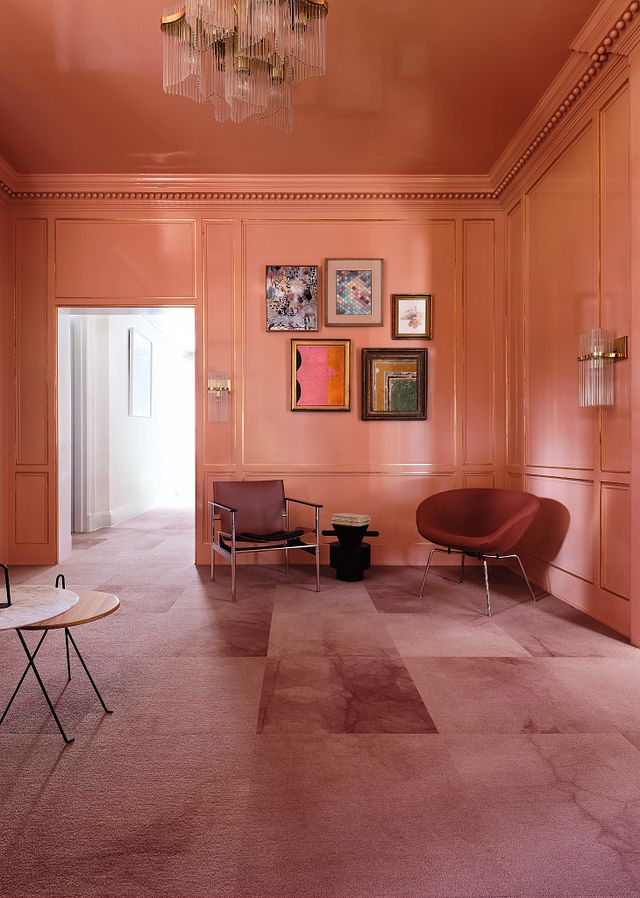 Featured: Dye Lab in colour Sandalwood
Inspiration from natural dyes
The Dye Lab collection palette draws inspiration from nature, a colour journey of experiments with natural dyes including orange/brick tones of Madder Root, orange/yellow tones Osage Orange and the stunning orange/pink tones of colour Sandalwood.