Pull a classic look into your interior
Underpinning the design inspirations of Shaw Contract's EMEA flooring collections is our colour trend forecast, compiled by the Global Design team. Called Colour Connect, it provides a snapshot into global colour trends currently having an impact.
As we focus on how we use design to connect with our communities, the earth and re-connect with others and ourselves, in each of this Forecast's four chosen palettes, blue tones are featured.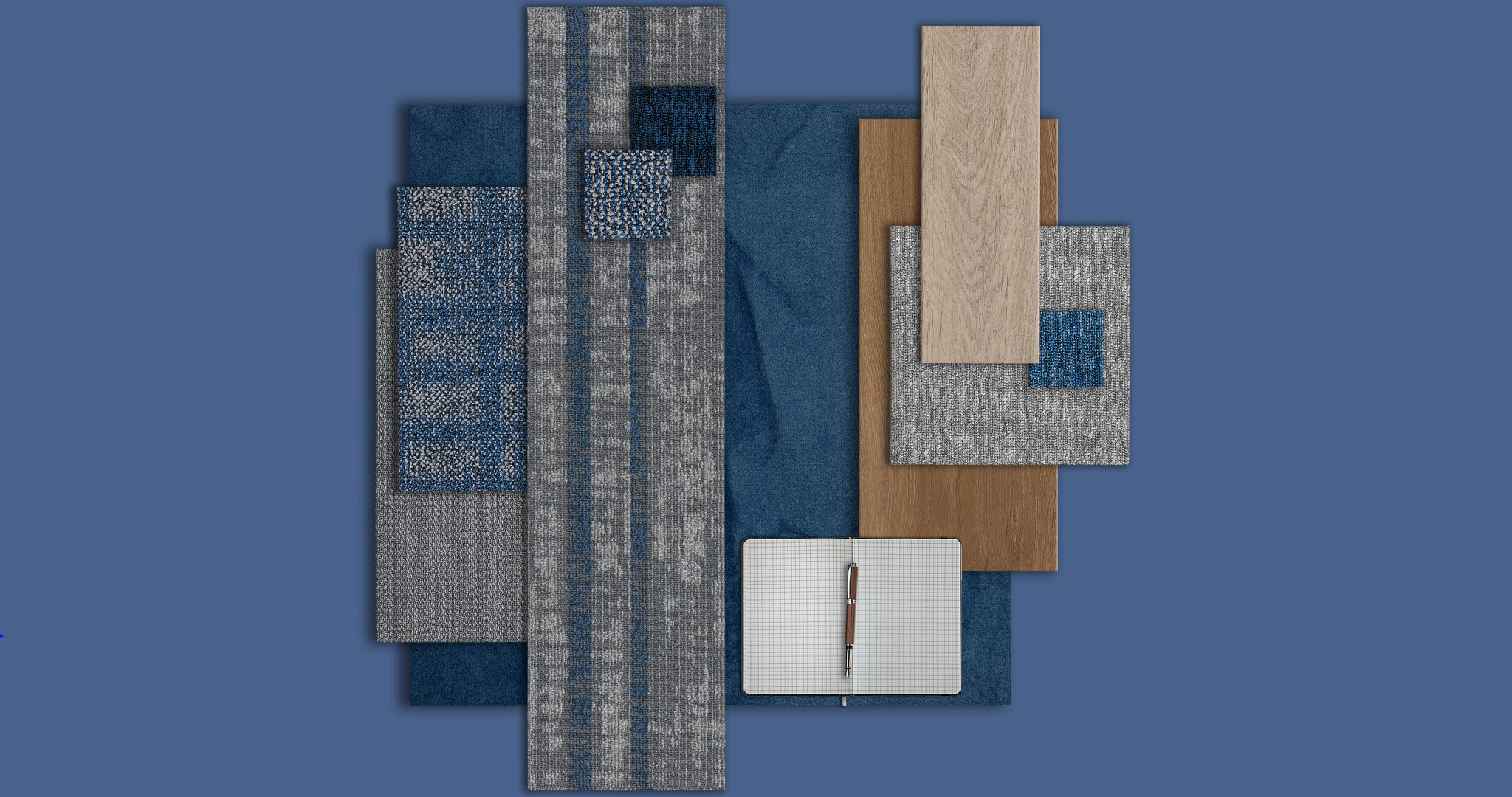 Take a look at these idea starters
All styles and colours featured here are available from the UK.
One of the most popular colours when specifying carpet tile, blue works well in many commercial interiors. Blue is also one of the most used colours in corporate identities too.
Blue is the colour of the sky and the sea, but in interior design terms it is ascribed qualities such as purity and peace. Combined with warmer or more energetic colours, blue inspires confidence and serenity.
Deep, bold hues, such as navy and royal blue, are great for evoking confidence and are associated with qualities such as loyalty, trust, peace and success.
Lighter shades of the colour instil a feeling of calm and tranquillity. Used alongside grey and tan tones, blue has an impact and provides a classic combination.
The Palette features carpet tiles: style 5T329 Convene in colour Clear Network (67538), style 5T383 Complement in colours Azure (83486), Admiral (83496), style 5T264 Belong and 5T266 Memory in colour Serene (48486) and style 5T014 Dye Lab in colour Saxon (41462).
Complemented by 5T228 Roam in colour Grey Mist (26481) style 5T383 Complement in colour Ice (83536) along with LVT styles 1026V Inlet in Thatch (26720) and Nestle (26120).
This palette also features in the current flooring design in our London showroom so come on in and see us there.

Find out more on our RIBA approved colour trends CPD