Photographer: Dion Robeson
IGO by Rezen + Templewell
2022 Best of Region Winner

IGO Limited is a leading ASX-listed exploration and mining company based in South Perth that is focused on discovering, developing, and delivering products critical to clean energy. A dynamic and forward-thinking company, IGO sought a refurbishment of their existing tenancy in South Perth to better align with its organisational culture.
Keep reading to learn more about this stunning project which was a Best of Region winner in our 2022 Shaw Contract Design Awards!
Design Awards Call For Entry
To submit a project for the 2023 Design Awards please login or create an account here.
Rezen + Templewell were tasked with creating a mining workplace that wasn't traditionally masculine and that is representative of IGO's values and people. The new fit-out includes spaces that are inclusive, warm, and welcoming - the antithesis of a traditional mining company fit out. The soft and tactile aesthetic creates a series of humanised spaces that are a pleasure to be in.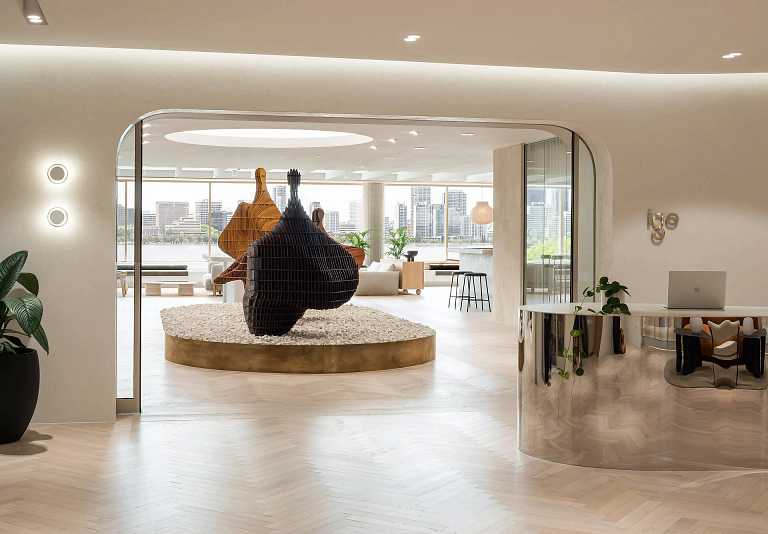 Enjoying panoramic views of the Swan River and Perth CBD, a large collaboration and café space occupies the length of the building and allows staff and clients to connect in a variety of settings. A design highlight, the central bar and main tea point feature marble sourced from the Pilbara region capturing the beauty of the WA landscape.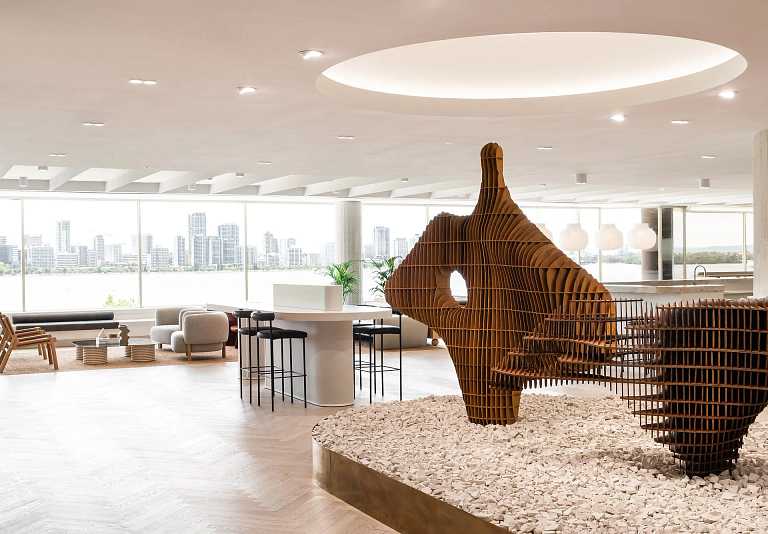 A carefully curated collection of local artworks amplifies the company's values, culture and people. The sculpture garden is a symbol of IGO's driving purpose of making a difference, signifying the importance of the people who stand for this common purpose and who are driving change towards a cleaner, better future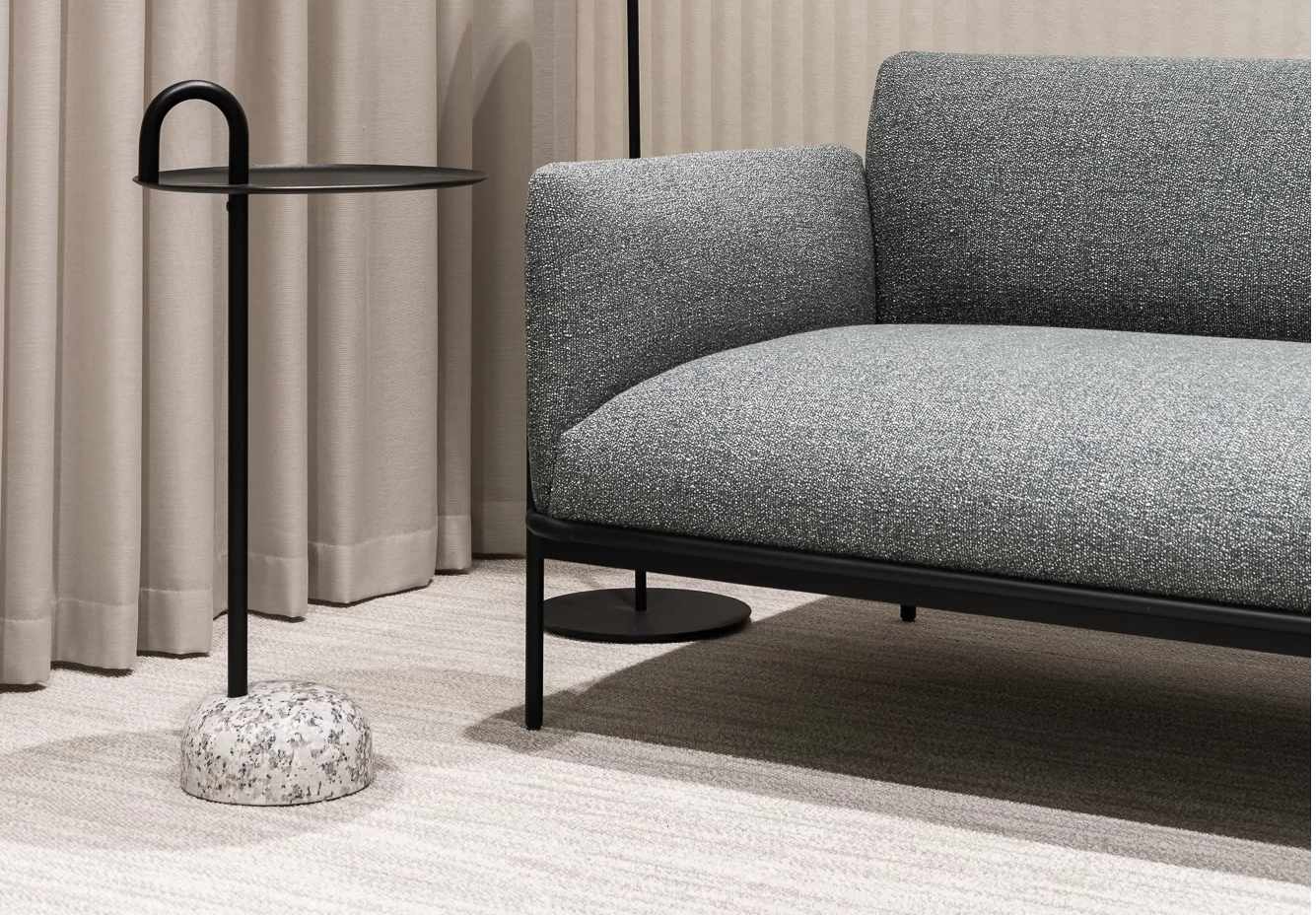 Our Heddle carpet tiles in colour Argan were selected for this project, contributing to the project's the soft and tactile aesthetic in a warm and welcoming palette. Elsewhere, metallic details allude to IGO's mining operations. The resulting design is people-centric space that facilitates connection and collaboration, celebrating the people that make the company unique.
"I'm always convinced by the idea of a strong narrative, a narrative that actually reflects the values of the client. What really was striking about this project is that there's a sense of value and pride for the people who work here. It really celebrates them and that they are deserving of a beautiful, luxurious space, but it's not ostentatious and shows restraint."
Rulla Asmar / Principal at Marchese Partners
(2022 Best of Australia and New Zealand Jury Member)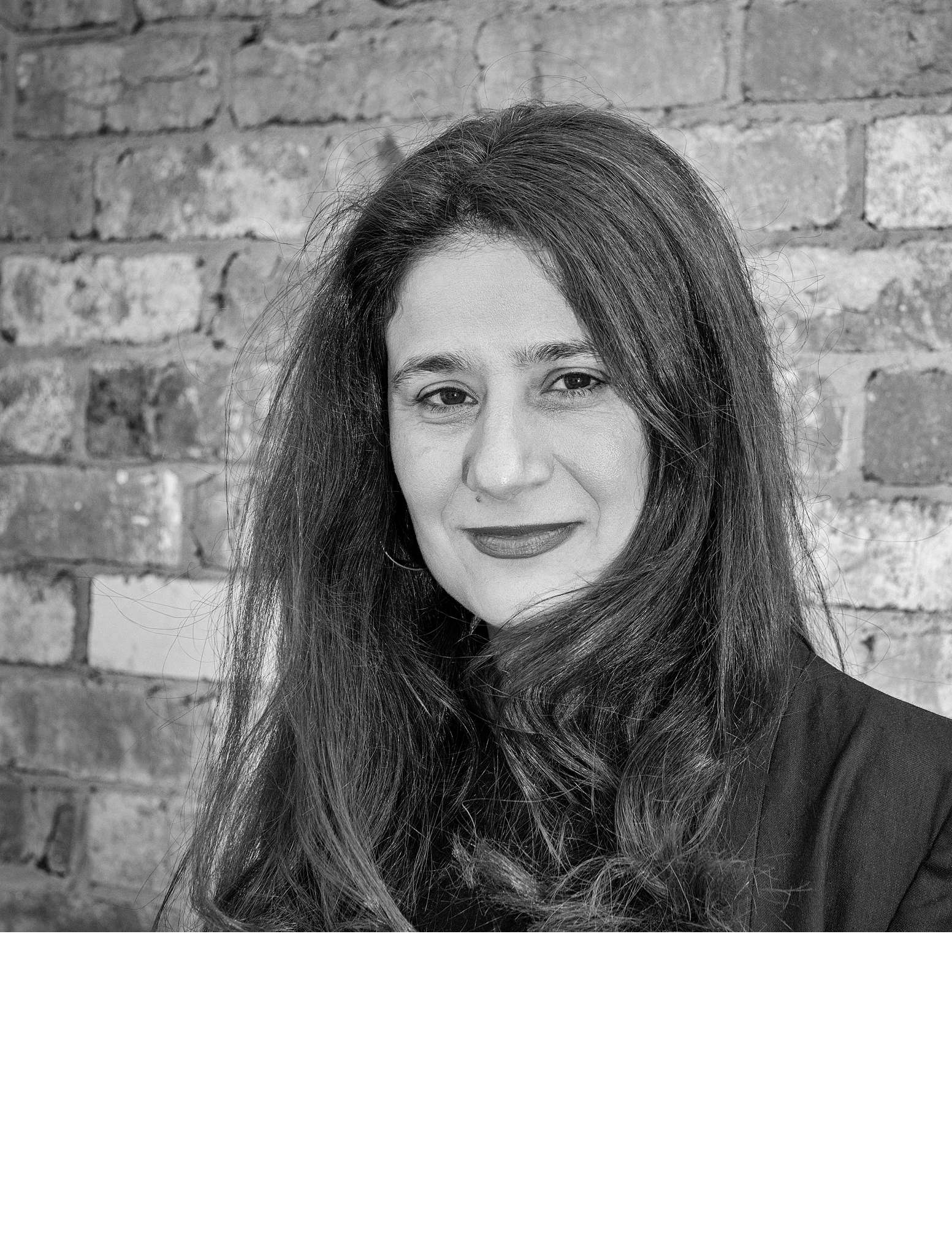 Embedded in IGO's values and operations is sustainability and working towards a clean energy future, therefore sustainability in this fit-out was incredibly important; not only to the client but also the design and construction teams. Its mining processes are focussed on metals critical to enabling clean energy and its workplace reflects this commitment to sustainability through its design solutions. This can be seen in the integration of biophilic elements for improved indoor air quality, and the selection of sustainable materials including 100% PVC-free, Carbon Neutral, Cradle to Cradle certified, and Declare certified carpet tiles from Shaw Contract.
Shaw Contract has been actively engaged in Cradle to Cradle design for more than 20 years, introducing the first Cradle to Cradle Certified™ flooring product in 1999. Nearly 90% products we manufacture are Cradle to Cradle Certified® and it is our goal to have 100% of products Cradle to Cradle Certified by 2030. All of our commercial carpet operations internationally are carbon-neutral, and we were also one of the first GBCA members to support the World Green Building Council's Net Zero Carbon Buildings Commitment.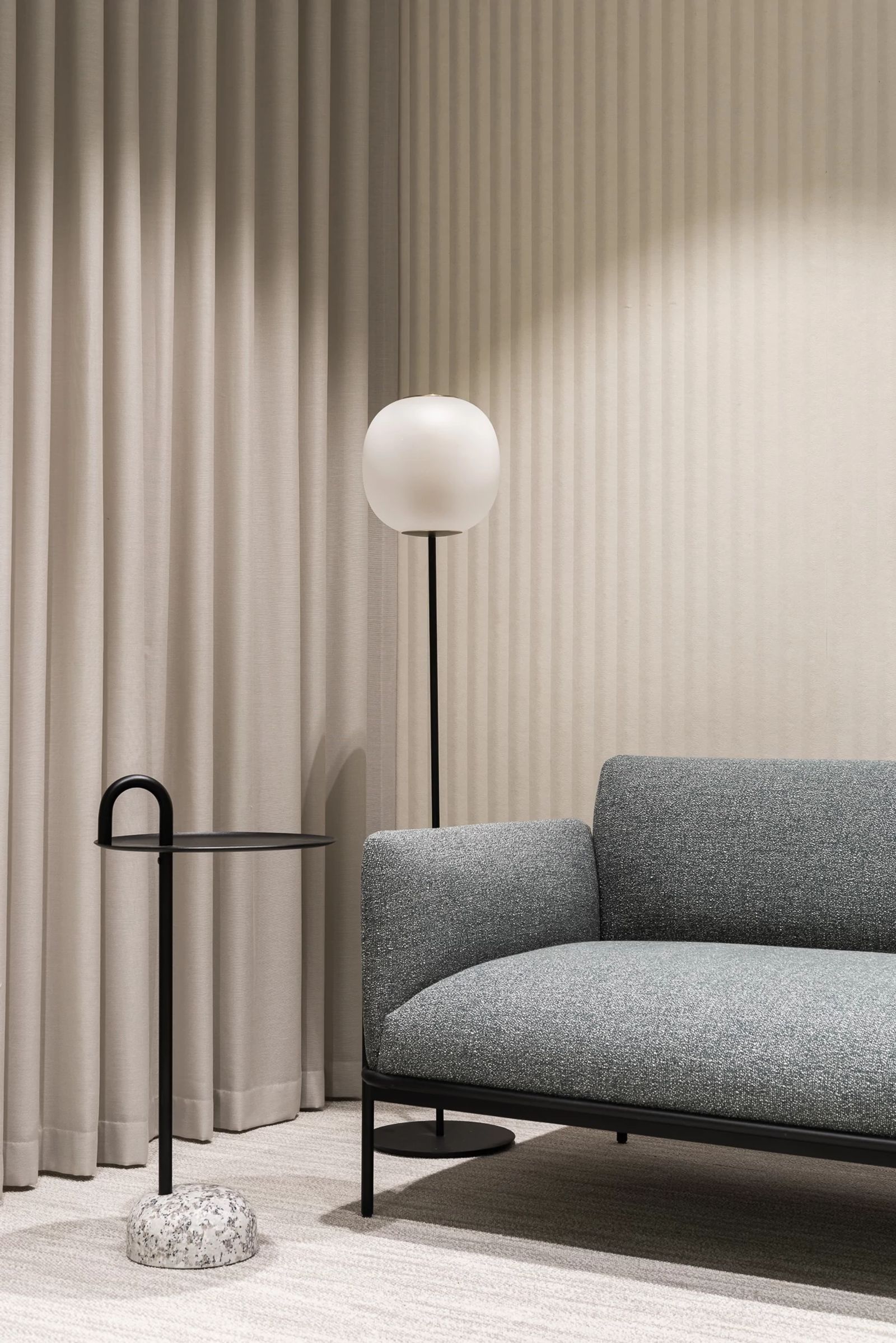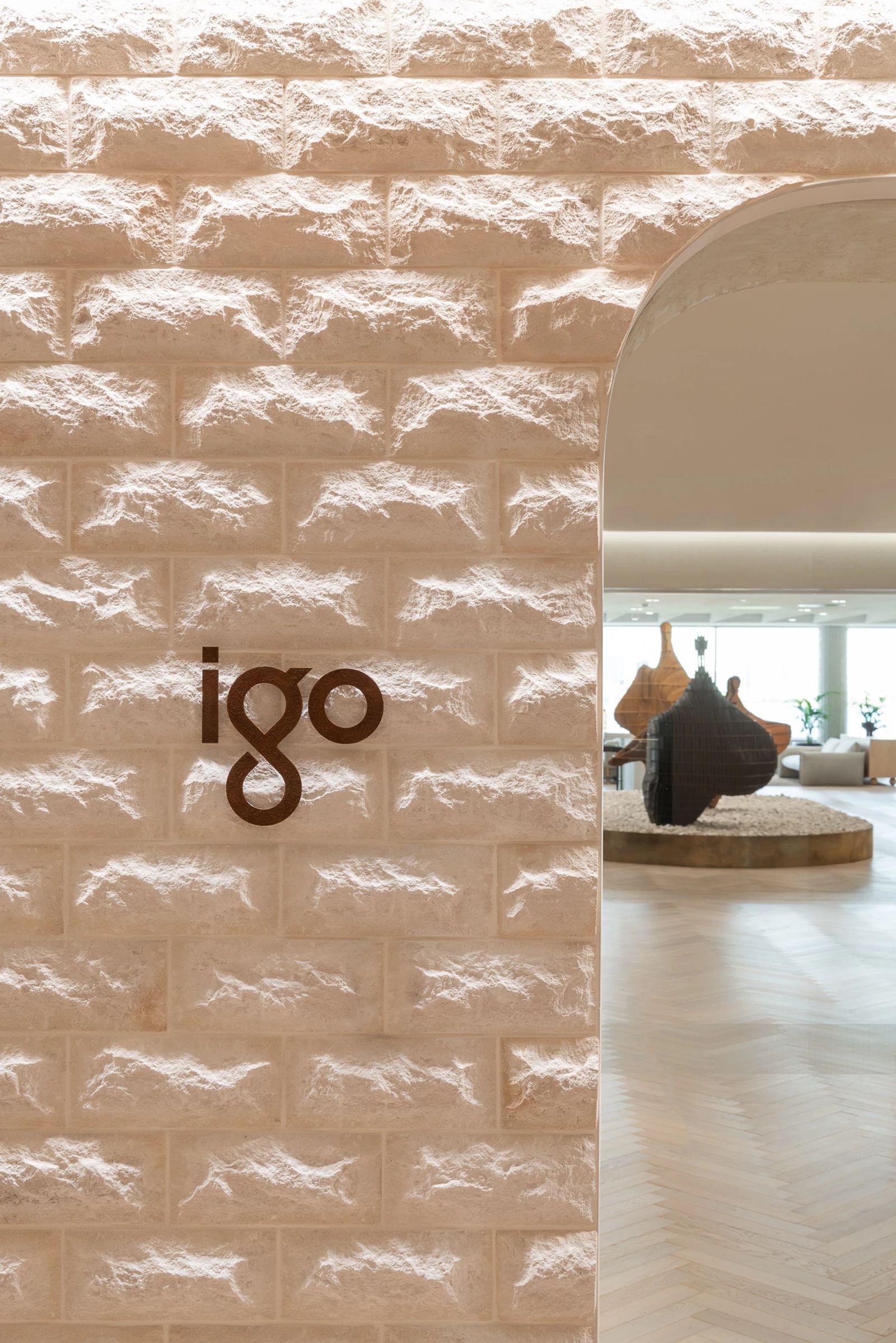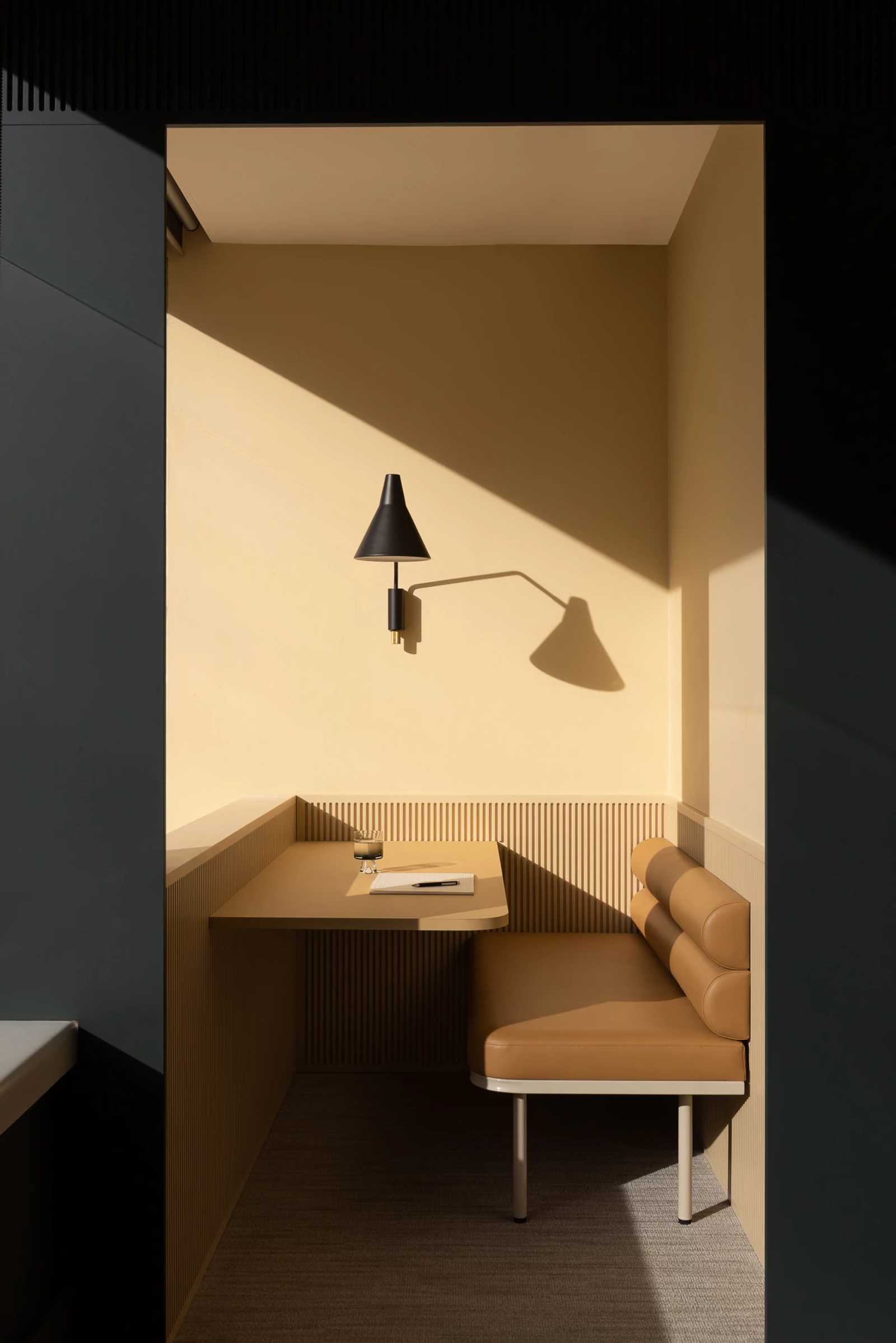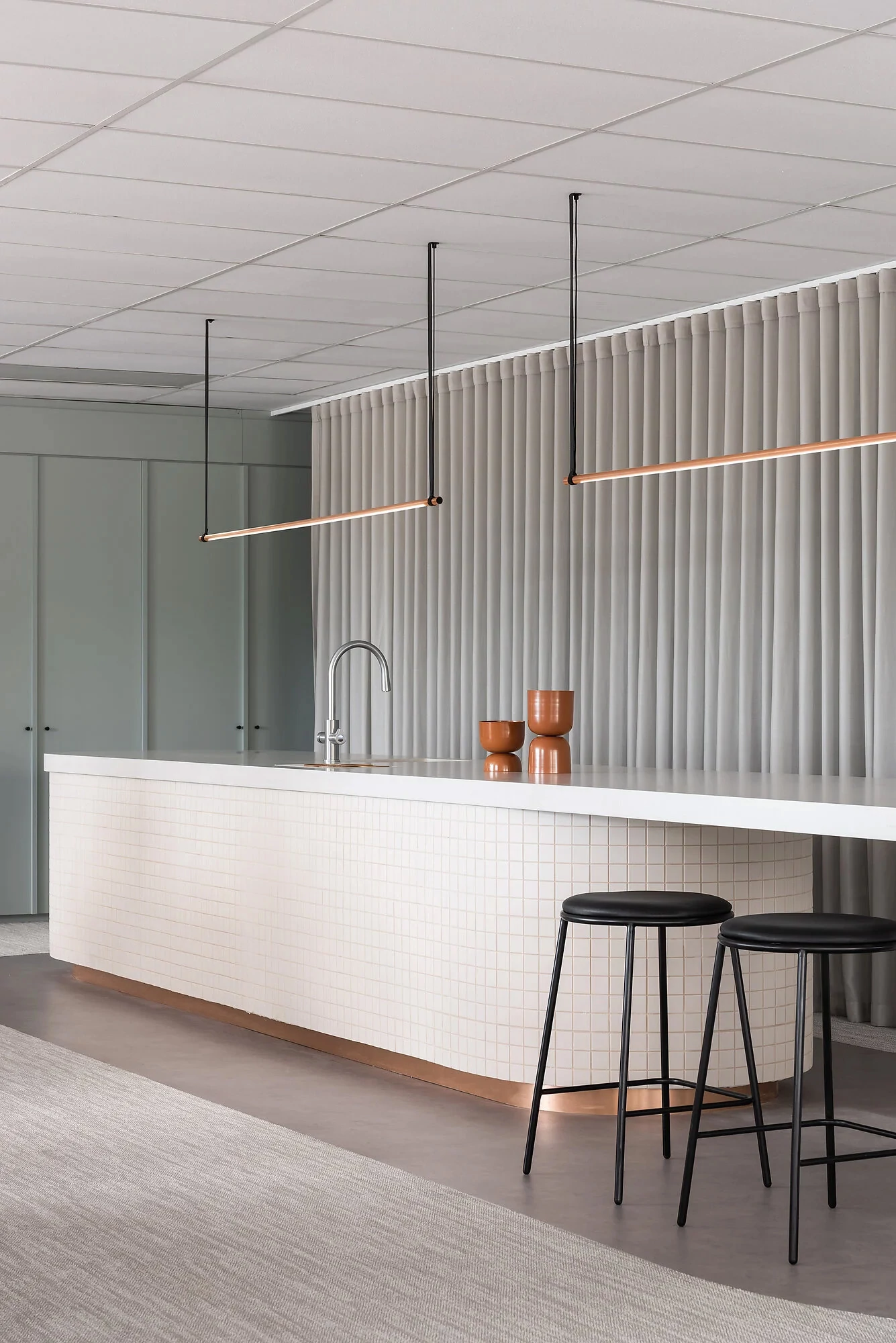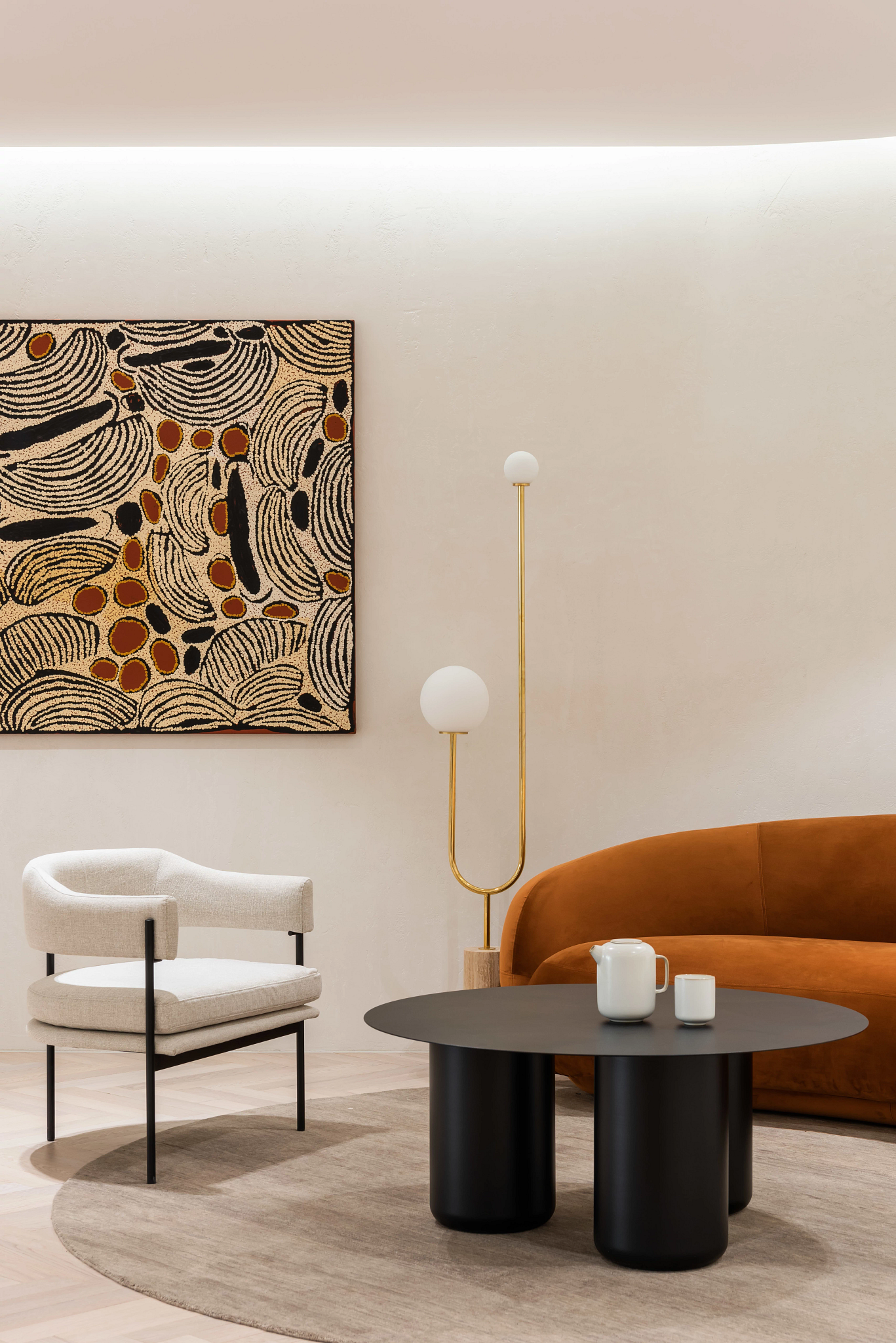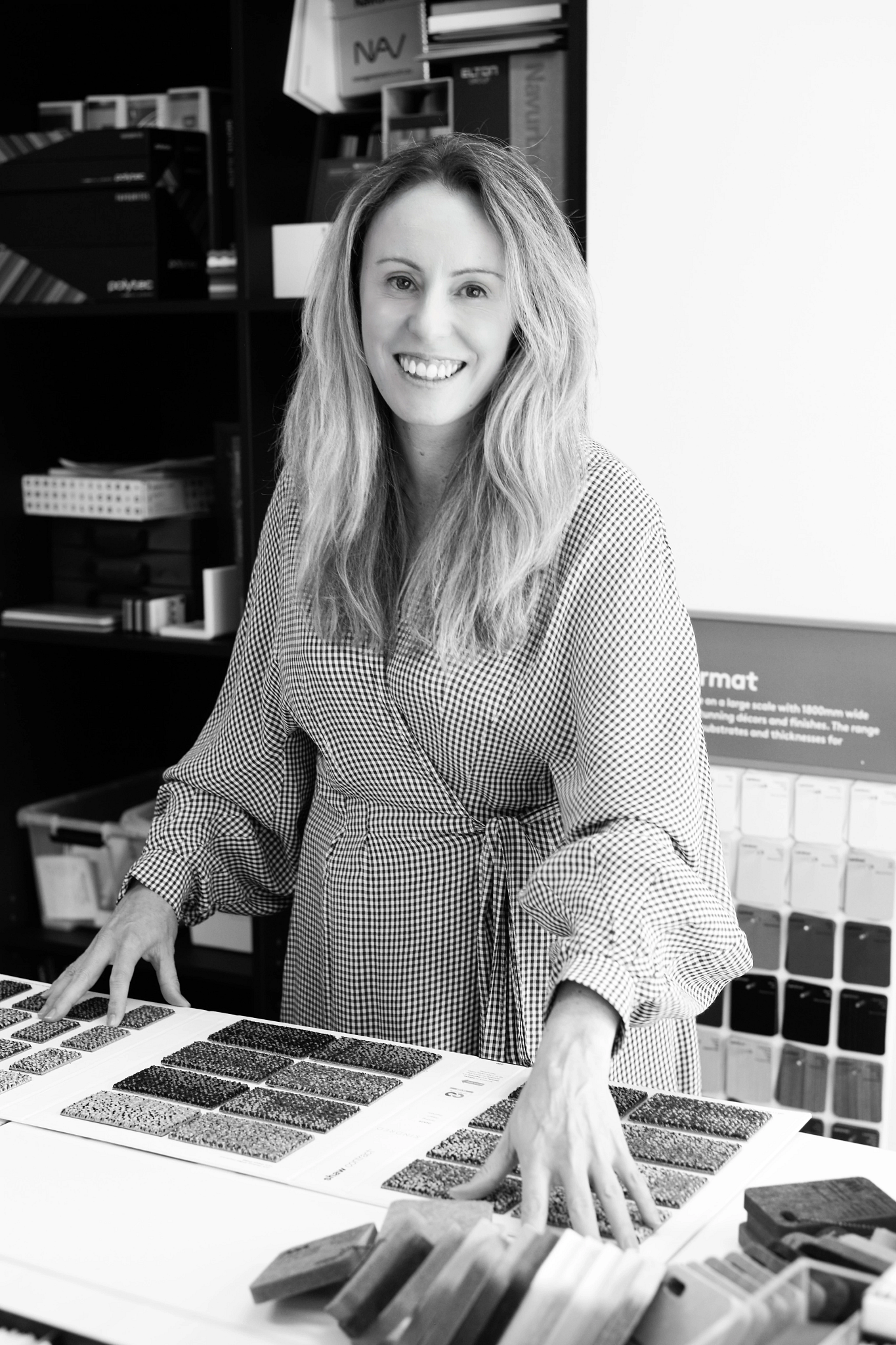 I thought this project had a beautiful sense of warmth to it. It had a lovely, restrained palette. I really liked the subtle lighting which I think really articulated the sculptural elements as well as the hand-trowelled paint finishes. The carpet had a beautiful layered and textural approach.
Francene O'Connor / Principal at STH
(2022 Best of Australia and New Zealand Jury Member)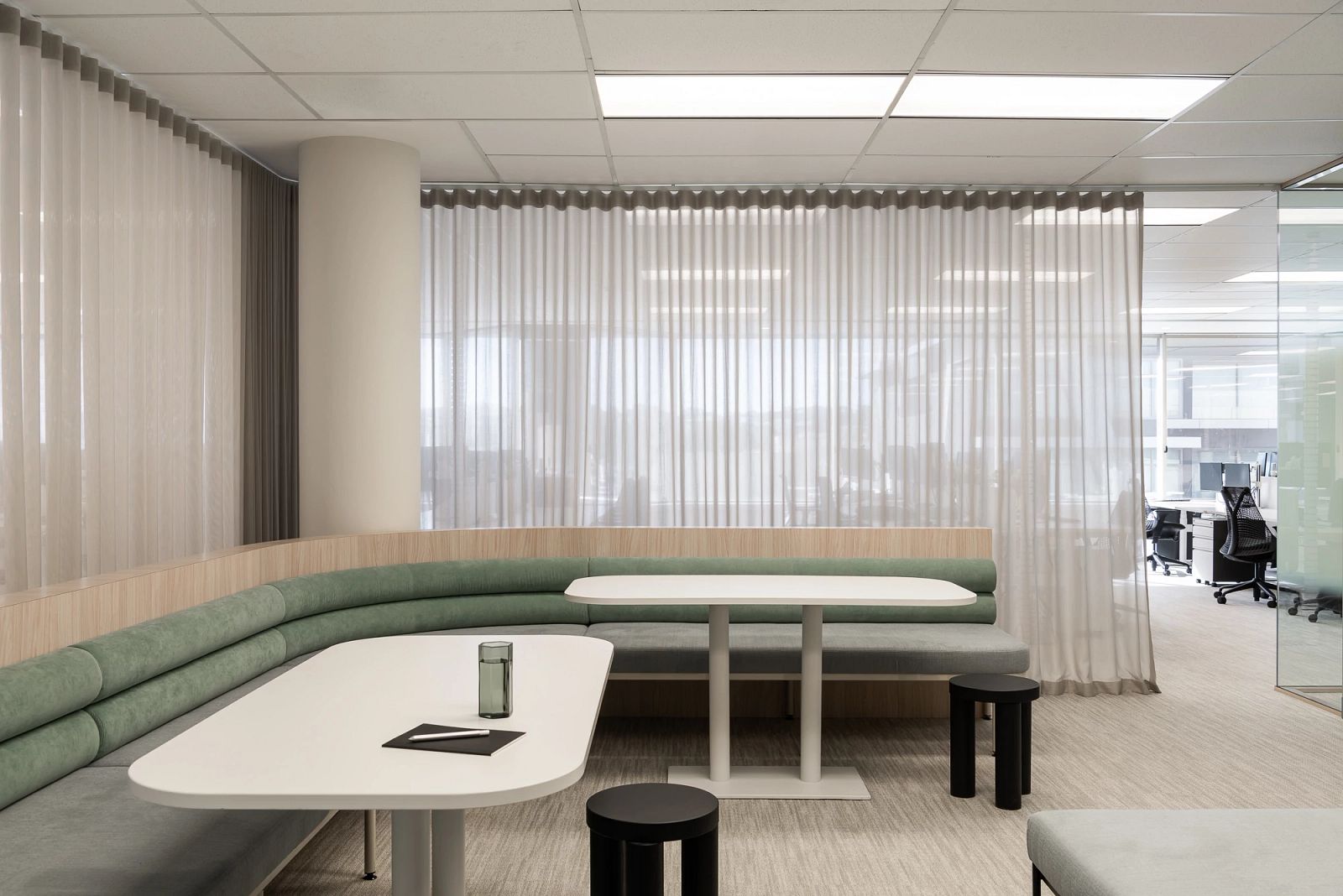 Photographer: Dion Robeson | Product: Heddle Tile in colour Argan
Heddle Tile in Colour Argan
The Community collection was created to work together in harmony. Each of its four core products complements the others— with textured and plush carpet tile, broadloom available as rugs, and hard surface—giving designers unlimited choices to meet the demands of a new workplace.
This project uses our Heddle carpet tiles in colour Argan which are In Stock in Australia. Inspired by weaving communities in the Atlas Mountains of Morocco, Heddle Tile is a core foundational product that celebrates textile tactility.
View Heddle Tile
View all 2022 Best of Region Winners
From almost 600 Design Awards submissions, 37 projects were selected as Best of Region Winners by a diverse panel of judges from around the globe. Explore these high calibre projects, all of which are eligible for the next stage of judging to select the Best of Globe.