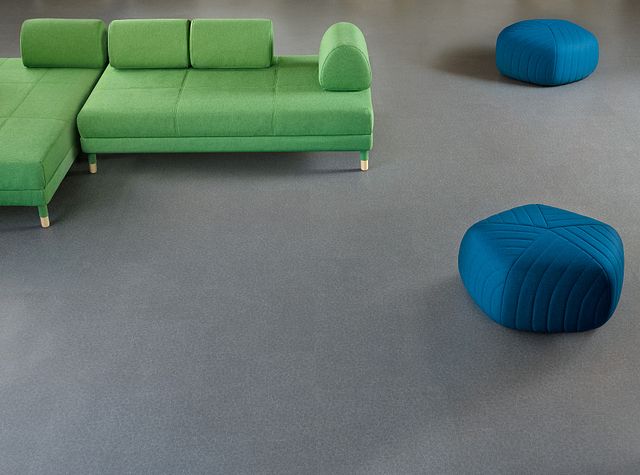 Meet Joy Squared, an American-made LVT collection of 24" x 24" (61 cm x 61 cm) tiles inspired by the spontaneous and joyous moments of our youth.
How can we design an environment that helps a president learn, 30 years before she takes office?
We know from colour theory and the psychology of learning spaces that the right colour choices can positively influence information retention and participation, improve attention span and increase the feeling of safety. For working environments, colour encourages productivity.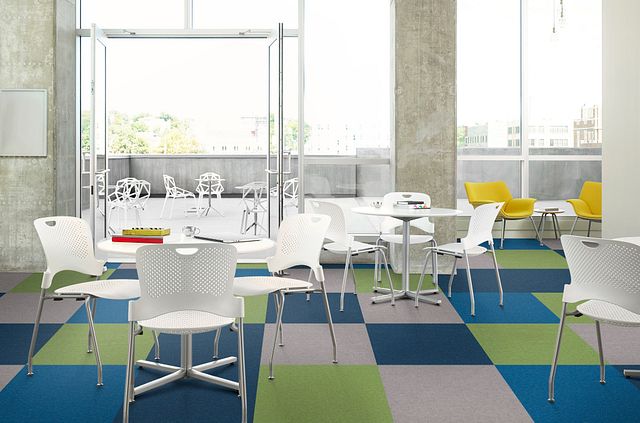 Joy Squared brings the inspiration of joyous moments into environments where students, employees, or visitors want to be. This LVT collection comes in a new shape — the 24" x 24" tile — and uses colour to create memorable, positive experiences.

"While designing Joy Squared, we took inspiration not only from our clients' design preferences, but also their experiences that brought joy to their personal lives," said Michelle Carpenter, Director of Education and Government for Shaw Contract. "There's something nostalgic and timeless about the pattern, shape and colours of Joy Squared. It feels familiar and fun all at the same time."

Joy Squared's colour palette is inspired by hues and bursts of colour that evoke joyful memories in our physical environments. The colours move from one shade to another, creating soft, tonal steps perfect for zoning, way-finding and creating easy to navigate corridors with bold central spaces. With a wide range of colours including neutrals, soft hues and brights for paediatrics and a subtle small-scale pattern, Joy Squared also creates a strong foundation for learning, working, and healing spaces.
Colours and shapes are one of the first things we learn to understand how simple items fit together to form other items and structures. Shapes, specifically the square, are foundational to how budding minds make sense of the world and the basis of this new collection. It offers a building block for creativity in designing an overall flooring layout. The scale of this collection is roughly four times larger than a standard Vinyl Composition Tile (VCT), and offers the ability to create larger layouts for larger spaces, such as corridors or multipurpose spaces.
The line variation and texture within the abstract visual support long-term wear in demanding environments, while still creating visual interest and movement. Joy Squared is engineered with a layered construction for enhanced durability and features Shaw Contract's maintenance friendly ExoGuard+™ top coat finish with superior resistance to abrasion and scratching.
As we grow and learn, the information we absorb and the experiences we have are profoundly impacted by our surroundings. Joy Squared embraces how the evocation of joy can positively affect our physical environments. By embodying the colour-filled moments of happiness from our youth, this collection creates lively spaces with exponential outcomes for learning and growth in today's commercial settings.