The clean, sleek aesthetic continues to be a growing trend in commercial environments increasing the demand for concrete and stone visuals which offer a broad design spectrum across multiple sectors. To determine the flooring that best suits your project, consider the additional solutions luxury vinyl tile (LVT) offers over traditional concrete and stone visuals. As technology and manufacturing processes improve, the industry continues to see enhancements in performance attributes and aesthetic capabilities of LVT, providing solutions to everyday challenges without compromising the authenticity of the concrete and stone visuals.
HOW LONG WILL IT TAKE?
Commercial construction renovation timelines are tight, and building solutions that expedite compressed construction schedules are key.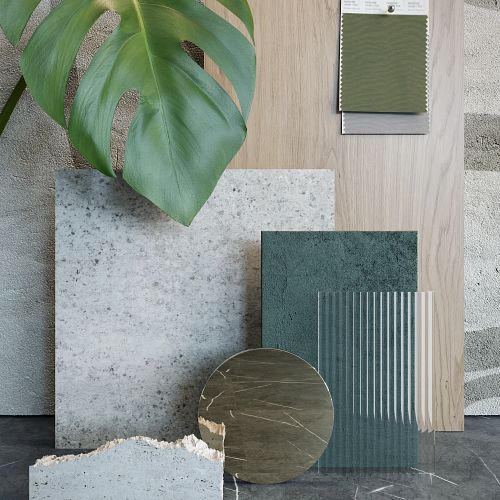 The installation process for LVT requires less floor preparation, reducing cost and time associated with the floor install. There is a misperception that using an existing concrete slab will reduce the amount of time associated with floor installation. When in reality, using the existing concrete slab could be twice as long due to the tedious prep work, polishing, filling cracks and joints, and applying the protective coat. Additional time is required if staining is desired.
EASE OF MAINTENANCE
For added protection, our LVT products feature a quartz-enhanced urethane finish to protect against commercial traffic in high-traffic areas. Our LVT is polish-optional; resulting in faster and reduced maintenance costs over the life of the product. Instead of spending time buffing, polishing and resealing the concrete floor, your maintenance staff can prioritize other items to keep the space looking and operating its best.
CONSISTENCY IS KEY
Our LVT is constructed with a high-resolution image layer that uses depth and detail to create a realistic representation of stone or concrete. When working with concrete and other natural stones, there are limitations regarding the control you have when trying to reach a particular visual due to imperfections and colour absorption within the material. With our LVT, you eliminate uncertainty as any visual variation is noted by style and colorway. During the development phase, our research and design team evaluates each new style and colorway before assigning a variation number. The variation number provides additional colour guidance and allows you to anticipate the visual prior to the completion of the project.
SIMPLE COMFORTS
We spend 90% of our time indoors. Creating a space that supports productivity, while giving a sense of comfort, is key. LVT contributes to the comfort and warmth of the space - reducing standing fatigue by absorbing impact pressure and offering heat absorption in cooler months.
Your environment is probably louder than you think. Whispers can start at 20 decibels. Sustained exposure to 88 decibels is irritating and can affect your health, mood, ability to retain information and productivity. Minimize distractions on the interior environment by pairing our LVT products with an underlayment such as Groundworks®. Improve the IIC (Impact Insulation Class) rating from 26 for a standard 6" concrete slab to 43 when using a 5 mm LVT to 53 when pairing with Groundworks® to reduce floor-to-ceiling-noise transfer.
To view collections inspired by natural materials with concrete and stone visuals, explore Eon + Amalgam, and Compound + Cast.