Medical Pharmacy Chooses EcoLogix® Cushion Carpet Tile for Underfoot Comfort, Acoustics
Biophilia leads medical centre's design
Norwood Medical Centre's biophilic design brings the Alberta, Canada, mountainscape to its urban Edmonton location. The project designers specified Shaw Contract Diffuse carpet tile on EcoLogix® for this location to provide underfoot comfort and acoustical benefits for pharmacists and staff, which complements the space function of promoting human health.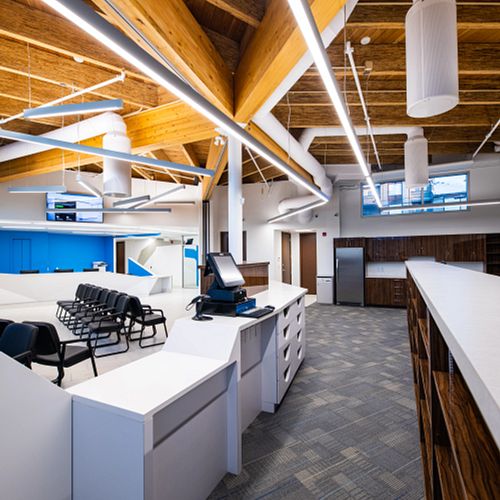 A community of doctors aspired to develop a new walk-in medical facility and pharmacy while bringing a sense of the Alberta, Canada, landscape to its urban Edmonton location. Avid Architecture Inc. fulfilled this vision through a biophilic design conceived as an angular, rocky outcropping intersected by walls of glass. Tones and forms of the facade are reminiscent of the surrounding natural valley and winter snow, and open skies.
The building addresses the City of Edmonton's pedestrian streetfront requirements for reviving neglected areas. This involved increasing visibility and updating the streetscape experience while still accommodating the program's need for privacy in some spaces. Durability of materials and operational longevity were two other central goals for this busy medical facility.
The new Norwood Medical Centre pharmacy design is an ideal work environment for the physically and emotionally demanding roles of pharmacists. An abundance of space around the island ensures technicians are able to move between drop-off and pick- up stations with ease. Shelving and drawer space allow pharmacy supplies to be well organized; ample lighting provides the right amount of glow to prevent headaches and eye irritation.
Underfoot comfort key in carpet tile choice
When designing the space, the architect and designers discovered the key pharmacy design considerations included underfoot comfort for staff and acoustic benefits for employees and customers alike. Avid Architecture specified Shaw Contract high-performance Diffuse carpet tile to meet the unique needs of the behind-the-counter pharmacy space.
One of the most positive features of the Diffuse carpet tile can't be seen, but can be experienced during the rigors of daily work life of pharmacists and staff. The carpet tile was customized with EcoLogix®, a backing made from 100% post-consumer recycled PET plastic bottles. Constructed for underfoot comfort, EcoLogix® is an extremely durable carpet tile backing providing cushion with ergonomic benefits.
EcoLogix® carpet tile performs another key role in the sound transfer of the pharmacy work space, a critical design element in patient confidentiality and quality of focus for pharmacy staff.
EcoLogix® tile is designed to improve acoustics by absorbing more in-room sound over standard carpet tile and hard surfaces, a measure known as the Sound Absorption Average Ratings (SAA). Shaw Contract carpet tile with EcoLogix® absorbs 25% more sound than the 0% sound absorption with polished concrete floors. By Comparison, EcoWorx® tile alone absorbs 15% of sound.