Simple Adhesive-Free Installation
Circular Flooring, Made Easy
15 years warranty with Shaw Contract carpet tiles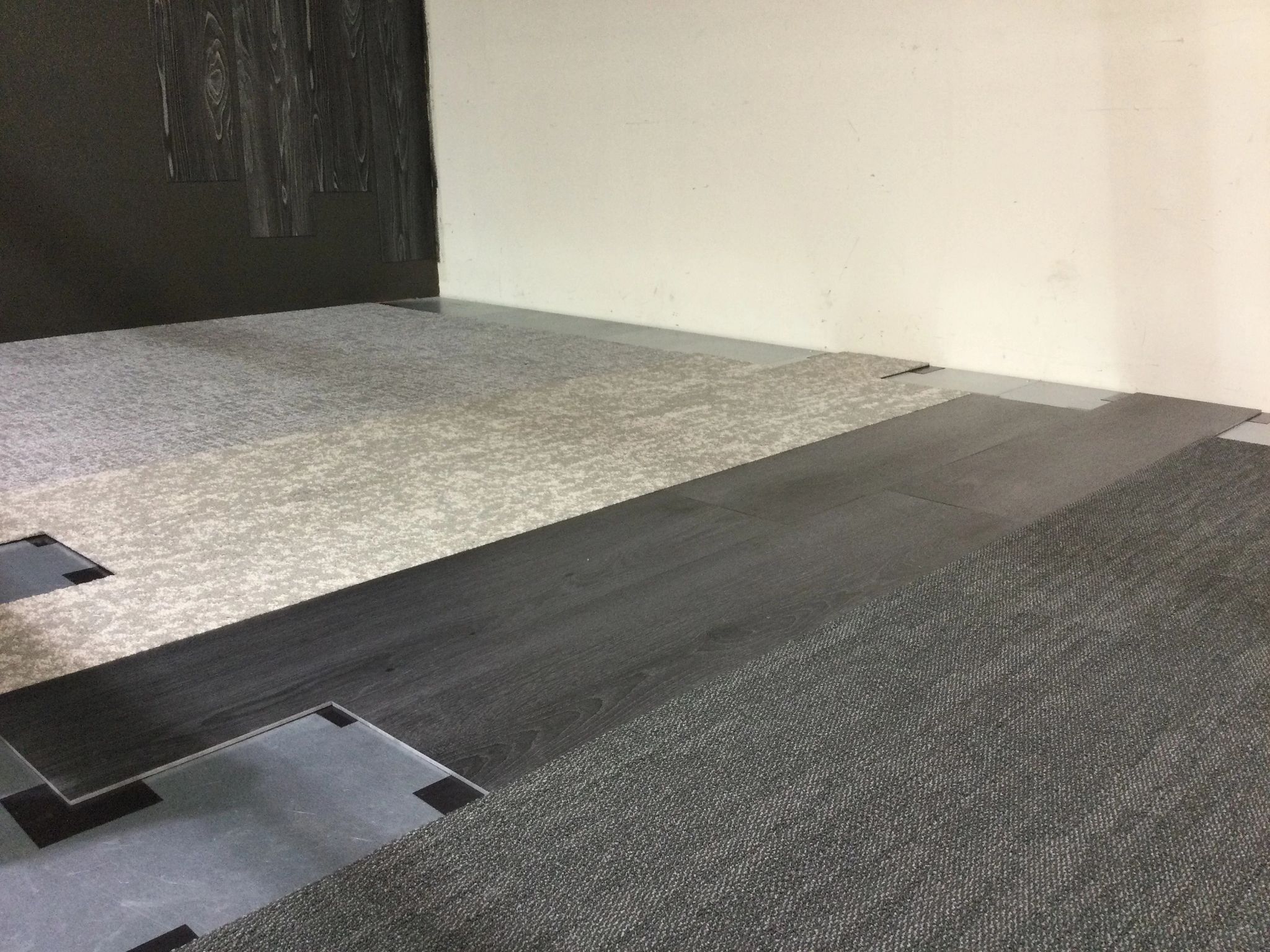 IOBAC MagTabs™ enable Shaw Contract carpet tiles to be installed adhesive free to metal raised access floors. It is a new option for installing Shaw Contract flooring products that contributes to a Cradle-to-Cradle way of thinking and a shift to a Circular Economy approach.
Only when used in conjunction with Shaw Contract Carpet tiles, the IOBAC Mag Tabs are covered with a 15-years warranty, in line with Shaw Contract carpet tiles.

Dimensional Hold, dual grip technology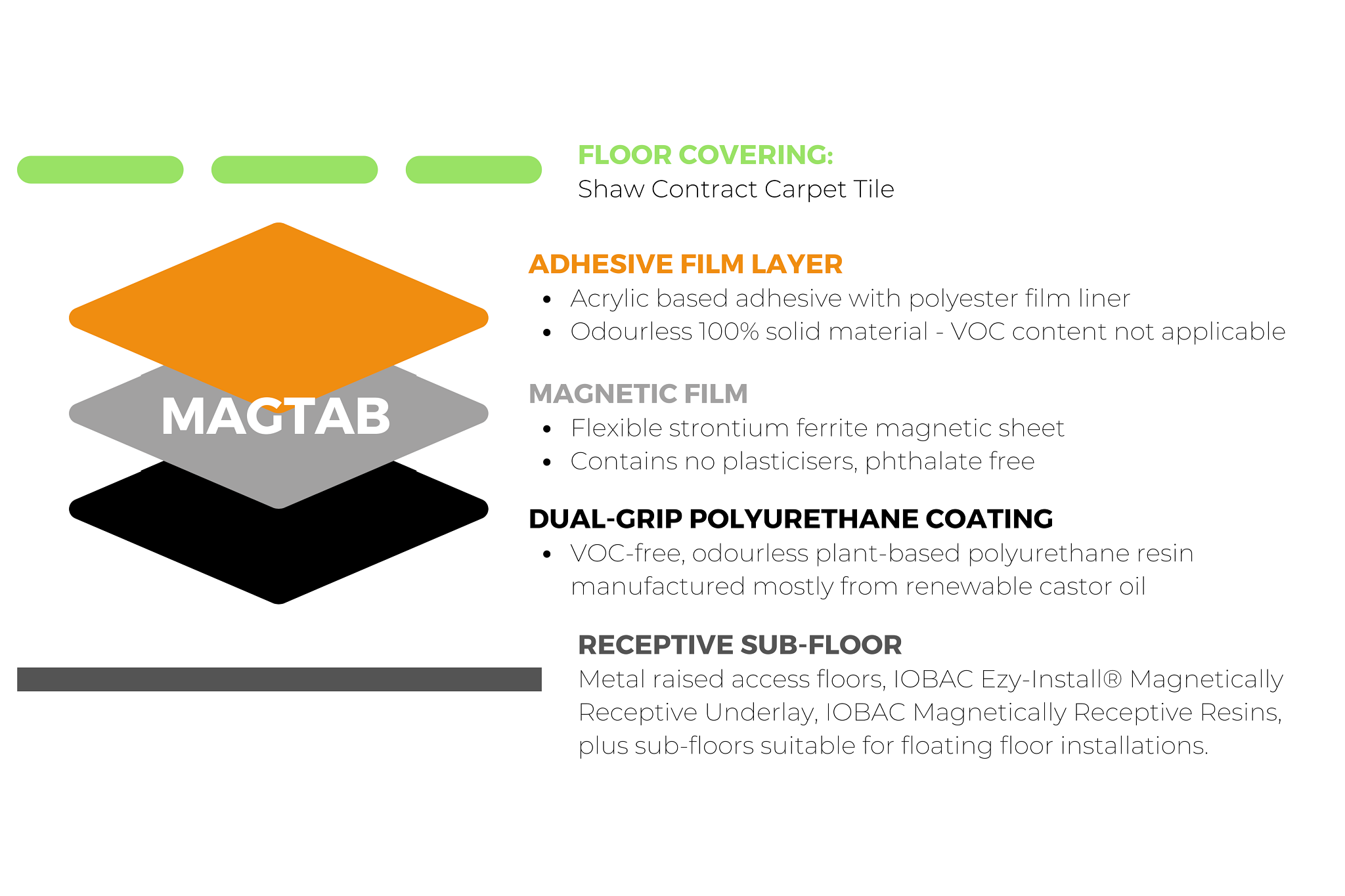 Not only are tiles held together horizontally as per conventional floating floor solutions, but due to magnetic attraction, MagTabs™ also enable a strong grip in the vertical direction, ensuring tiles are secured well in place until the time comes to uplift them.

Dual Grip technology: MT4+MagTabs incorporate IOBAC's patented Dual Grip technology which combines dry-tack adhesion with magnetism for phenomenal grab in the highest of footfall areas.
A robust option that enables easy re-use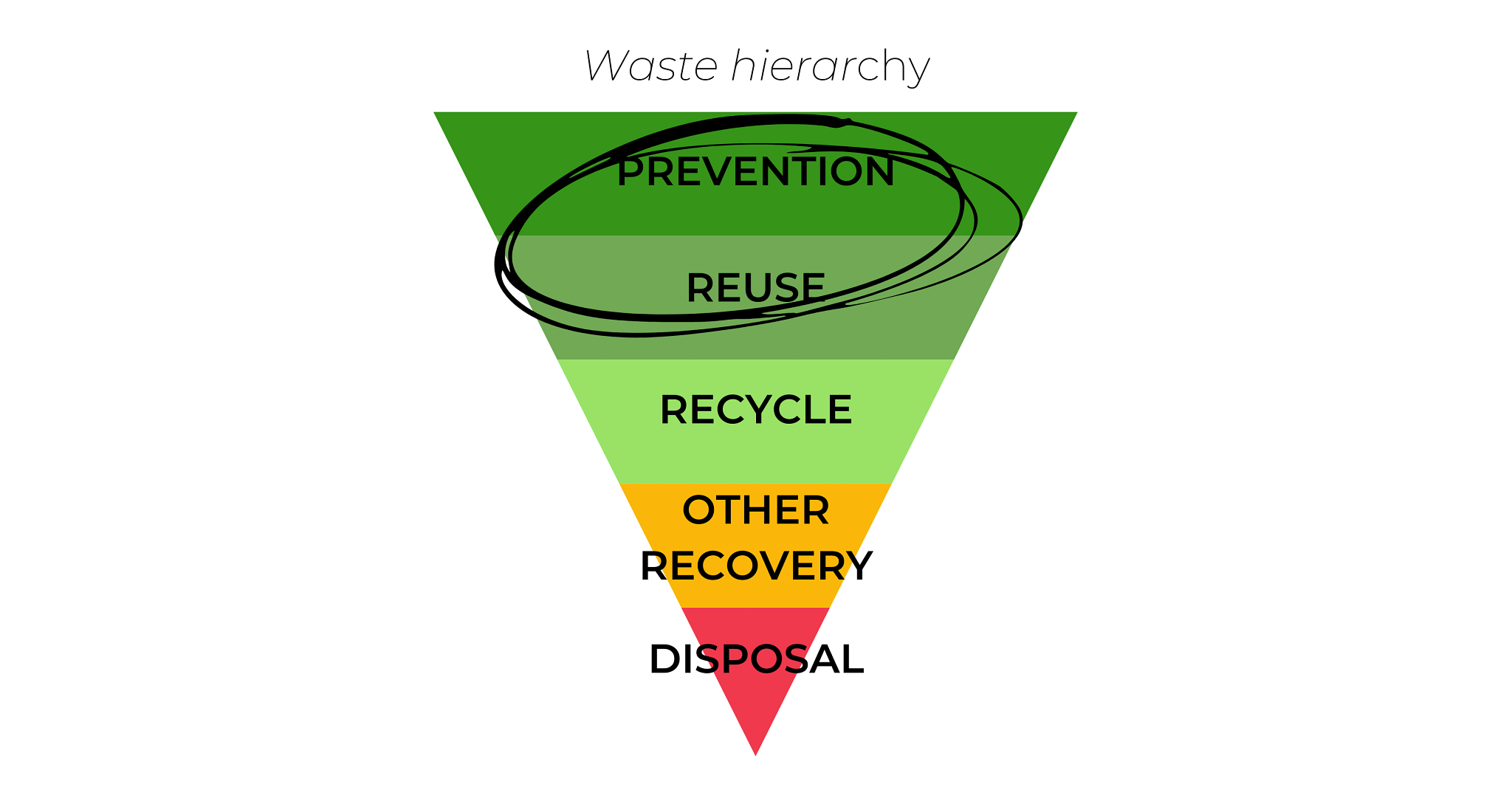 Magnetic on one side and self-adhesive on the other, MagTabs enable carpet tiles to be removed cleanly and easily for reuse or recycling, with the sub-floor left contamination-free and ready for the next flooring installation straight away. Excessive sub-floor remediation costs are eliminated.
In contrast, flooring products installed using adhesive-based methods can end up in landfill after one use as adhesive residue and contamination hinders recyclability.
A Unique 15 Year Warranty and in stock for quick delivery
The IOBAC MagTabs have a warranty of 15 years when used together with Shaw Contract carpet tiles.
We are the ONLY manufacturer to have this Magtab guarantee in place as it reflects the 15-year guarantee of our carpet tiles.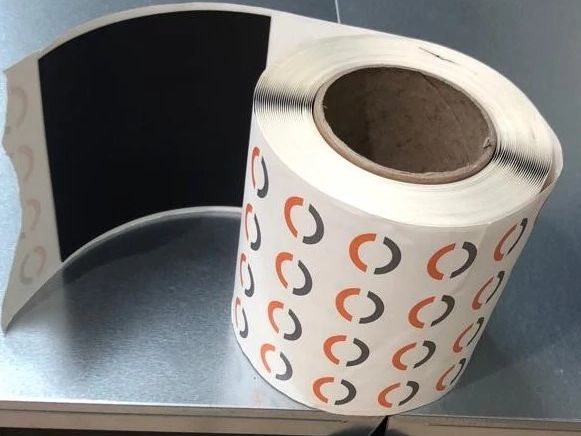 The interiors in your space are assets and should be treated as such, which is why Shaw Contract is the only flooring manufacturer to have a warranty for carpet tiles installed with Magtabs to be used in a second location.
After inspection and approval carpet tiles can now be reused in a second location with an extended second location warranty. This means the raised access floor and carpet tile can be reused with little cost and carbon impact. This is a perfect solution for managing operational interior assets.
Flooring that pays back, Fast, hassle-free installation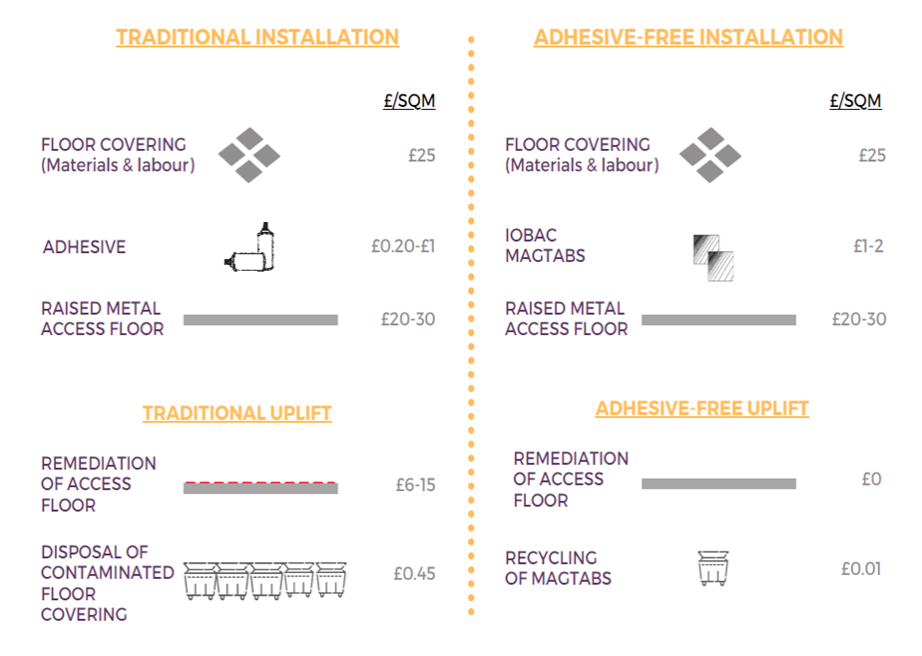 Using adhesives to install floor coverings can result in costly damage to the sub floor and expensive disposal costs. Installation using MagTabs keeps the access floor clean and ready for immediate reuse.

Download our calculator to estimate your project
CPD: An alternative solution in non-adhesive workplace flooring
For interior architects, designers, facilities managers, contractors, explore the benefits of flooring using adhesive-free methods. This CPD looks at options for non-adhesive flooring solutions and examines what is available for the commercial workplace, including magnetic flooring systems. Non-adhesive flooring as a system is considered from the perspectives of sustainability, design flexibility and operational impacts.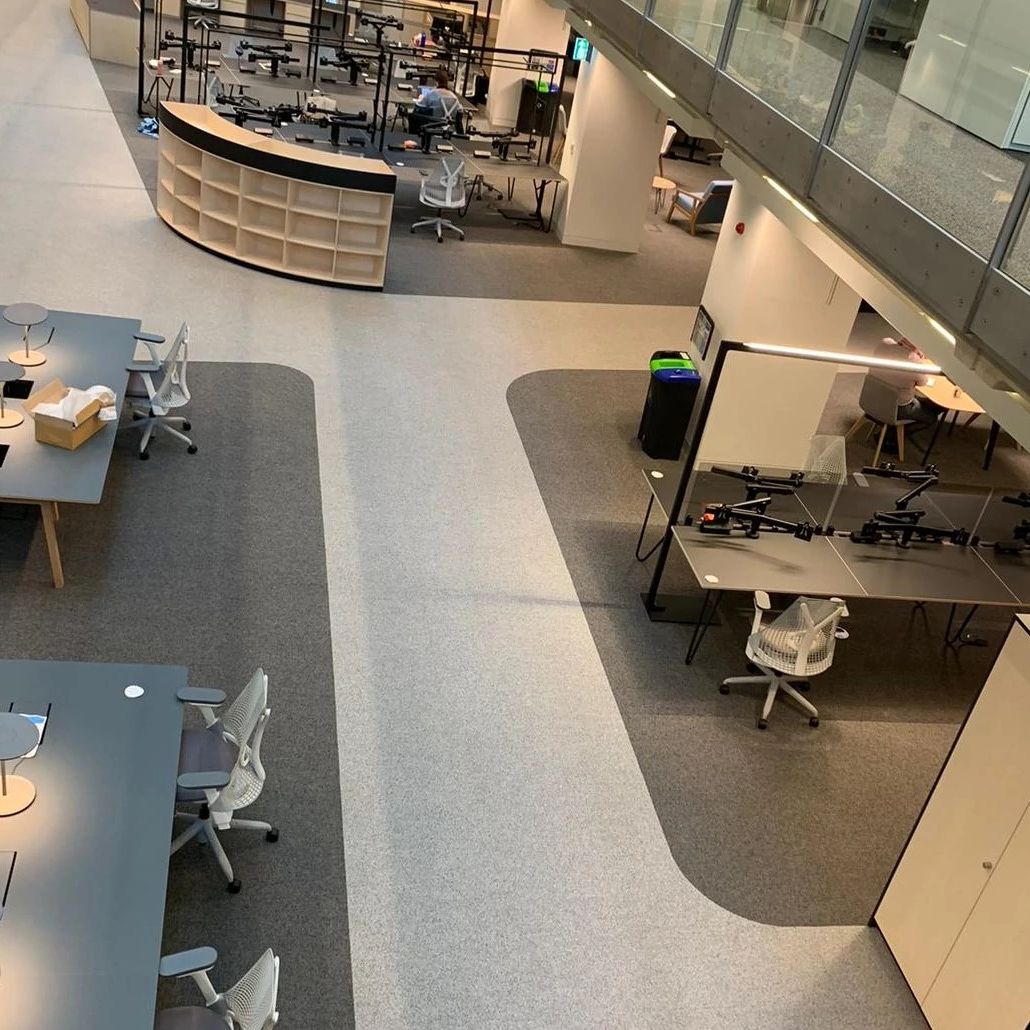 Case Study: Kindred - Installed with Magtabs
Leading flooring contractors Loughton Contracts working with major office fit-out specialist Overbury turned to IOBAC Magtabs as an adhesive-free solution.
View case study
Any question regarding Magtabs™?