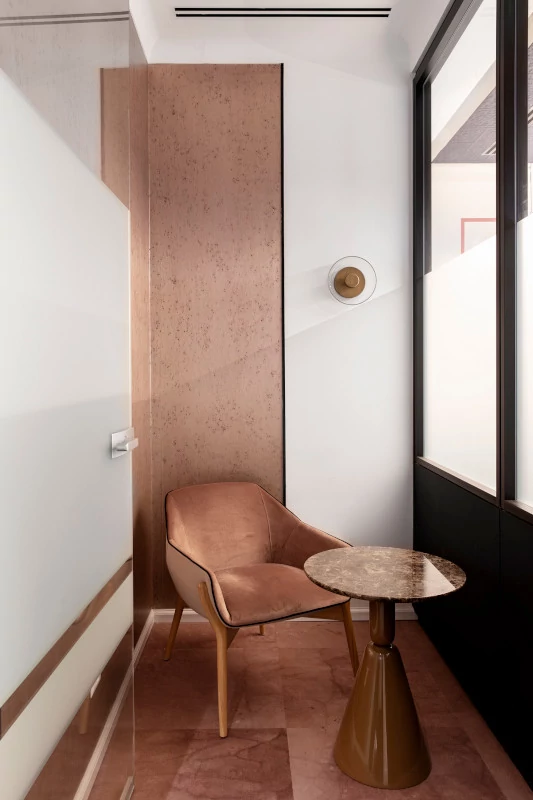 The fourth branch of the CO-WORKING spaces - ROOMS by Fattal, found in Modi'in, Israel, occupies two floors of 1700 m² each.
Roy David Architecture (RDA) was commissioned to design the space in a manner that would continue the language of the 'ROOMS' brand while embracing the culture and identity of the city Modi'in, reflecting the fast-paced, uprise movement of the city alongside its historical gems.
The inspiration for the design stems from the cinematic experience of a hotel. The design attempts to employ a riot of colour texture and artistic detailing, and in doing so transforming each room into a feast for the senses.
The concept reflects throughout the spaces by using bold textures, patterns, furnishing, and artworks to evoke a particular memory and a strong experience of each space. A place that creates a strong bond between people, businesses, and even a geographic bond.
The design language and the branding of the space were done in cooperation with ROOF Studio, which specialises in hotel branding. The collaboration ensured a balance between the established hotel approach and the young and vibrant office world.
This holistic approach is apparent in the space from the unique materials chosen for finishes, to the custom-made carpentry items and the different lighting fixtures. All are taken from the hotel world and walk the line between new and classic and balances the industrial choices that define the office design world.