Zyeta's health-centric and vibrant design for Virtusa at Pune.
Structural excellence, Health-centricity and Vibrancy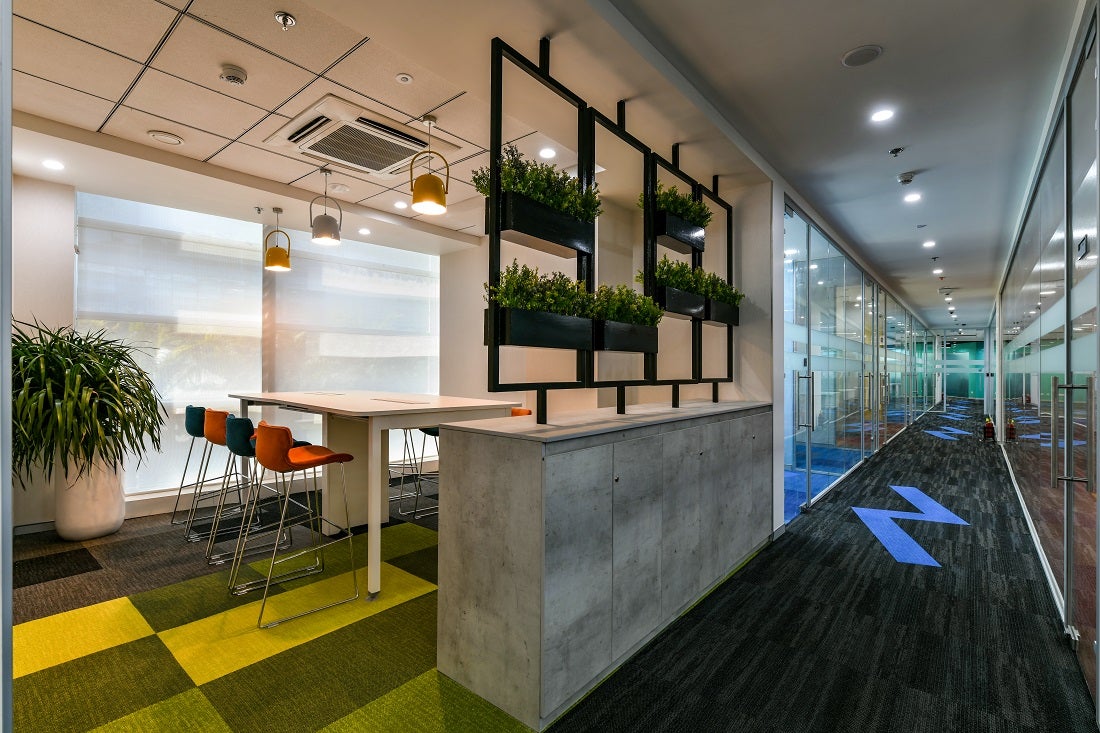 The Client: Virtusa Corporation, a leading US-based IT services company.
Virtusa Corporation, with several delivery centres in India, wanted to establish a strong physical presence in Pune with a workplace that mirrors the brand's global brand standards and yet bring a certain uniqueness to the new center. Spread over an entire floor, the IT giant's new office design, built-in collaboration with Zyeta offers an innovative and forward-thinking work environment that has become a vital aspect of their employees' lives.
To align with the thought process of the organization, Team Zyeta conceptualized a design outline that epicenters the employees' comfort with dedicated spaces to collaborate, innovate, and rejuvenate.
The design strategy: Balancing space and natural light
Team Zyeta seamlessly segregated the main floor and the service areas to maintain a proper but uninterrupted division between the two. This gave a uniform balance to workstations and Offshore Dedicated Centers (ODCs) alongside hub rooms and UPS rooms within the office interiors. This approach ensured alignment with the organization's demand for creativity and innovation in the workplace design. There is glazing placed on one side of the space that is used as one of the main design elements to optimize the inflow of natural light for employee wellness. The next highlighting and in fact, a defining design element for Virtusa Pune's office is the flooring.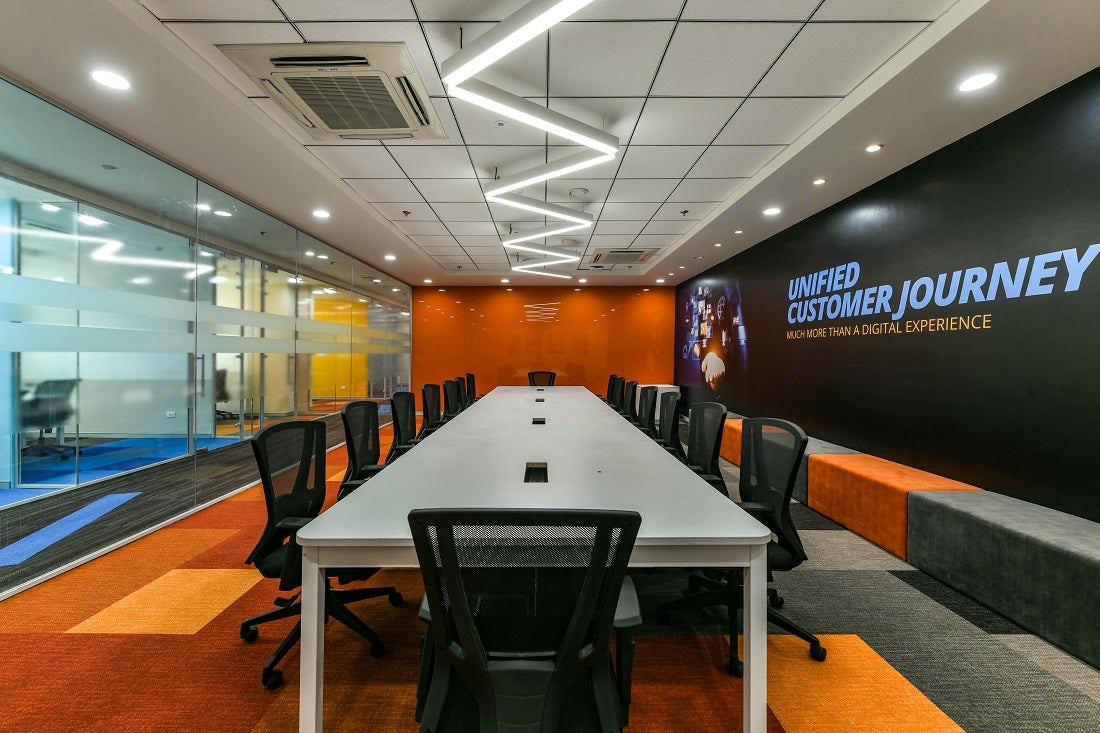 Flooring blueprint: Mirroring Shaw Contract's Smarter Impact
To maintain the uninterrupted visual demarcation across the office floor, Team Zyeta planned distinctive flooring styles to accentuate the purpose of each section. The intent was to alter the perception and expression of each space - meeting rooms, cabins, closed rooms, and huddle spaces.
To accomplish this level of detail, Team Zyeta narrowed down two collections from Shaw Contract – Color Frame and Places. The checkered patterns in orange, blue and green also matched Virtusa's global brand guidelines. The zig-zags patterns served as direction labels to help employees maintain one-directional flow and social distancing – relevant in today's post-COVID 19 scenarios. Importantly, the theme matched Shaw Contract's Smarter Impact framework of knowledge-led, human-centric, and optimistic personality.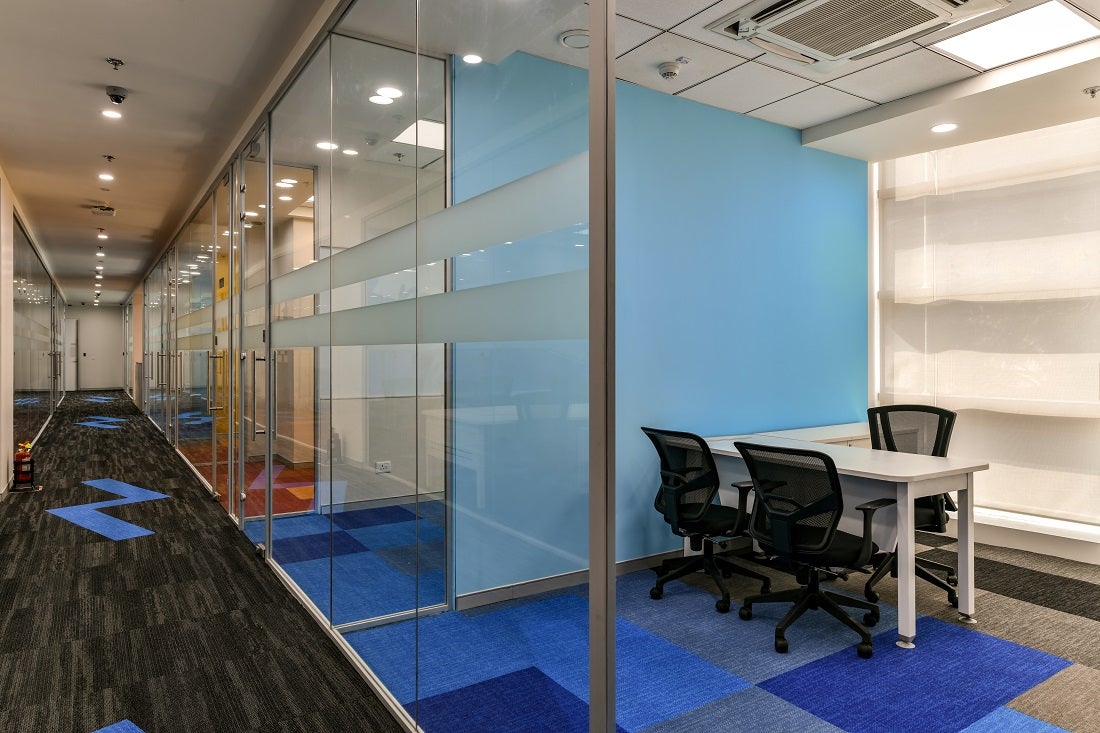 Result: A visually appealing workplace that encourages comfort and wellness
Shaw Contract's smart flooring options helped Team Zyeta to create and build a workplace that manifested detailing and innovation to give the IT giant an office that uplifts work culture and work efficiency. It is a lively, bright workplace, supported by biophilic design elements, where one can easily and comfortably spend hours every day.
" The workplace design is always focused on enabling the employees to work better. This focus translates into moulding design solutions that demand a deep understanding of every aspect of life – people, material and machinery" – Kishore Manoharan, LeadDesigner, Zyeta
Read and print version of the case study here: https://bit.ly/3i5O63V