ANJ Group's interior personality tone for the of a new-age office
The hexagon as a focal point of design, energy, and inspiration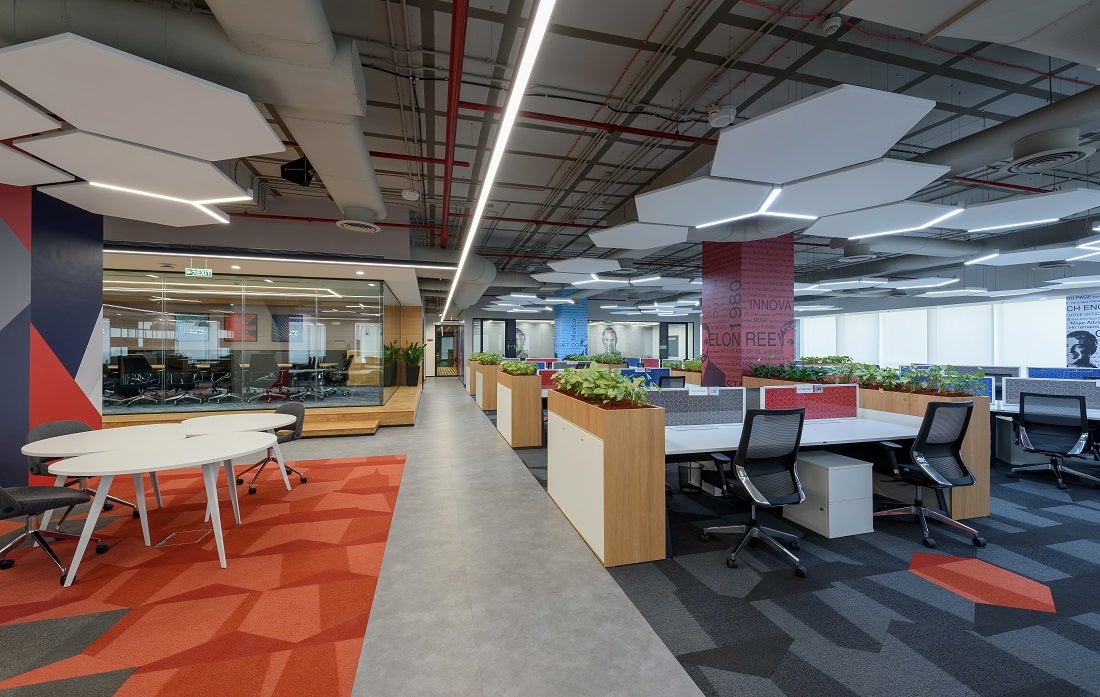 The client: A financial giant with headquarters in South Africa
The brief to the design team from the ANJ Group for the client's new office in Navi Mumbai, India was as much – build a space that attracts young people and motivates them to achieve the organization's larger goals. Derivative to this, the formulated mind map asked for dynamic, faceted and prominent forms. The use of lines and angles was implemented, so as to reflect the same. The said office space was envisioned towards empowerment.
This being their first office in India, the company wanted to prove a point to its prospective workforce and customers across the world. The office had to be youth-friendly, exude energy and inspiration. For the design firm, the project site was a clean slate. The team studied the client's guidelines, their design intention and expectations. The team brainstormed on the possible themes to narrate the design story.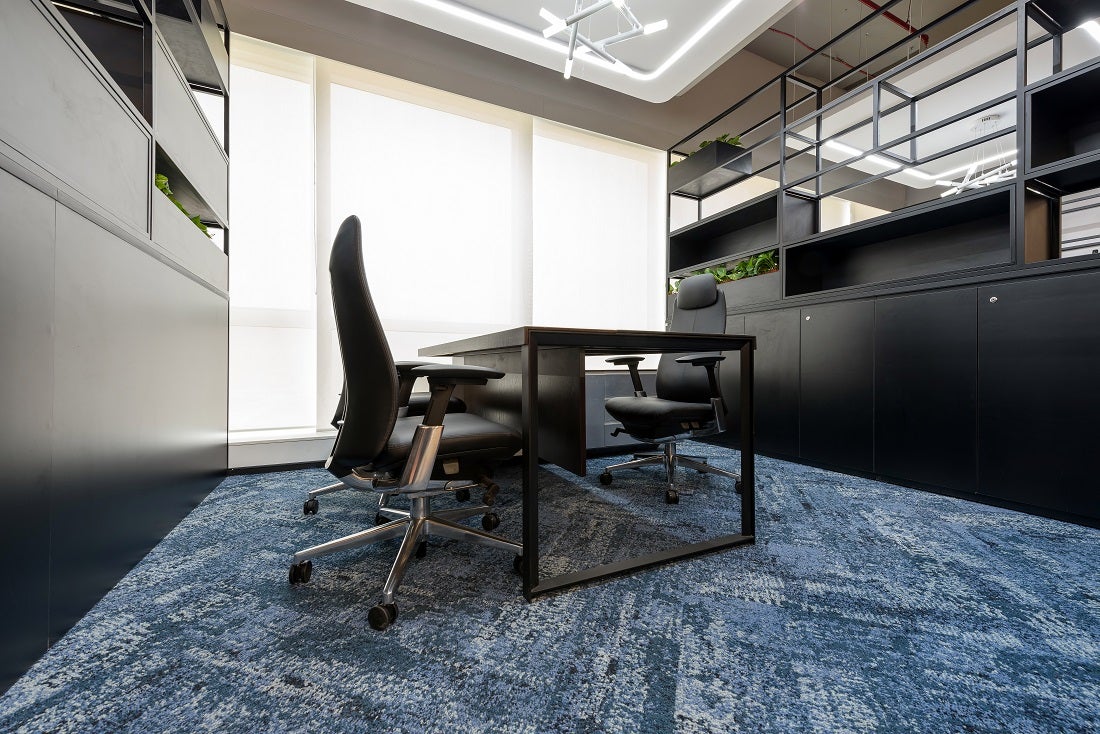 Design insight: The hexagon as the floor design theme
Purely derived out of a circle, is a hexagon. If bisected on the circumference by unchanged radius, followed by joining the intersections, the resultant is a hexagon. It is the ultimate extent of a line's conversion to an arc. This symbolizes dynamism perfectly. Hence the team decided on a hexagon to be the mascot that would drive the floor's force
Shaw Contract flooring: Material variety and colours that aligned with the client's branding
The team narrowed down on three collections from Shaw Contract's portfolio for the 10,000 square feet flooring area. Configure (Colour Shift Hexagon Tile 5T161, Base Hexagon Tile 5T159, Contact Hexagon Tile 5T160) for the Town Hall and Workstation areas, Surface + Strand (Surface 0515V) for the passage, and Haven (Familiar 5T235) for the Boardroom.
The colours and shapes were chosen to reflect the ample natural light that came in, and which played a big sustainability role by minimizing power consumption. The transition of flooring across different utility spaces was smooth.
Result: A dynamic, fluid, and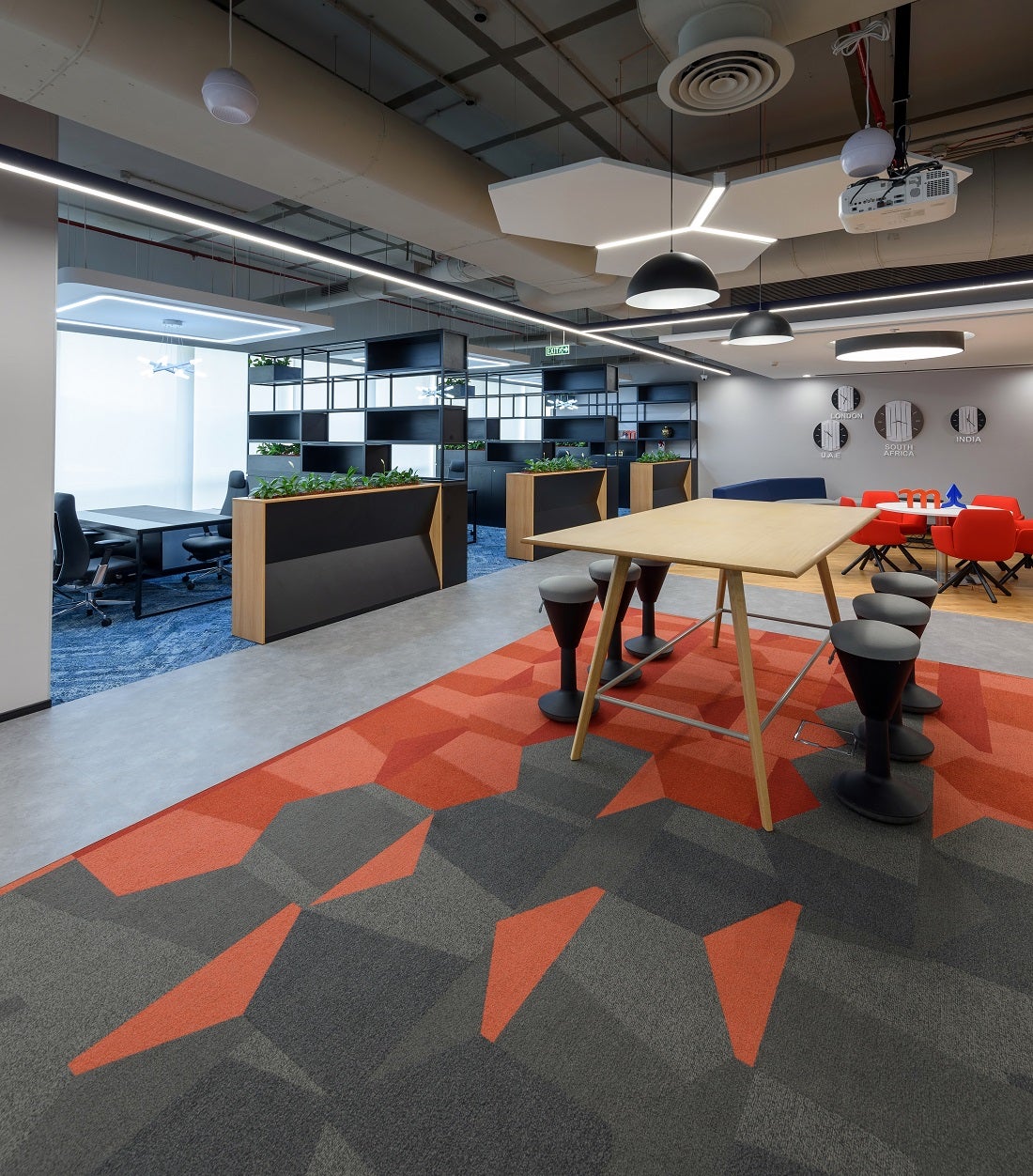 inspiring workspace.
The outcome of the floor design was the power it brought to the overall interior design plan of the office. The hexagon-themed flooring design infused energy, comfort, and visual beauty into the workspace. To put it briefly, the said office space transcends the boundaries between the employee and the employer to make it simplified, flexible and free flowing.
"The first thing we do before accepting a project is to know what exactly the client expects from the interior design plan. Is it pure function or beauty or a mix of both? Once we know the objective, we go about identifying the anchor design element." – Aditya Benibangde, Associate Designer, ANJ Group.
"What we liked about the floor design is the smart usage of hexagon shape in umpteen ways. There is not a dull moment while walking in the office. What's more, the floor material meets all our corporate guidelines on environmental responsibility" – Yasir Ahmad, CFO, Momentum Metropolitan Services ( India )

Read or print the PDF version here: https://bit.ly/32n9U5v