Zyeta ensures underfoot comfort at Druva, Pune, India
Down to Earth Comfort for a Company in the Clouds
The Client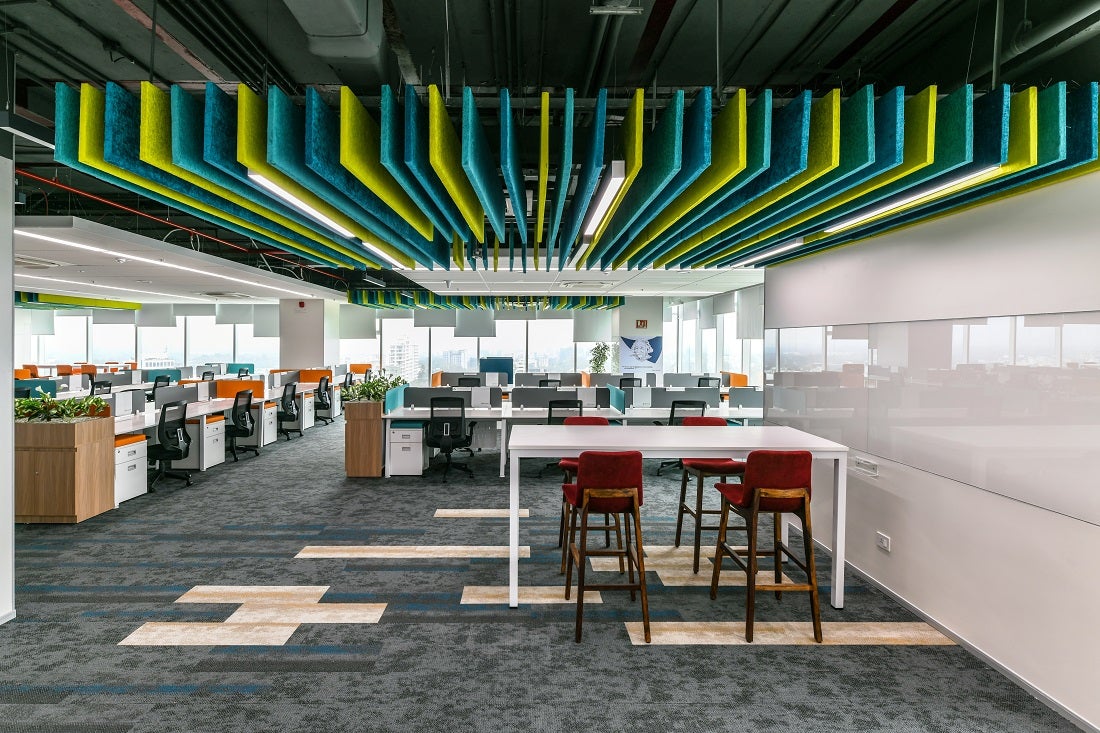 Pune is home to Druva, a SaaS-based Data Protection, and Management company that provides Cloud-based services. In the context of evolving workspace design trends, Druva sought a design that aligned with its open, collaborative work culture and mirrored its distinctive flat organizational structure. It also had to be highly proficient and functional.
Team Zyeta conceptualized a design plan for Druva's new office. A plan that goes beyond visual looks and proves to be a benchmark among office spaces. There are customized graphics, collaborative spaces, and optimum use of daylight throughout the space.
The Design Strategy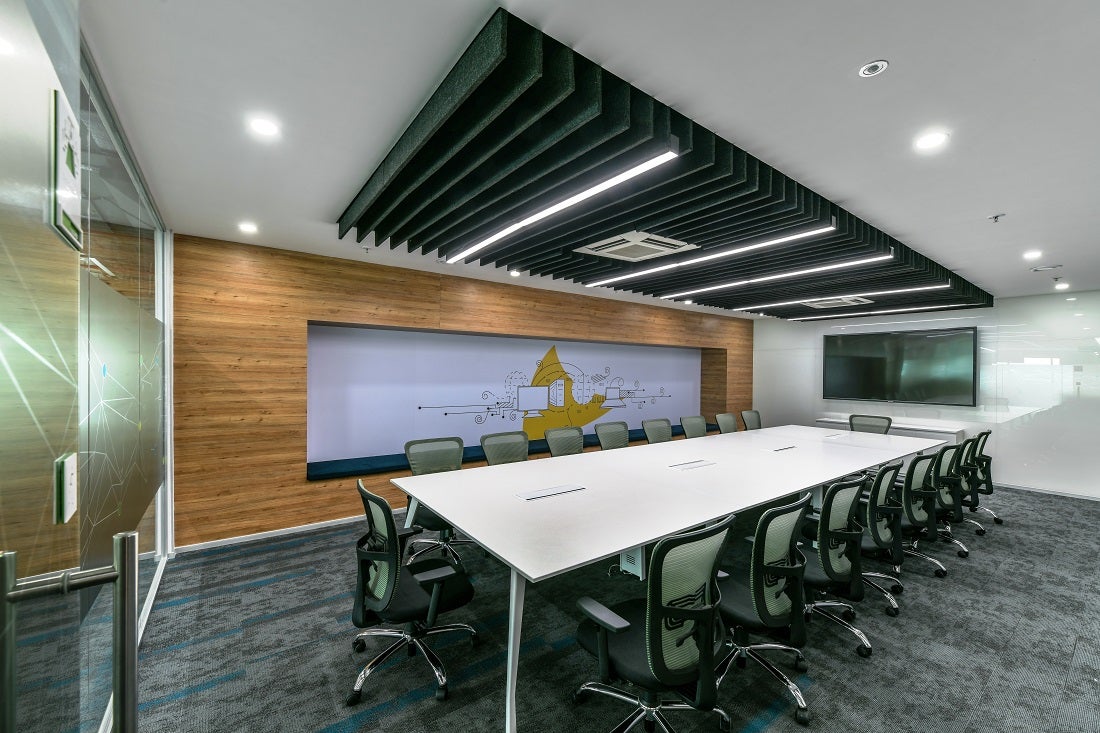 Team Zyeta began Druva's design journey by visualising a multifaceted layout that could foster a flexible and purpose-centric office space. Druva wanted its staff to work in an environment that enabled them to move, work, and interact with one another conveniently. Their strategy was to build an office space that included a wall-less workstation area with open discussion rooms, informal collaboration zones, and dedicated multi-sized meeting rooms. The plan included spaces like a library, a sports bar cafe and a lounge that would give the occupants enough options for flexible desks, discussions, or just chilling out. The flooring would serve as the platform that connected the varied spaces in a holistic way.
The Flooring
The aesthetic expression of the design was further accentuated with the office's flooring and ceiling features. Druva's flooring displays a colourful look with the use of gradient pattern carpet tiles from Shaw Contract. With two different shades - grey and peacock blue—the flooring creates a striking contrast to the overall look of the place. In collaboration spaces, however, the flooring is a yellow shade at the forefront, adding a lively vibe to the area. Modular carpet tile is used in the sports bar and cafeteria areas.
Another highlight of Druva's office is the use of a modular grid and open ceilings. The ceilings are accessorized with acoustical baffle panels that match the carpet colour for design continuity.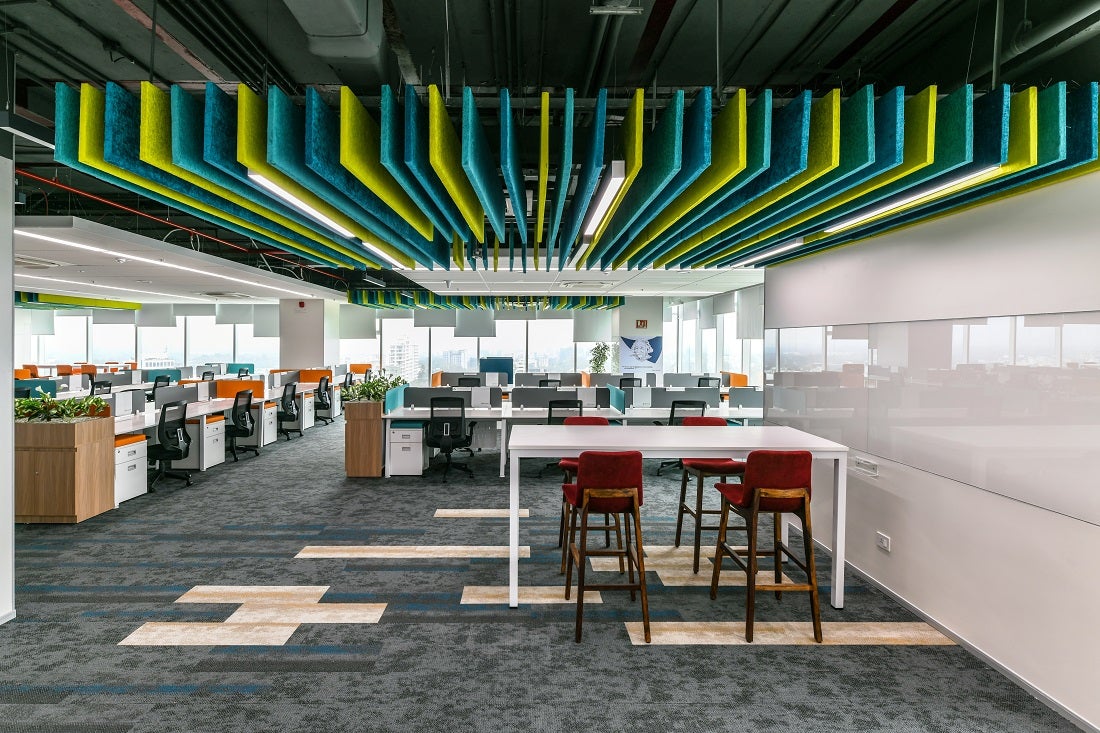 The Result
With every new project, Team Zyeta makes sure to bring in some new and non-repetitive elements. For Druva's Pune office, flooring is one of the design highlights that had to connect the overall project. Shaw Contract's new-age flooring solution not only matched the design plan but also fused the different elements and project goals together.
"Besides the perfect detailing of different design aspects, interiors of a place are so much about the aesthetics and how they vibrate with a place and its occupants. For Druva's Pune office, we chose Shaw Contract carpet tiles as they concurred with our design plan and the client's requirement of a sustainable yet contemporary flooring solution."
- Team Zyeta