Biophilia-inspired design by Architect Vistasp & Associates
Earthy ambience for a high-flying accounting firm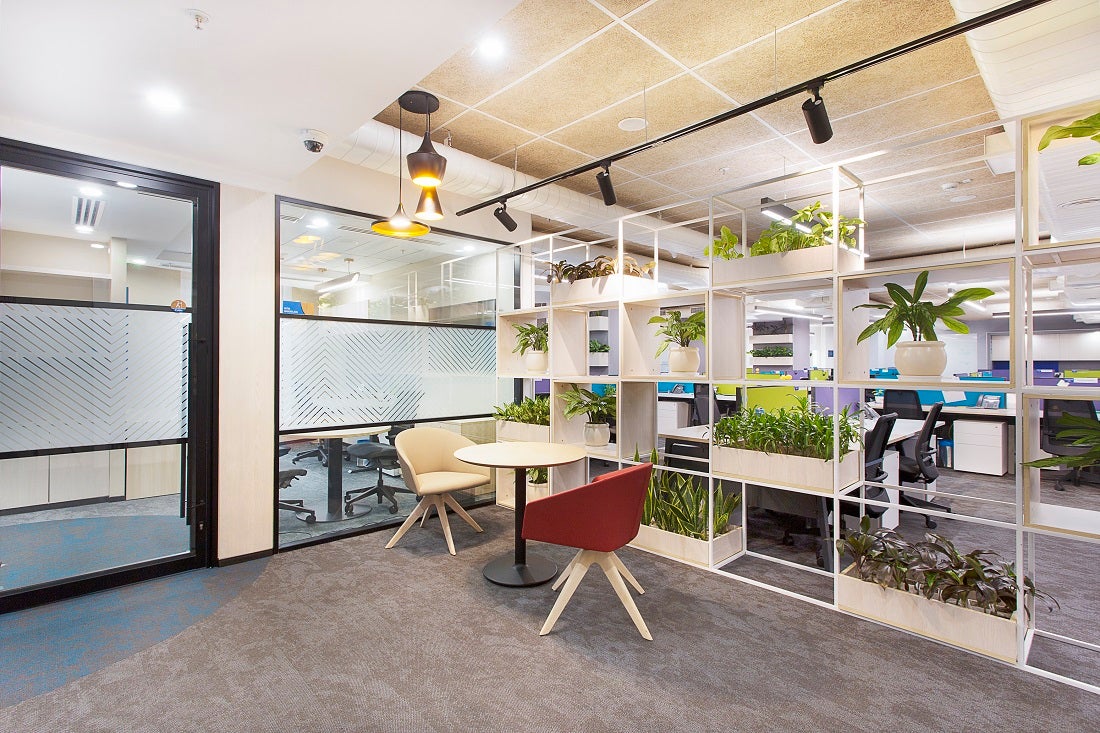 The Client: A top-five global consulting firm whose stamp of respectability is sought after by corporations all over.
This accounting and consulting giant has offices all over the world and India is its major outpost with thousands of employees. The new office at Gurgaon, aimed at accommodating its growing workforce, had to imbibe the same global aesthetics as its other locations, but with a uniquely Indian touch. The firm AVA Design Studio (ARCHITECT VISTASP & ASSOCIATES) was signed up for the prestigious project.
The brief to the firm was short as it was crisp. The workspace had to look and feel different, but retain the global brand character. It was a tough balance for the design firm as it to work within a fairly tight framework.
The HIVE concept
Given the large area across two floors and the circular nature of the building, the design team was quite thrilled with the creative possibilities. Post many brain-storming sessions with the client on their implicit and explicit expectations, the team decided to conceptualise the design around the H I V E theme (Human, Innovative, Vibrant, Earthy). The creative possibilities of the project were immense and challenging too. The plan would bring together the latest high-tech materials and natural phenomena (grass, plants, sunlight, etc.) and the challenge was to integrate them in an aesthetically pleasing way.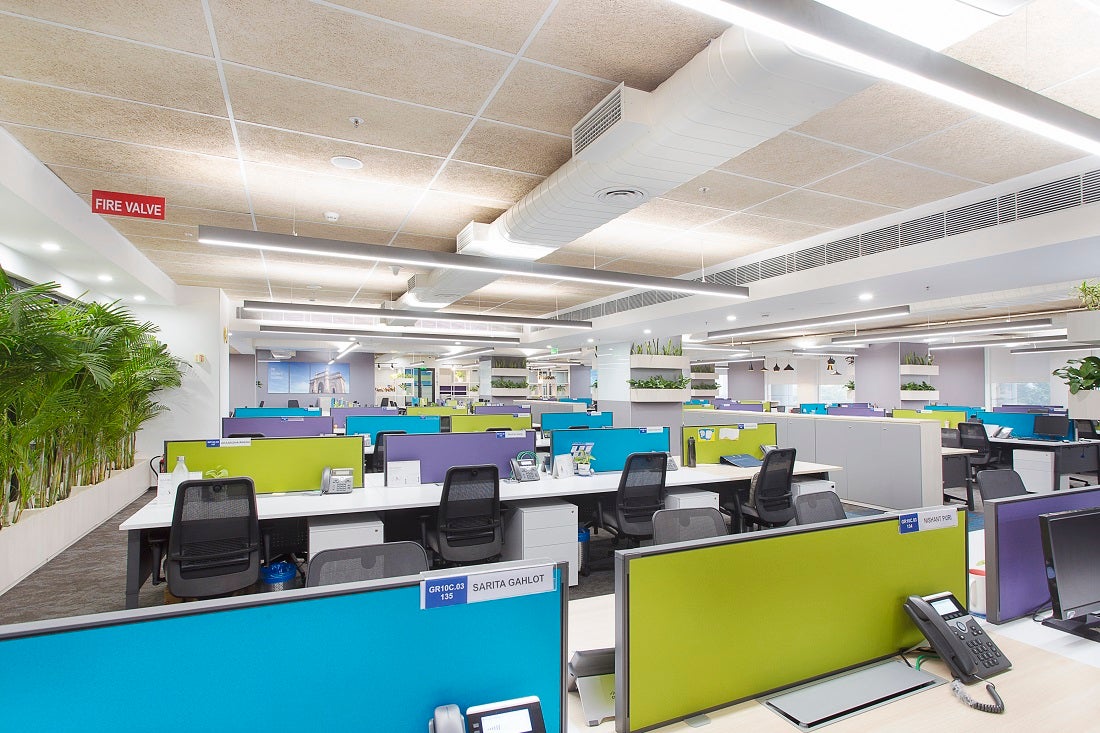 The floor: Carpet tiles that provided a sturdy foundation to the design vision
The design team's objective of the carpeted floor was to give a lift to the entire volume of the space in a subtle manner. It also had to lend an earthy ambience and support the biophilic touches around the interior space. Of course, the carpet tiles had to be fresh, sturdy, and resilient to withstand the heavy footfall. The material and colour variety also had to meet design expectations.
After rigorous research, the choice fell on Shaw Contract's two premium collections – Walk in the Garden and Concrete + Composed – that met the rigid requirements of the project. The collections were a veritable palette of styles and colours that the team needed. Rich wood grain visuals textured concrete look, and beauty and made for a positive impact. The carpet tiles expanded the design theme's connection with nature. The tiles built with COREtec® XRC technology provided dimensionally stable construction and high-density core to withstand heavy traffic. Moreover, the tiles ensured low maintenance and quick installation.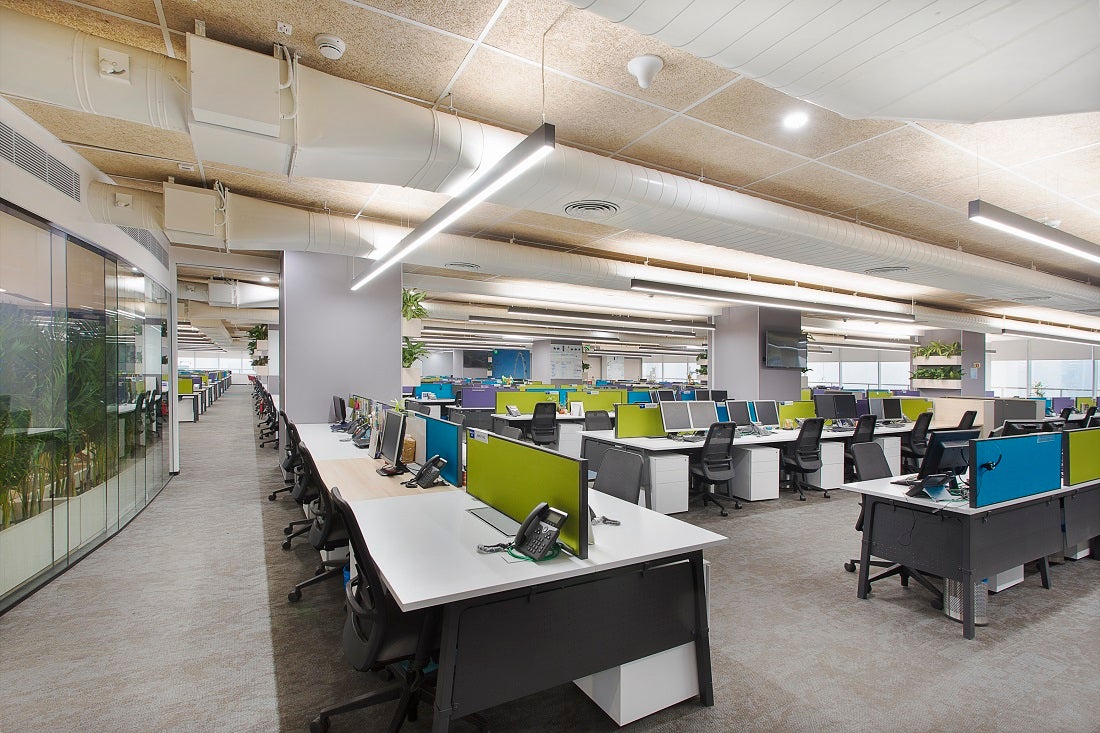 Result: A sustainable, earthy, and peaceful work environment
The Biophilic design emerged in all its richness and subtlety through the carefully chosen carpet tiles. The globular tones, grass board ceiling, and green plants delivered a natural look, freshness, and visual relief to space and made the consulting giant's office truly Human, Innovative, Vibrant, and Earthy! The design lived up to the high sustainability standards followed by the consulting firm in its other offices across the world.
Architect quote:
"The most important rule we follow while doing up space is that design is about being flashy. It is about being eternal through a well-crafted design palette; that is what we feel we have achieved."
– Vistasp Bhagwagar, Principal Architect / Managing Director, ARCHITECT VISTASP & ASSOCIATES
Read and print the PDF version of the case study here: https://bit.ly/3l3WvHu