Mentor Graphics' center at NOIDA; designed by Edifice Consultants.
Electric. Brilliant. Aerial. Sublime. Social.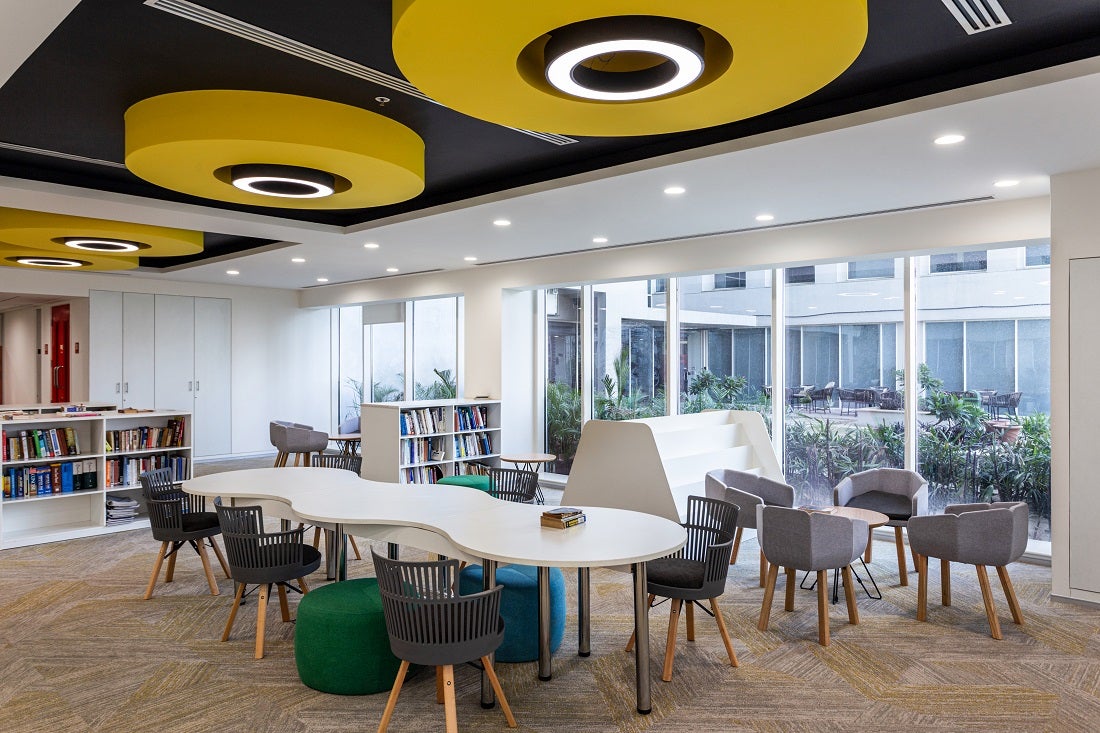 The Client: Reiterating belief in India's design capabilities
The Electronics Design Automation (EDA) giant headquartered in the US took up a massive ten storeyed building spread across 2.7 acres at NOIDA to house its growing workforce. With a space so vast, the design team had a towering assignment on hand – to make the insides and outsides look unique, fresh, and attractive.
The design firm – Edifice Consultants – conceptualized the space as a charged work environment, infused with a collaborative culture and a deep sense of community. It had to have everything that a modern office demanded; outdoor and indoor play courts, gyms, and other recreational spaces.
Idea: Floor colour as a space-defining marker
As a conventional and uniform concrete structure, the differentiation across the storeys could come only through design interventions. The design team planned floor-specific colour themes. Bold. single coloured carpet strips specific to the identifying colour were introduced on both sides of the carpeted corridors to enhance the sense of direction. The same theme was taken through the open office and breakout spaces by way of colour highlights in the various types of carpet tiles used.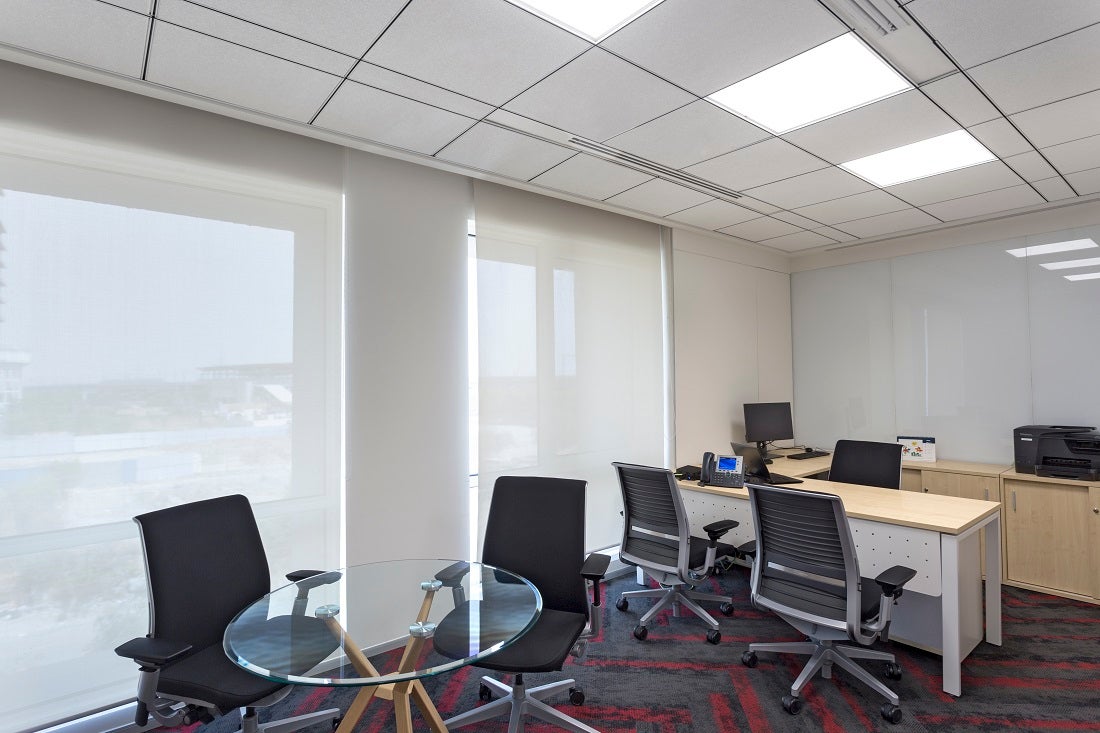 Floor: Smart carpet tiles for Smarter Impact
The flooring concept was, of course ambitious. The carpet tile brand had to have a great variety of colours, material quality, and meet the globally rigorous sustainability conditions set by the MNC client. Shaw Contract ticked all the boxes expected by the design agency and the client and was signed up for the flooring assignment.
The design team had Shaw Contract's bountiful supermarket of colours and range variety to choose from. To make its task simpler, the team chose just one range Configure (Style: 5T161 Colour Shift hexagon) in five eclectic colours - Social, Brilliant, Electric, Sublime and Aerial. As the colour names conveyed the moods of each floor's utility.
The flooring plan neatly dovetailed into Shaw Contract's Smarter Impact framework; that of impacting adjacent communities knowledge-led, human-centric, and optimistic initiatives. The longterm idea is not just to execute a flooring project but influence the human settlement in an impactful and sustainable way.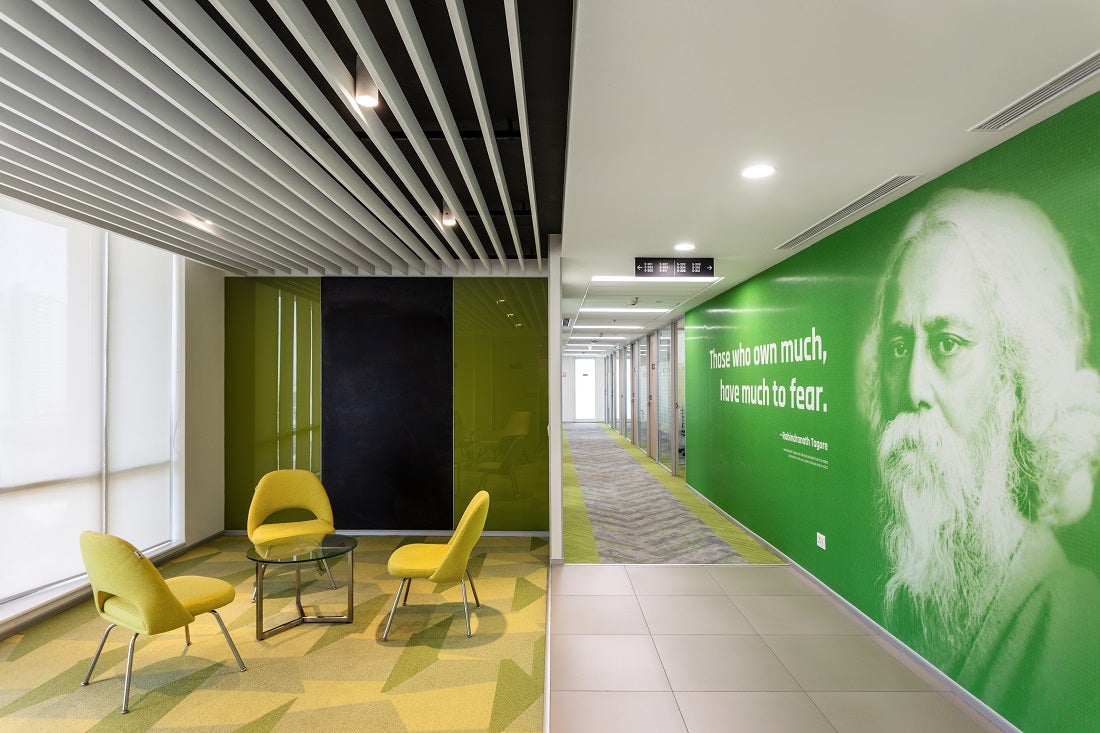 Result: Enhanced spatial quality, visual beauty, and underfoot comfort
The creative juxtaposition of floor colours across the five stories brought warmth to the interiors, without appearing chaotic. The ample, glare-free daylight through the complemented the floor plan and ensured energy efficiency while facilitating peak employee performance.
" The design practices at Edifice are centered around leading the user to reach optimized productivity. Flexibility and comfort are incorporated in each element that makes up one's personal or professional space"– Shaon Sengupta, Design Director, Edifice Consultants.
Read and print the PDF version here: https://bit.ly/3jssQXw