Oculus Design Studio reveals the secret to an exciting workplace
Fresh. Playful. Energetic. New office of a financial powerhouse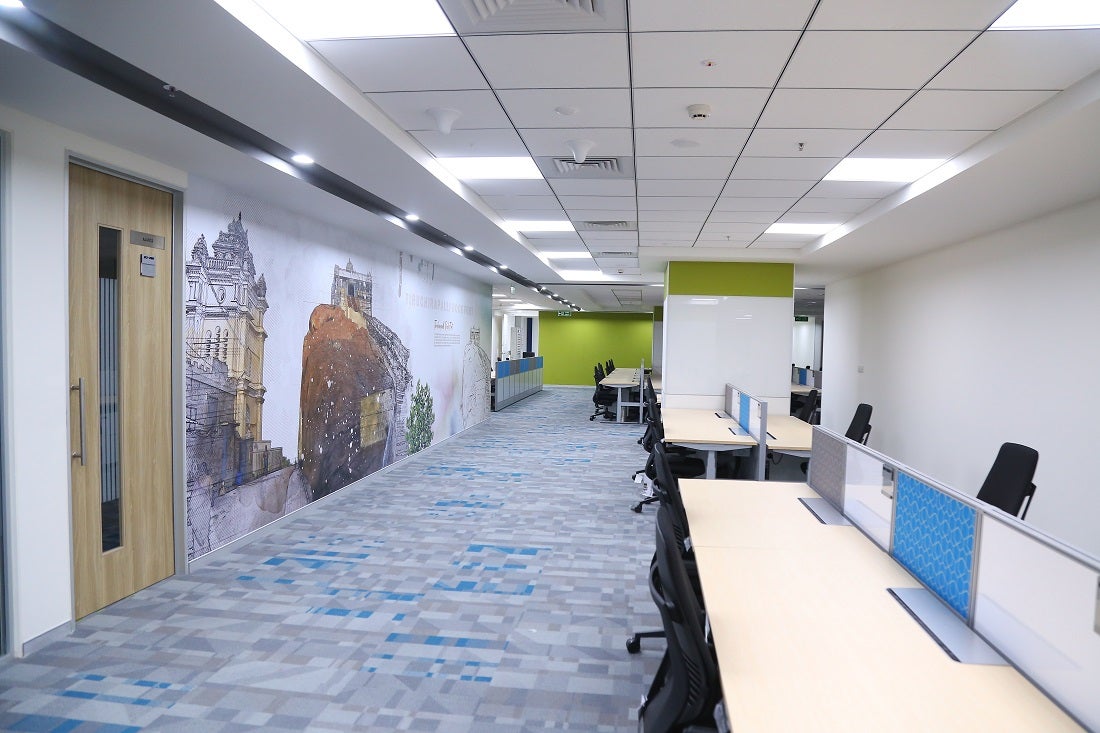 The client: A US-based finance MNC
The client is a typical multi-national giant in the finance space with offices all over the world. It serves as an important link in the highly interconnected and fast world of global finance.
As an organization that owes its origins to "paperlessness", the client's design thoughts are rooted in the eco-friendly green consciousness of its office interiors. The design brief for Oculus Design Studio for its new office in Chennai, India was no different. The design team was well aware of the conditions but was equally determined to leave its unique stamp on the project.
Design insight: Defining green idiom in a corporate setting
The floor plan devised by the design team envisaged simple, geometric forms with engineered stripes and powerful colour blocking, all integrated within a distinct eco-theme. The colour and textures of the carpet tiles were defined to fit into this theme. The floor was also intended to serve as a space demarcator and to convey utility without the need to erect too many walls.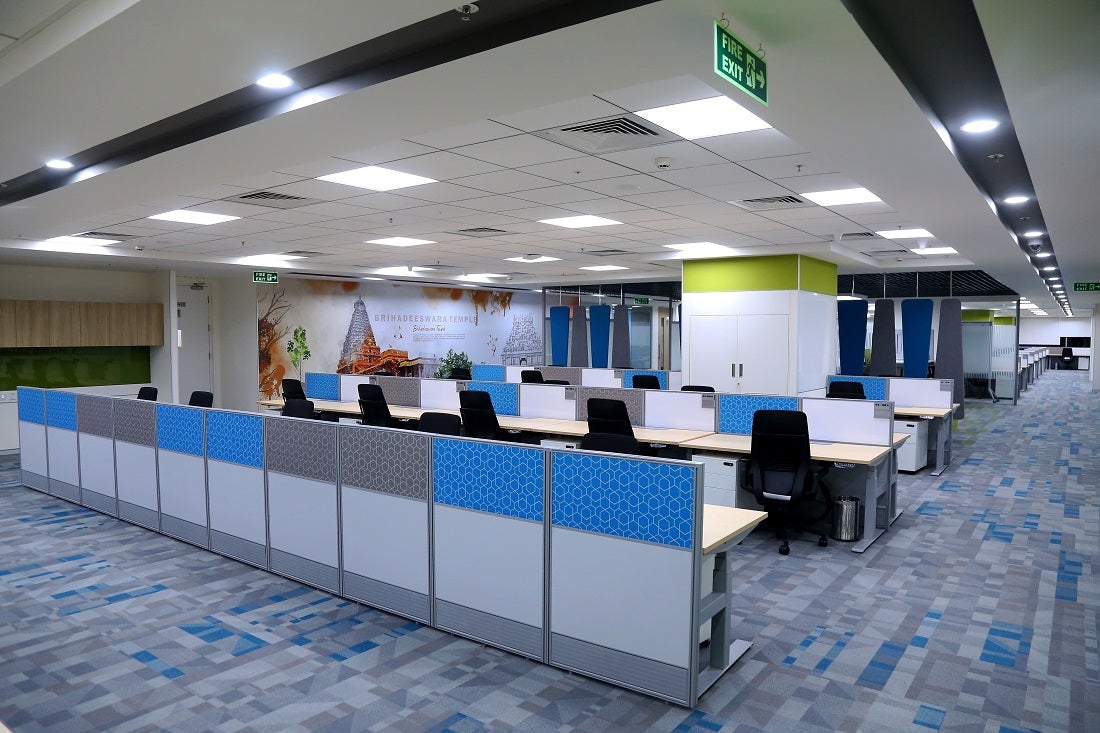 Shaw Contract carpet tiles: To promote informal teamwork, meaningful connection, and innovation.
The floor design plan envisaged specific colours for the collaboration, agile, and work zones in a closely related palette of colours and patterns. Monochromatic blocks of grey tiles with a tint of blue were to be used in the main lobby passage towards the open office area, defining the pathway. Tiles with gradation patterns were planned for the meeting rooms. Informal meeting spaces were demarcated with distinctly bold green coloured tiles.
The team sifted through Shaw Contract's entire portfolio and chose the Mindful Play collection and three styles within that – Think Experience, Experience Lime, and Experience Teal. This collection provided the necessary geometric cuts and bold colours the design demanded.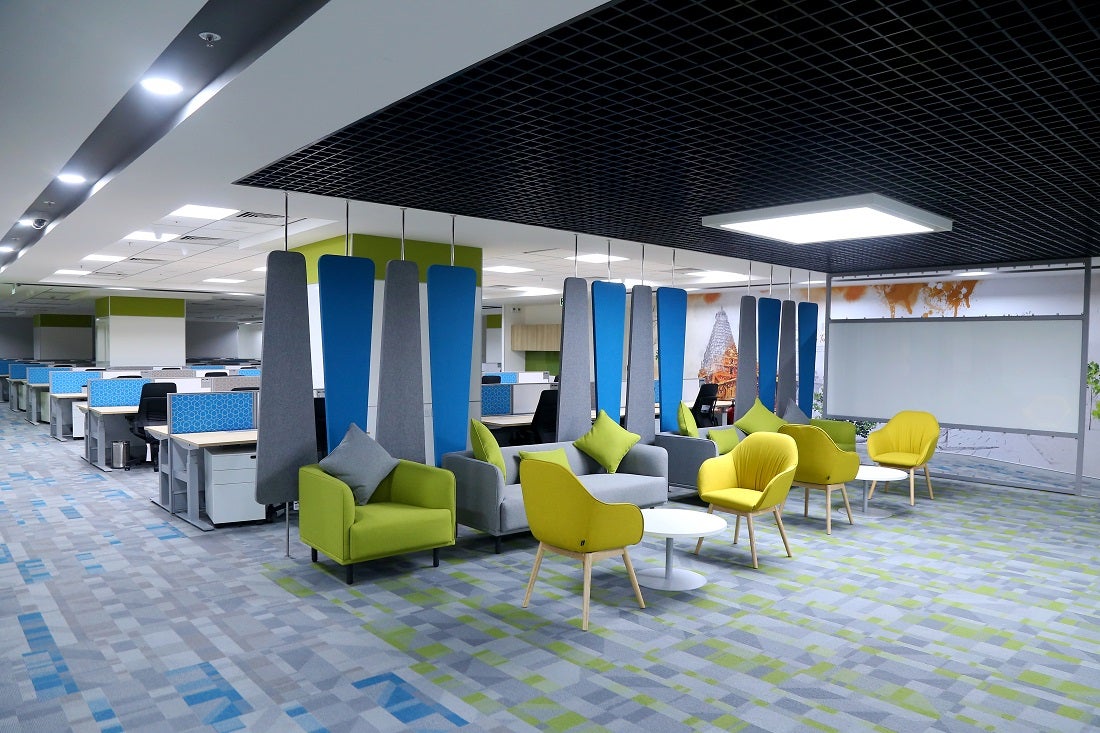 Result: An office bubbling with the freshness of lime and energy of the blue sky.
Each aspect of the new office breathes freshness and energy; the entire interior space is a seamless and joyous visual experience. Each detail – be it the colour of the sofa pillow or the beautifully detailed thread art in the central lounge – pleasantly integrates into the broad design narrative.
The singular achievement of this project is in demolishing the myth that financial services offices are boring spaces. The new office is exciting and truly magical.
"We love design challenges. However tough the project conditions are, our intrepid team of designers at Oculus brainstorms to come up with practical solutions. This project is a case in point. We are satisfied with the outcome and the enthusiastic client response." – G. Kiran Kumar – Architect, Oculus Design Studio.
You may view and print the PDF version here: https://bit.ly/2WqVuOD