When a design story has six sides to it
Hexagon-inspired floor design at Bravura.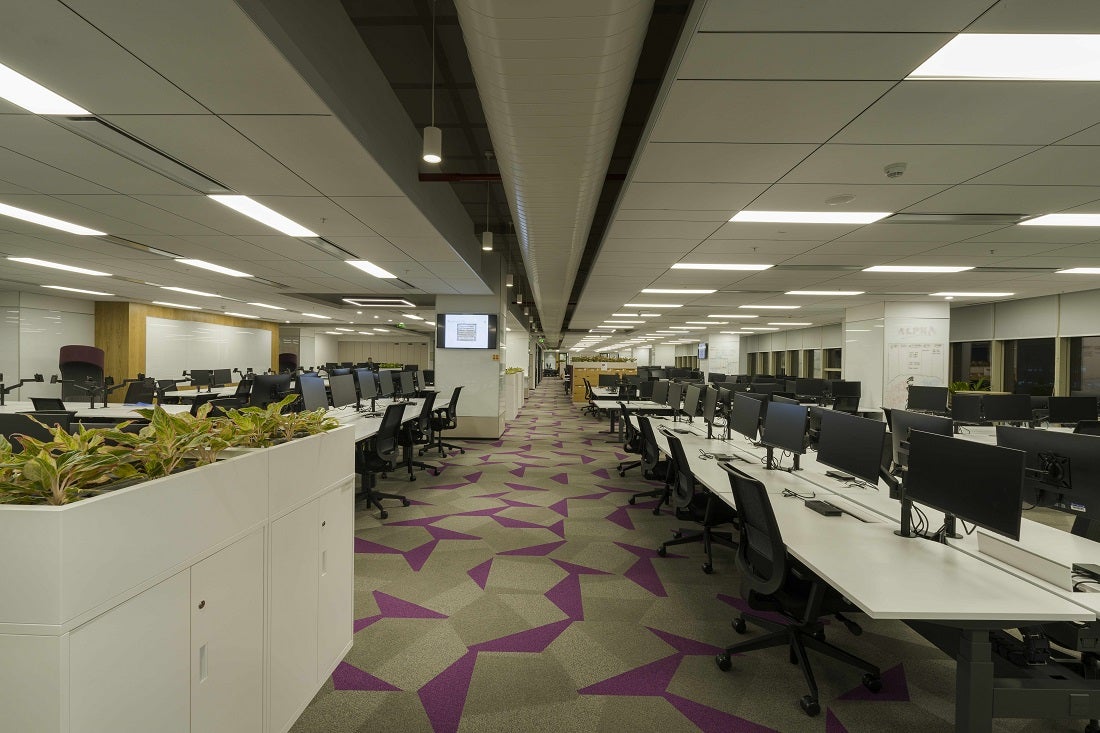 The Client
Bravura Solutions is a multinational software solutions firm with headquarters in Sydney, Australia, and offices in seven other global locations. For its new facility at Gurgaon, India, Bravura wished to create an evolving, warm, and smart community design with a new materiality experience. After due research, the firm hired DSP Design Associates for the assignment.
This case study elaborates Shaw Contract's "Smarter Impact" thinking and how the floor design brought alive Bravura's global footprint, and yet retained a distinctly Indian stamp at the Gurgaon facility.
Collaborative partnerships in new age workspaces
With the focus on creating a high-quality work environment, the design solution features the creative use of materiality, art, and industrial treatments. Finely crafted details reveal the design's high standards. The young and contemporary look met the technical and practical expectations. Beyond its high quality, this project is characterized by its uniquely agile community planning, live art painted at the site, and Biophilia.
It is interesting to note how an intrepid design team can identify the exact material and partners to execute a plan. Here, the team was well aware of Shaw Contract's palette of floor tiles, material composition, colours, and applications.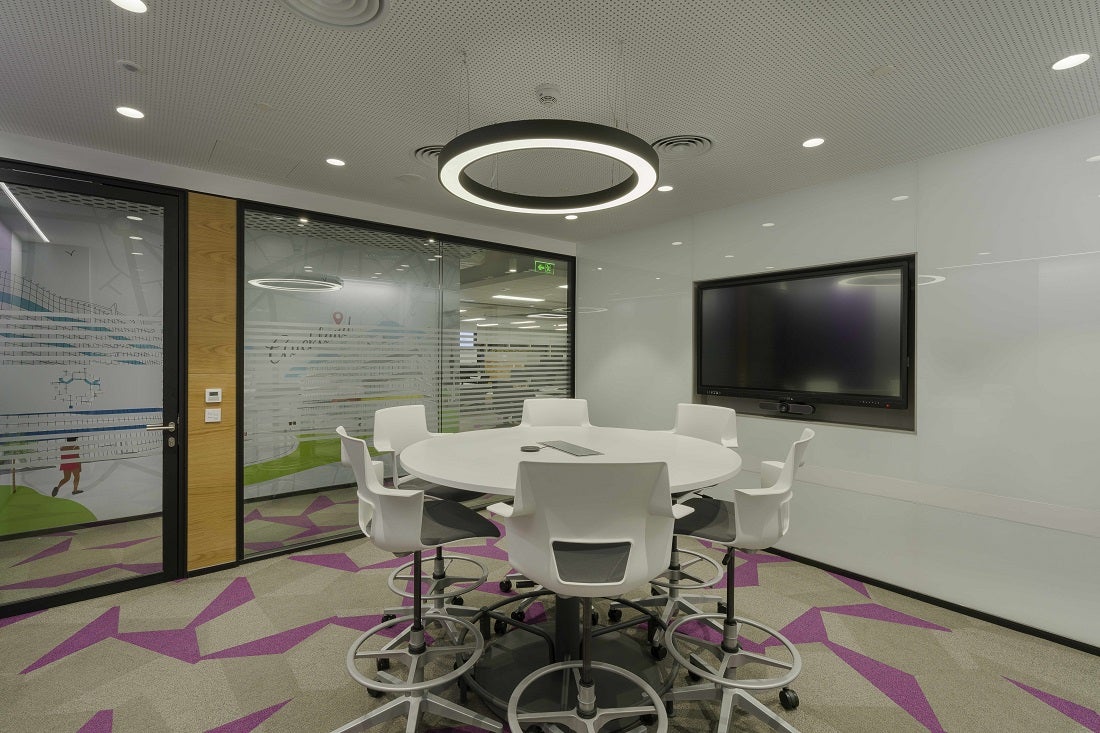 Mathematical Hexagon to create collaborative Chemistry
The angular design theme found a perfect partner in Shaw Contract's Base Hexagon and Contact Hexagon collections, and the accompanying rich purple, blue and grey colours. The product variety matched the precise requirements as envisioned on the drawing board.
The design team's ability to quickly identify and narrow down on the required products points out to Shaw Contract's Smarter Impact framework. The framework provides a foundation for Shaw Contract to adopt a knowledge-led, human-centric, and optimistic quest to proactively understand global flooring trends and provide innovative solutions.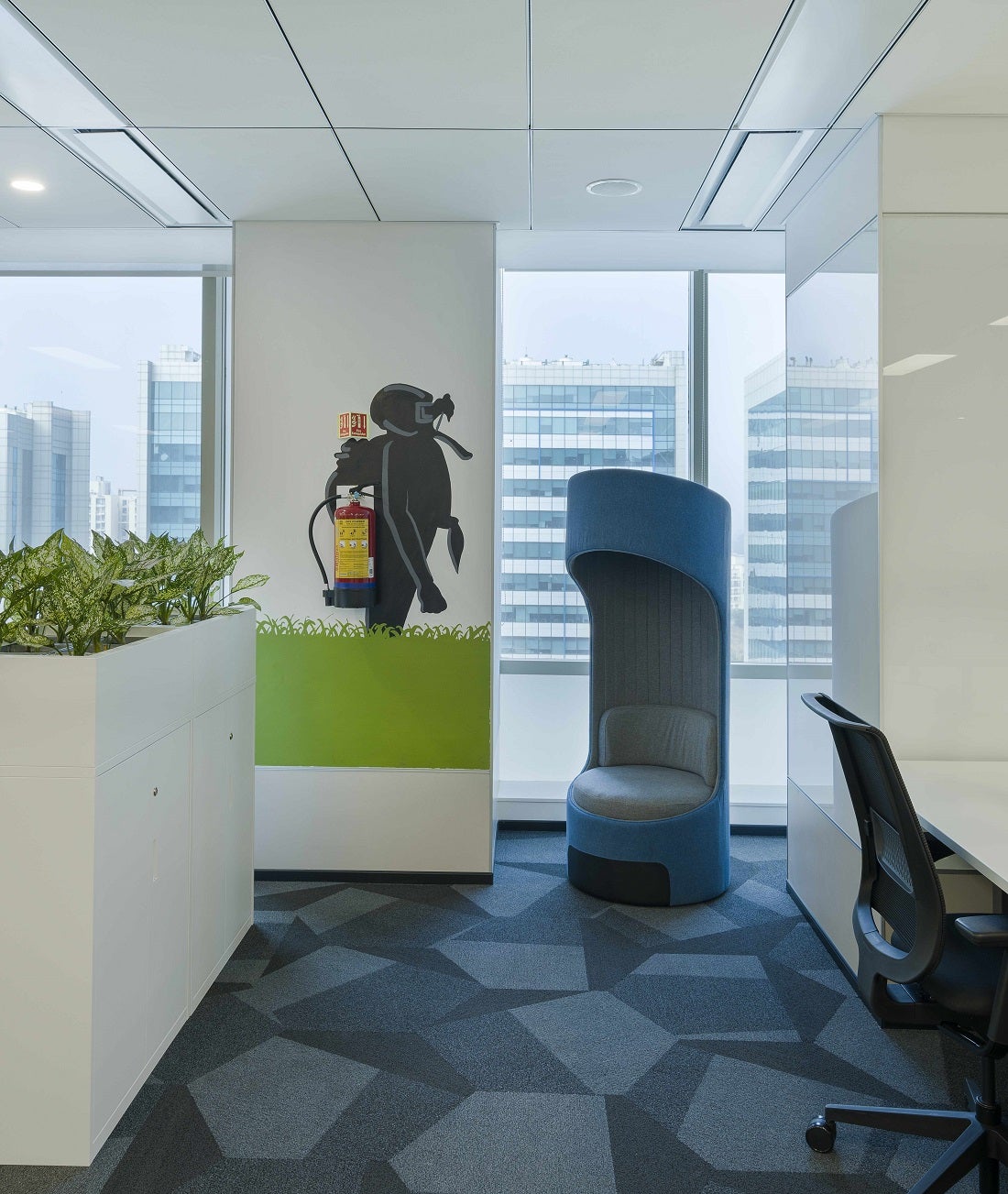 When you can't help but exclaim "Bravo!"
As envisioned, the sharp floor design accentuated a sense of pace, movement, and drama to the work environment. The floor tiles from Shaw Contract infused a stylish look and collaborative chemistry to the new office. Artworks from all over India adorned the walls, completing the fusion of thoughts and ideas.
The Bravura project is also a fine example of how creative ideas can afford to veer off the beaten path when intelligent supplier support is available.
"All our mental energies at DSP Design go into getting the design planning and materiality right in a project; at the drawing board stage itself. Only when we are fully convinced, do we start the execution process"
SHWETA GROVER
Director Design, DSP Design Associates.
Read the PDF version here: https://bit.ly/3itLyxk