Shaw Contract Introduces New Solution For Sound Absorption
Shaw Contract, a design leader in commercial flooring solutions and surfaces, is pleased to introduce Soundscape, a new innovation that pairs LVT in wood visual planks with acoustic backing underneath to absorb and stop sound from traveling. This human-centered solution, for both public and private spaces, also features Shaw Contract's maintenance-friendly ExoGuard™ finish which provides additional resistance to scratching, staining and improved cleanability.
Sound layers build our experiences in the places where we work, play and rest – footsteps, phones ringing, colleagues chatting and guests in nearby hotel rooms – there are so many sounds in our daily lives that are unavoidable. With Soundscape, designers can create a sonic environment that reduces sound and encourage positive emotional and physical responses in a space.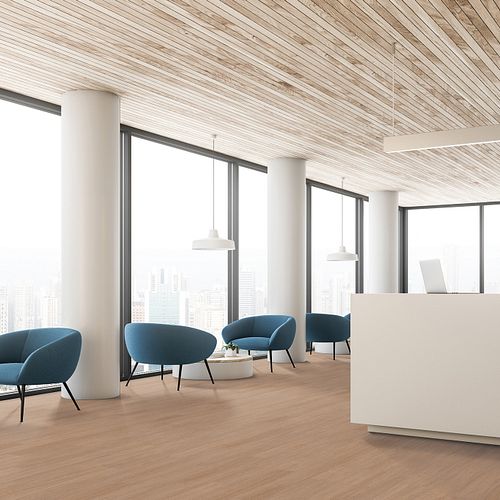 "Soundscape features modernized visuals for contemporary spaces that are a great blend of residential appeal for commercial applications, says Paul Young, VP, Hospitality and Commercial NSP at Shaw Contract. "With this new collection, we are answering the growing demand for an acoustic flooring solution in today's busy commercial environments."
With Soundscape, there is no need for transition strips as the 5 mm thickness compliments a wide variety of existing carpet tile collections. Installation is quick and easy lending to a reduction in time and cost. The acoustic backing reduces impact sounds and with a 59 IIC rating, Soundscape, with its contemporary aesthetic and ultimate functionality, is a viable solution for multi-floor environments.