Shaw Contract Introduces Sartorial Collection for The Modern Workplace
Shaw Contract, a design leader in commercial flooring solutions and surfaces, is excited to introduce Suited, a collection designed to bring an innate confidence to workspace interiors. We respond to our environments in myriad ways, but the core of our responses is aesthetic, tactile or emotional. Suited draws upon all of these responses to both soothe and empower, inspire and engage.
Workplace design is no longer one-size-fits all – now, the contemporary workplace is inviting, creative and agile. Suited is a response to this changing modern work experience – a shift toward warm, welcoming spaces that foster a sense of place. The collection evokes a sense of comfort and belonging in the office. Taking its cues from timeless fabrics, this lushly tactile collection reinterprets them to create an evolving story of pattern and texture. This is not simple nostalgia, but instead a multi-layered experience where the familiar and the new forge a bond between person and place.
Suited adds a laid-back sophistication to every environment. This versatile collection is ideally designed for workspaces and gathering places that require a sophisticated formality yet at the same time embrace an atmosphere of ease and welcome. Suited takes hints of home and infuses them with a sense of history that informs how we work and how we live.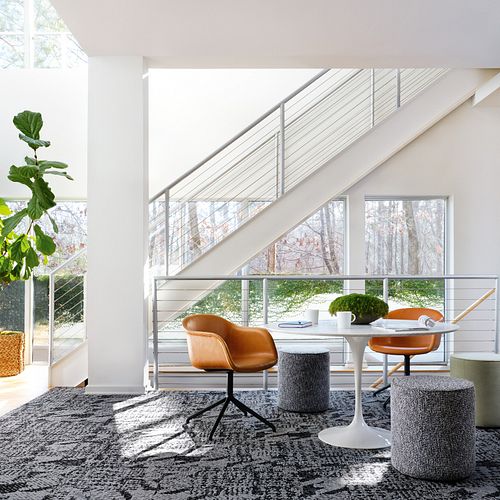 Available in four tile styles with one coordinated broadloom, Suited offers a distinctive, sartorial statement of twelve colorways. Eight relaxed neutrals move across the spectrum from cool light tones to warmer, darker shades. Bold color accents of green, gold, navy and a classic black and white combination add a sharp contrast. The patterns reference classic textiles including jacquard, linen, plaid and houndstooth placing their familiar lines and shapes in creative new interpretations.
Workspaces are more flexible than ever – hallways are no longer just a conduit between offices but vibrant spaces to gather or spend a quiet moment. Suited accommodates this transition with the coordinating broadloom option, adding a flexibility to the collection that reflects the agile nature of today's workplace.
Suited is made with Eco Solution Q® solution dyed nylon, a 100% recyclable nylon engineered to reduce soiling while retaining color and appearance. The collection is backed with EcoWorx®, that is made from recycled content, is Cradle to Cradle Certified™ Silver, contributes to LEED v4 certification, and can be reclaimed and recycled at the end of its useful life.
The collection embraces that notion that to be well suited is to be well situated, to be connected and contented, to find yourself both charmed and at ease. Suited is about making a first impression that becomes a lasting one. Laid-back style and sartorial spirit form the essence of this collection, which is made to infuse a range of workplace settings with an elevated residential-inspired aesthetic. Forward-thinking organizations seek spaces that engage and empower – spaces with stories to tell – and Suited raises the standard for the inspiring modern workplace.