Shaw Contract Introduces Hardwood Product Category
Shaw Contract Engineered Hardwood. Nature. Reimagined. Wood flooring, beloved for its warm, tactile nature, has been reimagined by Shaw. We start with the highest quality timbre. We add artisanal craftsmanship. Then we combine them in an innovative manufacturing process that honors the authentic properties of the material while advancing its capabilities to a new level of performance. Hardwood has the power to bring warmth, familiarity and tactility to commercial spaces. Unique visuals and textures anchor us to natural elements in our day-to-day lives.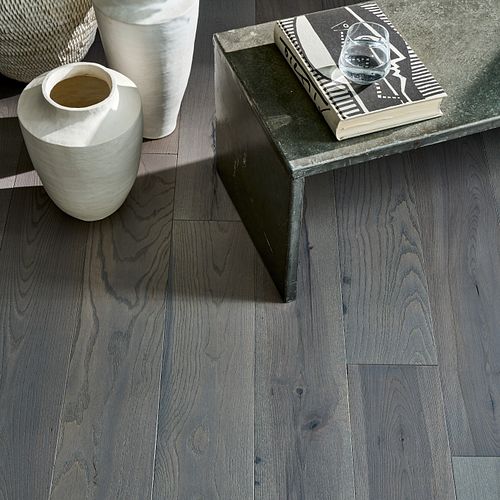 The collection features two distinct construction types - Engineered Ply Core Hardwood and Engineered High-Density Core Hardwood - with a variety of finishes available for enhanced performance. Each one allows for the visual of a solid core hardwood with the increased durability of an engineered construction. There are 8 styles each with its own unique aesthetic.
Authenticity (Ash, Maple & Oak) provides a clean visual with prominent, high-contrast cathedraling that creates an elegant appearance with ample movement in the grain.Raw and natural in appearance, preserving natural splits and knots for a visual that celebrates the uniqueness of each plank.
Bespoke Oak utilizes wire brushing on the face of the veneer creating more visual interest on the surface of the hardwood while reducing the visibility of wear. This style features a range of desaturated colors in a contemporary, urban color palette and allows for multiple installation methods including herringbone, double herringbone and parquet with smaller plank sizes and consistent lengths.
Camaret Oak offers a wide range of colors from raw, natural tones to deep umber stains. The white oak visual features wire brushed, cerused graining for a contemporary look with wide, long planks that accentuates the beauty of the grain. The veneer is sourced from European white oak trees which are known for their tight, clean graining.
Distinctive Hickory is a versatile, traditional look hardwood with a wire brushed texture and pillowed edges for a sculpted profile. The color palette is rich with darker, vintage-inspired, timeless tones. The grain pattern is highly abstract and organic, with subtle color variation from plank to plank.
Handcrafted Oak presents a reclaimed visual that has a subtle aged appearance inspired by shō sugi ban, a Japanese technique in which the wood is charred to reveal distinct lines in the woodgrain and to create an inherent textural beauty that is both modern and unique.
Kinship (Hickory, Maple & Walnut) features an antique inspired staining process that creates movement and dimension. The pattern is subtle, with minimal grain contrast and great clarity. A smooth surface texture provides a timeless appearance,while longer,wider planks create a high-end classic feel.
Refined Oak is made up of a range of desaturated colors in a contemporary,urban color palette. Responding to trends for wire brushed textures that create more visual interest on the surface of the hardwood while helping to reduce the visibility of wear,the visuals of this particular style have a matte finish providing a clean monolithic look.
Resurgence Oak has a cerused appearance utilizing a technique that highlights the contrast between the woodgrain and the remainder of the wood's surface. Featuring wider planks and longer lengths for a more modern look that creates a larger scale and highlights large, open spaces.
"Natural hardwood has the power to bring warmth,familiarity and tactility to commercial spaces, explains Reesie Duncan, VP of Global Design for Shaw Contract. "This new collection utilizes biophilic principles producing unique visuals and textures which anchor us to natural elements in our day-to-day lives."
In addition to the unique aesthetic and enhanced performance of this product line,the collection also has sustainable attributes including 50% post-industrial recycled content in the high-density core styles. All products in the collection are Lacey Act compliant, CARB II and TSCA VI compliant and select styles are Greenguard and Cradle to Cradle Silver certified.