Mindfulness at a workplace solutions MNC. By AVA
When the floor turned into an artist's canvas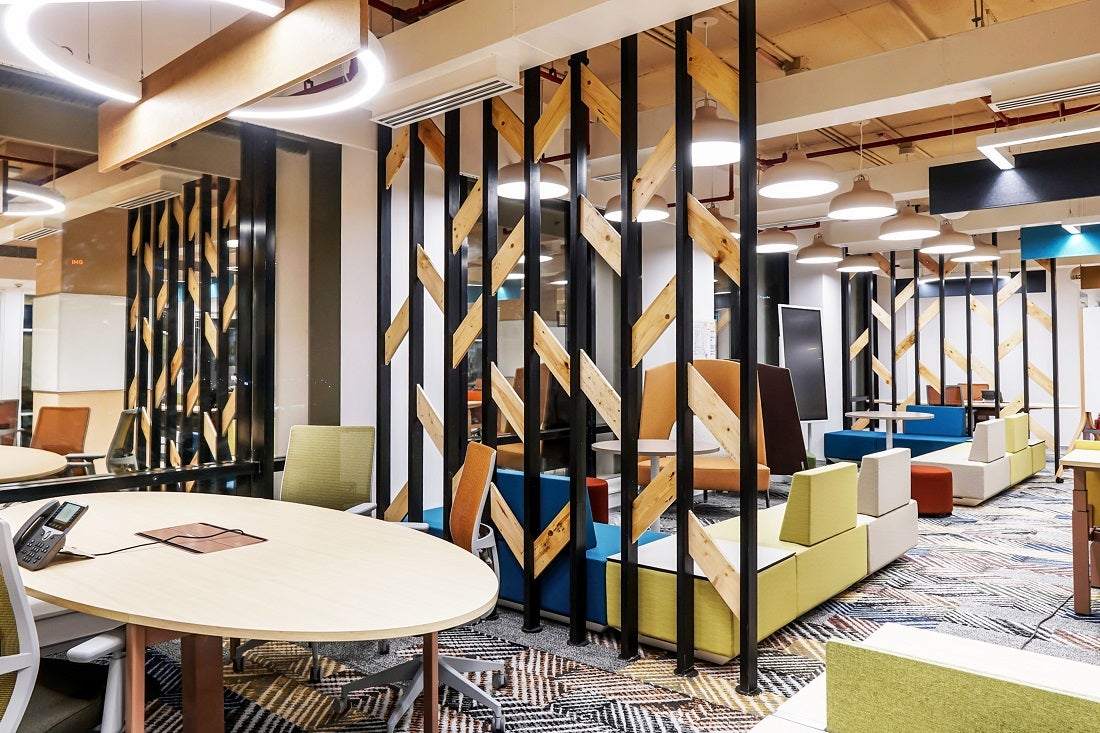 Rarely does a design firm get an opportunity to be truly creative and yet practical. For Architect Vistasp & Associates, this project was the one it had longed for.
The Client: A global end-to-end workplace solutions provider with large MNC clients who rely on it to manage their offices all over the world.
The client's new workspace in Gurgaon was essentially a basic two-floored, square doughnut-shaped floor plan. The design brief to Architect Vistasp & Associates was to transform the raw space into a futuristic office that inspired a vibrant and joyful work culture. That said, the design had to be faithful to the rigorous global environment standards of the client. These included LEED compliance and material sustainability. The new office was needed to accommodate their growing Sales, Analytics, and Project Management teams.
Floor as a canvas for creativity
Every designer is aware that the floor is the foundation on which an interior design framework stands. Here was a workspace that could be moulded into an uncluttered modern office with uncluttered through sheer design exuberance. Hence, the design team was very particular about the carpet tiles that were to be used for the flooring. They had to meet the rigorous environmental standards set by the client and yet offer the creative spread as the design demanded.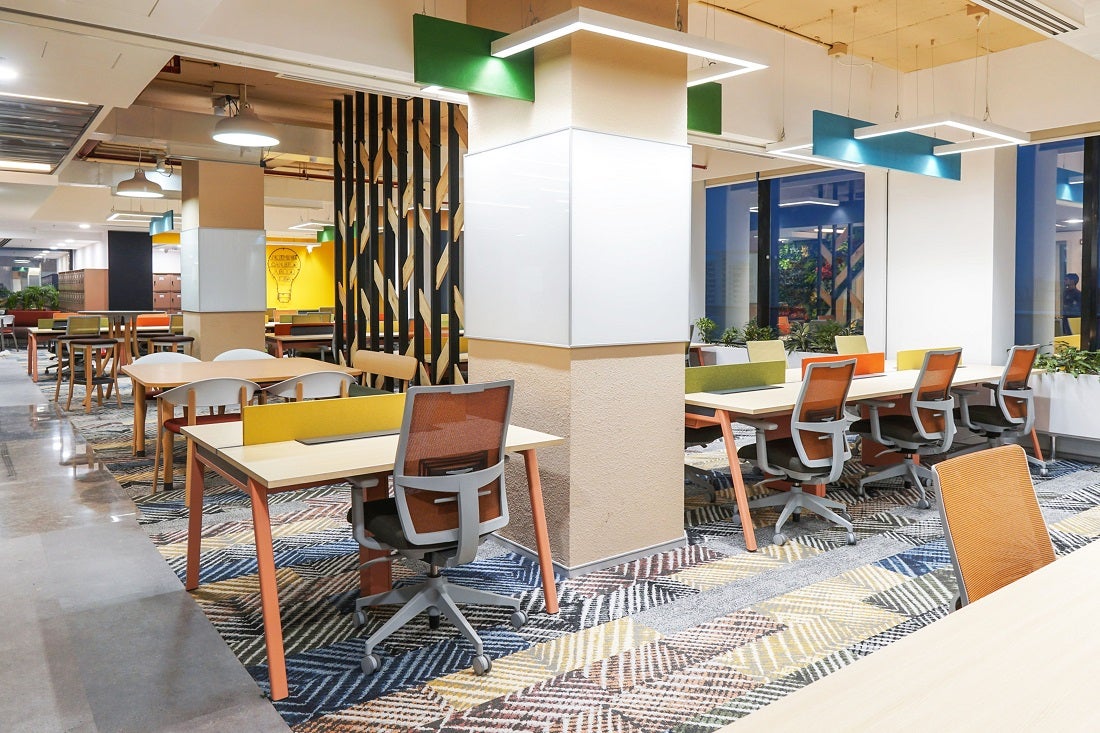 Carpet tiles as creative inspiration
Shaw Contract's tiles comfortably fulfilled the requirements. The base material of tiles being yarn was as sustainable as it can be. Importantly, the brand was certified and assessed for environmental and social responsibility across material health, material reuse, renewable energy and carbon management, water stewardship, and social fairness.
The team narrowed down two collections – Haven and Noble Materials - and three styles and a rich variety of colours within them for the different spaces on the two floors. The workstation area had EcoWorx-backed tiles from the Haven collection (Dwelling, Identity, and Familiar styles), which was ideal to withstand the heavy footfall and movement. The meeting spaces had tiles from the Noble Materials (Honed style) for the calm geometric patterns and natural textures.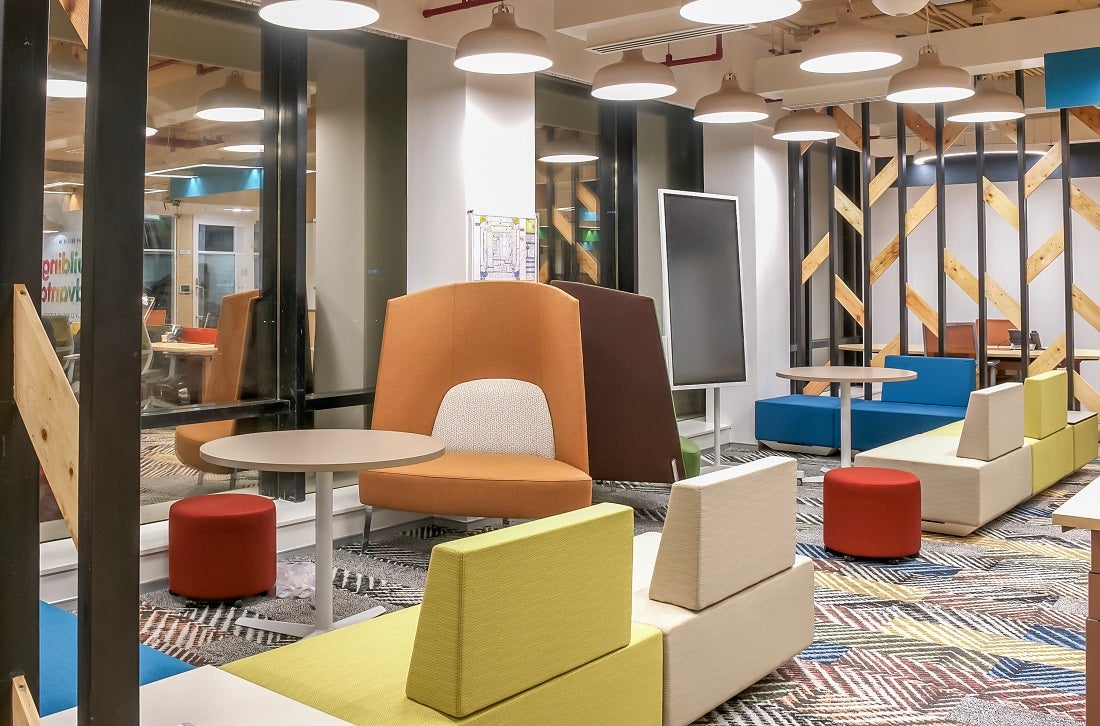 Result: When the office is a State of Mind, a creative mind.
In essence, the flooring imparted a mood that offered the familiarity, groundedness, and cozy comfort of a home. At the same time, the opulent interiors and lush design effects infused a cosmopolitan and buoyant feel to the workplace. The new office is truly a balance of aspiration and mindfulness.
Architect quote:
"We believe a modern office should inspire a pro-active and result-oriented work culture. The design approach defines the attitude of the proposed office."
– Vistasp Bhagwagar, Principal Architect / Managing Director, ARCHITECT VISTASP & ASSOCIATES
Read or print the case study: https://bit.ly/2SvvFuT