Leadership in Energy and Environmental Design
LEED v4 is an internationally recognised environmental certification program, that is driving massive change in the way that buildings are constructed and renovated globally.

Obtaining LEED certification means your building is energy efficient, produces lower carbon emissions, and maintains a healthier environment for commercial, public, and residential spaces.

For architects and developers seeking LEED certification, the choice of products is a vital part of the process. Our Cradle to Cradle Certified™ products can help you achieve this certification.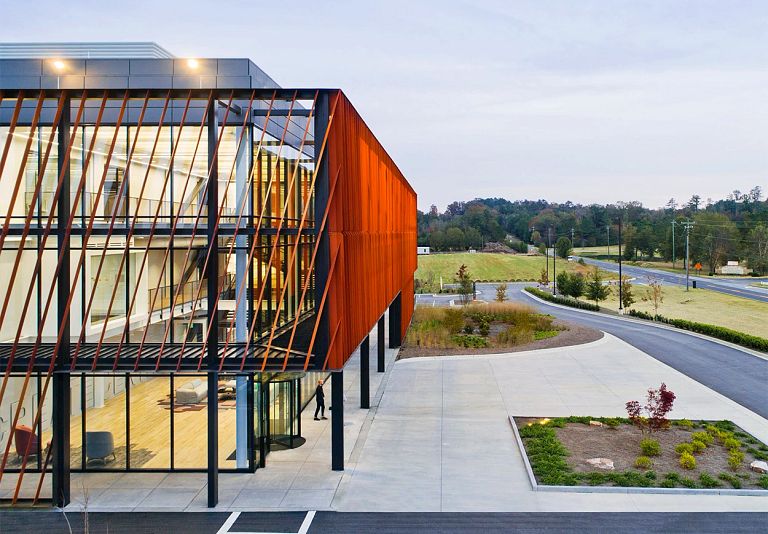 We're All In.
We're 'All in – one building, one space, at a time.'
We believe in designing beautiful spaces that foster a great human experience, and we care as much about our product's impact as you do about your buildings.
A number of our buildings are LEED Certified including our global headquarters (the Create Centre) and our carpet tile manufacturing facilities in Adairsville, Georgia, USA; Cartersville, Georgia, USA; and Nantong, China.

Our Flooring contributes to LEED
MR Credit: Building Product Disclosure and Optimisation - Material Ingredients
- Option 1: Material Ingredient Reporting
MR Credit: Building Product Disclosure and Optimisation - Material Ingredients
- Option 2: Material Ingredient Optimisation
MR Credit: Building Product Disclosure and Optimisation - Environmental Product Declarations
- Option 1: Environmental Product Declaration (EPD)
MR Credit: Building Product Disclosure and Optimisation - Sourcing of Raw Materials
- Option 2: Leadership Extraction Practices
EQ Credit: Low Emitting Materials
- Option 1: Product Category Calculations
MR Credit: Interiors LifeCycle Impact Reduction
- Option 3: Design for Flexibility
View how our products align with these criteria:
To learn more about how a specific product contributes to LEED view a product's full spec