5 Design Trends at the Intersection of People and Planet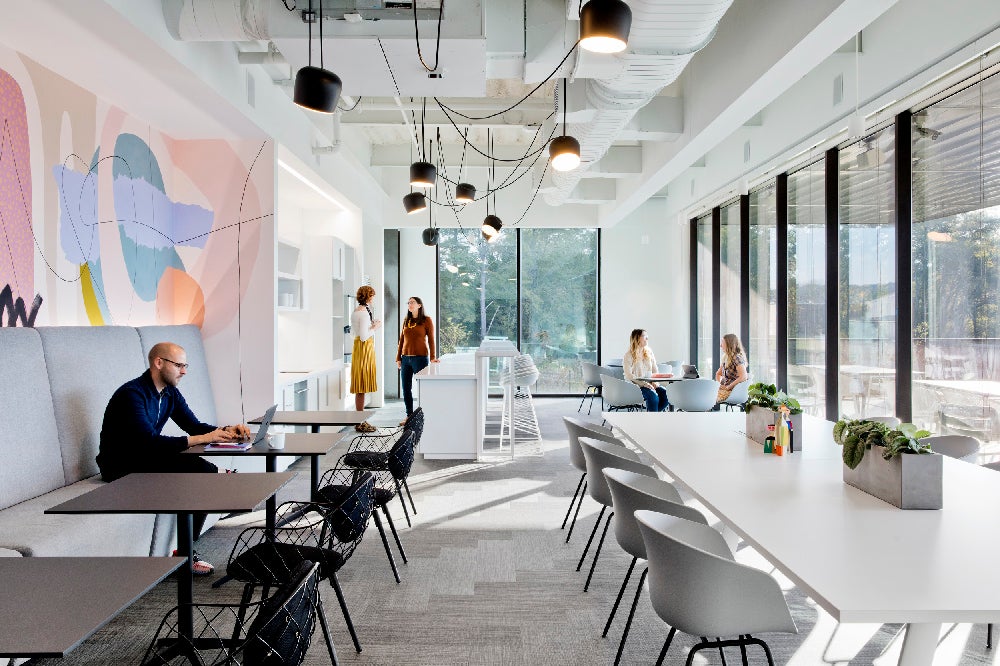 Recently, the International WELL Building Institute (IWBI) identified five leading trends at the intersection of health, wellbeing and design:
1. Design plays a leading role in enhancing ESG (environmental, social and governance) performance. Knowing that where we sit and who we sit next to are the single most important determinants of our state of health, companies are turning their focus on how to create spaces that support the health & wellbeing of their workforce and provide their employees spaces to thrive. 
Investors are showing continued interest in companies' ESG performance – requiring businesses to report the work being done in human and social capital management, including disaster preparedness, community planning, continuity planning, and employee treatment. Commercial real estate company Cushman & Wakefield recently released a tool - Experience per SF(TM) - which provides employers with insights into their associates' workplace experience.
The notion of incorporating "Humanity" and "Health" into ESG strategies is continuing to gain momentum and is an area we look forward to understanding more and educating others on how flooring solutions can meet these needs.
2. Design fosters health equity — leveling the playing field. The CDC (Centers for Disease Control) states we will achieve health equity when "every person has the opportunity to 'attain his or her full health potential' and no one is 'disadvantaged from achieving this potential because of social position or other socially determined circumstances.'"
According to Rachel Hodgdon, IWBI CEO, "the pandemic has shed light on stark, deep-seated and pervasive inequities that exacerbate the spread of the virus and drive divisiveness. And once again, summoning the wisdom of the social determinants of health, we know that design and the way it shapes the places and spaces where we live our lives — and how we interact with one another — can be a powerful force for advancing health equity. Design has the power to welcome people in or push people away. Design can make people feel valued and included, or unseen and invisible. Our choices, both subtle and overt, matter."
3. Real-time data can bridge the confidence gap for getting back to business. Hodgdon states the demand for real-time data can be used in the workplace to encourage people to collaborate in-person again.
"One of the best ways to do that is to deploy sensor networks to monitor air quality and other aspects of indoor air quality (IAQ) and visualize that data to occupants in a way that is meaningful and understandable," says Hodgdon.
4. Design drives retention and can help companies dodge the Great Resignation. With U.S. unemployment rates close to pre-pandemic levels, companies must innovate to retain talent.
Hodgdon states, "As the pandemic drags on, employers are seeing record levels of stress, anxiety, depression, burnout and acute mental health issues. Stresses on the workforce ultimately accrue to stresses on the business. And these strains have amounted to landmark levels of turnover — [aka] the Great Resignation. If organizations want to dodge the Great Resignation, they've got to intentionally implement workforce strategies and solutions that encourage post-traumatic growth."
5. There's growing demand for our homes to provide metaphorical shelter from the storm. Finally, Hodgdon hints at the blurring lines between the workplace and home; the idea of a healthy home has also changed due to the COVID-19 pandemic.
"For those of us working from home, we have new needs and design demands — ergonomic workstations to avoid muscular injuries, improved lighting conditions, audio equipment, and other acoustical solutions for those of us who share our space with partners, roommates or children. All of this is to say that residential design, like commercial design, is undergoing equally profound shifts toward health and wellbeing, driven by the pandemic and a host of other factors. In recognition, IWBI will launch a new offering for single-family homes this year."
Learn more about these leading trends in a recent interview with Shaw's VP of Global Sustainability Kellie Ballew and IWBI President & CEO Rachel Hodgdon.