Design With Your Environment in Mind
Shaw Contract, a design leader in commercial flooring solutions and surfaces, is excited to introduce Cover + Envelop, a new product platform - 7" x 48" COREtec® SPC with tongue and groove profile. Cover + Envelop conveys an undeniable warmth and simplicity. Cover is inspired by natural hardwoods with a wide variety of natural character and Envelop is the perfect partner, a painterly near solid with neutrals and rich color accents. With a patented layered construction, COREtec® is dimensionally stable, waterproof, scratch resistant and reduces sound transmission. Cover + Envelop stands up to the performance demands of your high traffic commercial spaces.
CONSTRUCTION
The patented layered construction of COREtec® provides solutions for specific challenges within every built environment.
For many commercial environments, the inhabitants of the space may not necessarily be aware of the wear and tear they inflict. The expectation of a kindergartener picking up their seat instead of sliding it over to sit next to a friend is unrealistic. Cover + Envelop has our ExoGuard+™ finish combined with low gloss and proper embossing providing excellent stain, scratching and abrasion resistance providing superior durability for your demanding spaces.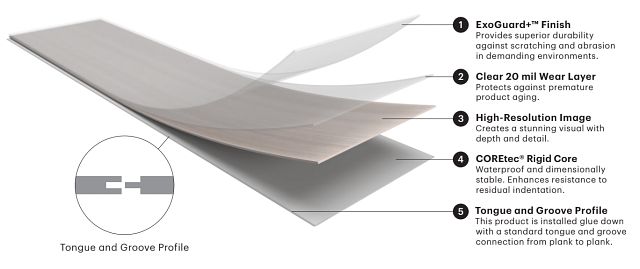 Cover + Envelop's COREtec® construction enhances resistance to indentation in areas with heavy static and rolling loads with a PSI tolerance of 2,500 pounds. The tolerance is backed by our new indentation warranty. For living and learning environments that require sound dampening from floor-to-floor sound transfer, Cover + Envelop provides an alternative solution to the traditional LVT.
The 4 mm thickness allows Cover + Envelop to be installed side-by-side with carpet tile with no transition needed - creating a visual aesthetic that does not compromise the design in your space.
100% WATERPROOF
Whether you are in the office, dining out, in class or on vacation, spills happen. Cover + Envelop's tongue and groove edge profile is 100% waterproof to top-down moisture. This collection is ideal for spaces where topical moisture is expected like cafes, break rooms, entryways, and work or learning spaces.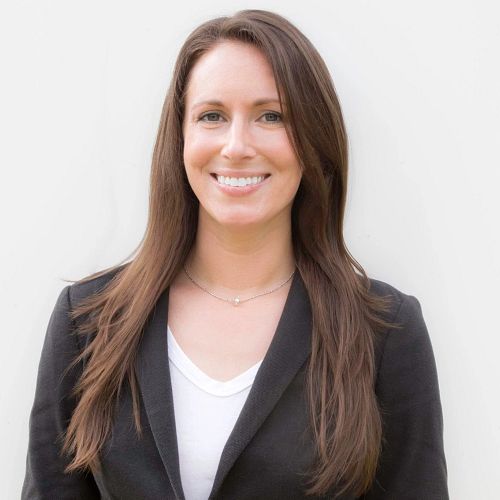 "From morning coffee meetings to student snack time, spills happen. Cover + Envelop keeps topical moisture where it should be—on top. The ExoGuard+™ finish is easy to clean and is resistant to staining, creating the type of forgiveness we all need in our lives these days." - Michelle Carpenter, Director of Education, Government, & Multi-family
EASE OF MAINTENANCE
A study by the International Sanitary Supply Association (ISSA) showed 1,000 people in 20 days can track in 24 pounds of soil into a space.
How your space is maintained is a key contributor to the performance and longevity of your floor. Cover + Envelop's ExoGuard+™ is a highly durable finish that can be installed as is reducing your cost of annual maintenance. For spaces that prefer a polished look, it requires no coating prep work. Shaw Contract provides maintenance guidelines and training to ensure you have all of the necessary resources to maintain your floor.