Eklutna Estates Senior Housing
Design is a communication tool. Culture, language and age can present obstacles, so design must 'speak' in non-verbal ways, using primary senses. Eklutna Estates Senior Housing was completed in 2010 in Anchorage, Alaska for Cook Inlet Housing Authority with this design approach in mind. It provides 59 rental housing units for predominantly Native American elders with low to moderate incomes. Abstract ideas of culture, context, dignity and orientation were communicated through siting, building layout and interior finishes. Alaskan Birch Tree metaphors such as fallen tree as bridge, peeling birch bark with characteristic stripes, and fallen foliage on the forest floor were used in the architectural dialog and site features.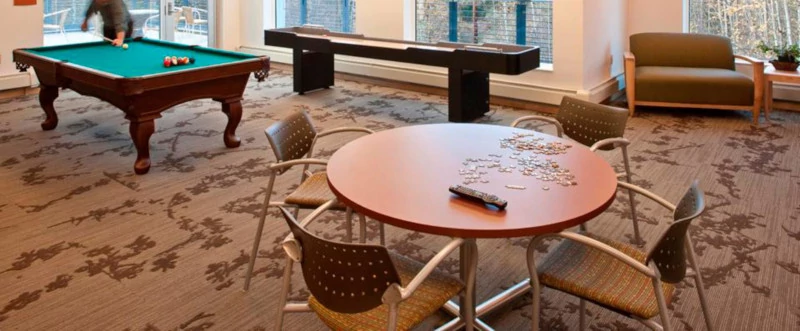 The Birch forest design concept reinforced a critical wayfinding need in this 4-story 86,000 SF facility. Cost efficiency required efficient stacked floor plates and double-loaded corridors. To counteract this compact layout, strategically placed exterior openings orient and assist with navigation. Floor levels are indicated by bold colors selected from Alaskan fall foliage and patterned floor coverings of Shaw Contract's 'Dressed To Kill' collection, subtly communicates the surrounding natural environment of the ravine with organic patterning and punches of bold color. Long corridors to residences are rhythmically interrupted with larger vestibules in contrasting colors. Each residence entry becomes a front porch—personalized by each resident through a flexible signage system, and marked by a wood trellis canopy reminiscent of fallen twigs.
Our design challenge was the site, the bottom of a south facing U-shaped ravine. Naturally starved for direct sun access, the site is further deprived by low sun angles inherent to 41 degree latitude. To compensate for the sheltered location, exterior openings were oversized and strategically located at the end of corridors instead of placing units. They provide access to day-light, wayfinding and visual connection to the outdoors. (outdoor temperatures range from -15 to 75 deg. F). Open floor plans in the units cantilever out to face the sun. A south facing roof top terrace provides residents safe place to garden, an important cultural tradition requested by the future residents.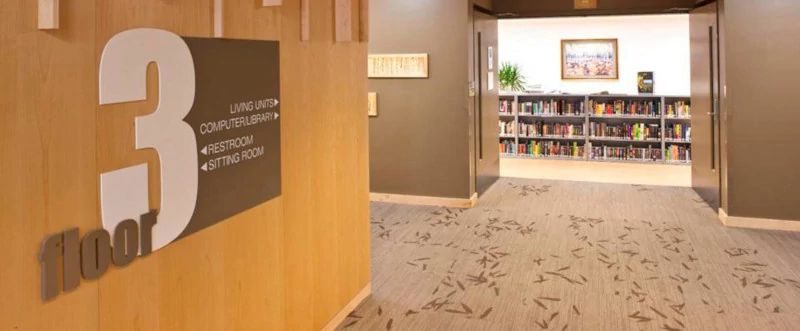 The design process for Eklutna Estates was successful because it included all stakeholders in the design phase. The process included future residents, the owner, operations managers, the design team and the builder. Future residents were included to assure that their culture and lifestyle were accommodated. The owner and manager advised on maintenance and leasing needs. Through a design-assist project delivery method, the builder guided the design team on schedule and costs during design.
The design made a positive difference for the residents and the building owner immediately upon completion. The garden allows residents to grow native foods in summer which saves money and reduces potential injuries that elderly sustain when traveling off campus. Ample exterior windows provide maximum day-light which reduces energy consumption for lighting and costs for lamp replacement. Appealing design means the building maintains full occupancy. 155 applications were received for the 59 available units and 100% occupancy was achieved within a 4 months.