Prepare, Teach and Connect
The new Hale Junior School for boys near Perth, Australia consists of Early Learning, Middle Junior, Upper Junior, Administration and Resource Hubs. The new buildings, arranged around a circular outdoor green, promote the schools' purpose statement of inspiring the authentic development of every male student.
Each of the learning hubs consist of clusters of general learning spaces adjoining multi-purpose halls and breakout areas. These spaces have much-needed flexibility and technology to function as classrooms, group work spaces or peer-to-peer learning areas that are driven by the school's pedagogy of Prepare, Teach and Connect.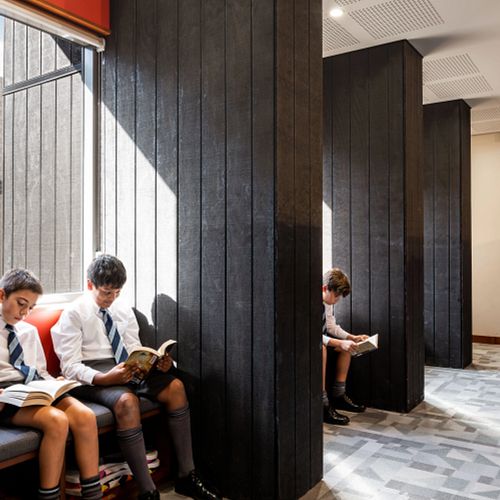 SITE Architecture Studio chose Shaw Contract Mindful Play and Color Frame carpet collections for the new hubs. The bright, cheerful flooring colors set the tone for lively interaction between students and staff by embodying creativity and playfulness in educational spaces. Mindful Play features triangular patterns that resemble the schools' roof line, while its geometric forms and accent colours create movement in the space. Color Frame's near solid colours create zoning and pathways throughout the school while accentuating the underlying colours of the Mindful Play carpet.
Carpet Complements Interaction With Space
The carpet collections' vast palette helps brand each learning hub, while neutral gray colours add distinctive solidarity to administration and resource hubs. Using the same carpet tiles throughout all the schools creates maintenance ease for school staff.
The design flexibility has been profound for the school. Everyday is different and continually illuminates different spatial configurations as the teachers adapt to the spaces. The open breakout spaces become areas of celebration, display, group activities, music, and drama. The multi-functionality of the teaching spaces enables the teacher to enact a noisy energetic session (to prepare), then quickly set-up for a stand-and-talk learning class (to teach) or smaller working groups (to connect) within the same room.
When heads-down quiet space is required, glass sliders provide partitions between rooms and break-out space. Smaller areas provide 'cubbies' for students with subtle connections to the external learning area. The project process was value engineered so the school's priority of providing maximum benefit for the teaching and learning of students was pursued over architectural and aesthetic license.