How can Design Foster Conservation and Community Development?
In the jungle of the Congo Basin, in a part of the Democratic Republic of Congo that is six hours by motorcycle from the nearest airstrip, the Ilima Primary School serves as a learning and community center that enables and encourages integration with local wildlife. Opened in 2015, the school was designed and built by the architecture firm MASS Design Group, in collaboration with the African Wildlife Foundation.
With 99% of the materials sourced within 10km of the site and workers hired primarily from the nearby area, the construction of the school embodied MASS's ethos of Lo-Fab, or local fabrication, highlighting local crafts and skills. Timber trusses, roof framing, furniture, and architectural details were sawn, planed and crafted by hand from trees selected by conservationists. MASS worked with local builders to develop a method for transforming local trees by hand into durable and replaceable wood shingles.

Taking their cue from regional and climate-aware design practices, the school's steep roof and gutter system respond to heavy rainfall and provide protection from sun and rain for the common areas. Combined with the open clerestory, this design encourages natural ventilation and daylight to create comfortable classrooms.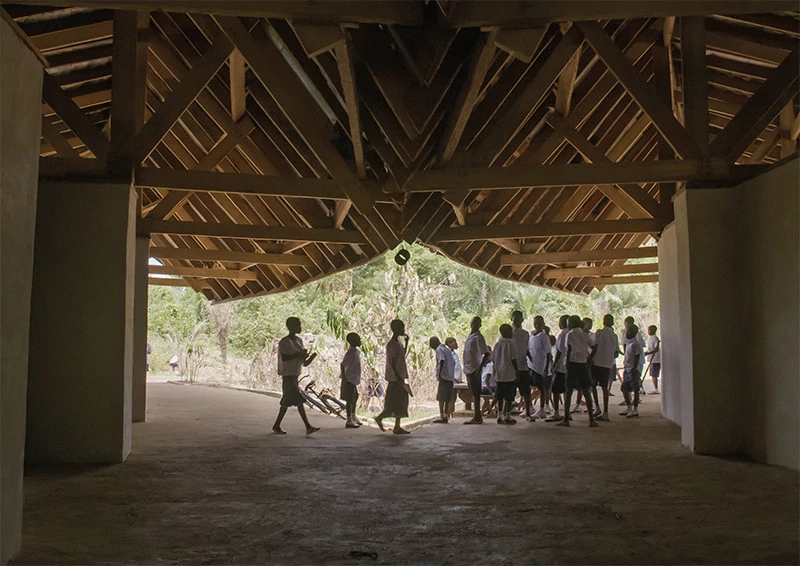 "Our intention was a singular building with a roof that covered the entire facility so you get a lot of space for interactive moments and discussions between teachers and students and also have a place for them to sit and be protected from the tropical sun and rain," says MASS design director Andrew Brose.
By training local workers in all building processes and involving the community in each aspect of design and planning, MASS also made efforts to ensure that the school would be properly maintained when finished. In the beginning stages of the project, Ilima residents were recruited to participate in frequent meetings where designers asked for their opinions and preferences in school design. Eventually, between 160 and 170 people from Ilima and the surrounding villages of Bolima and Lotulo worked on construction, empowered by MASS's illustrated graphic construction documents that enabled workers unused to construction drawings to assemble even the building's more complex components. MASS also trained two Congolese architecture fellows in high-impact design construction methods, granting them the responsibility and leadership roles they need to develop professionally.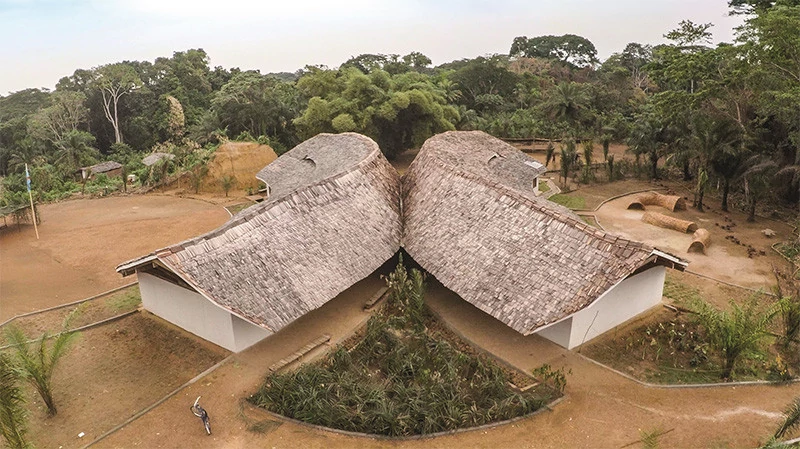 Because the school operates off the grid, MASS was challenged to identify sustainability metrics that did not depend on assumptions regarding operating energy or HVAC equipment. In order to identify more sustainable design opportunities, the team developed a system to calculate the embodied carbon impacts of different options: how much carbon emissions were connected to the sourcing, transportation, and construction of the project — also known as the cradle-to-gate emissions. The construction of Ilima emitted 28 times less carbon/m² than the global average for educational construction projects.

The Ilima Primary School's mission, design, and construction were all grounded in the belief that conservation and community development is most achievable when communities are given the opportunity to develop in harmony with surrounding natural environments.

"There's more at stake than just the building," Brose says. "It's about the environment and how we live, and how the unique design and building process makes us more considerate of the environment and taking care of what we have."