How do our Decisions Make an Impact at Every Scale — At Home, in Community, and on the Planet?
You could call this a marriage of the minds. John Stephens is the Vice President of Marketing for Shaw Contract. Shannan Billings is the Senior Director of Global Sourcing for Shaw Industries, the parent company to Shaw Contract. He's a former history major. She can't get through a meeting without using the word "molecule" more than a dozen times. They share a belief system, an employer and their home. Is this a house united? Here's what happens when they sit down to talk.
SUSTAINABILITY IS REALLY TOP OF MIND FOR BOTH OF YOU — AND A MAJOR FOCUS FOR YOUR COMPANY. LET'S JUMP RIGHT IN. WHAT CONCERNS YOU?
JS: Yeah, so the clock's ticking, right? I mean last year saw the most carbon dioxide emissions in history and there were 18 billion pounds of plastic put into the ocean. So there's this sense of urgency I think we all should feel because there are negative impacts happening globally daily. That's probably my biggest concern.
SB: My concern is our supply chain, all the way through to the petrochemical manufacturers. They know they need to pivot. They now see there's a significant burden of sustainability or circularity — and that they need to make changes. They don't have a really good answer at this point, but they are at the point of acknowledging that they have a challenge, and that they can support change, even within existing materials. They are starting to rethink their overall corporate edicts on profitability and doing the right thing. Over the next five, ten to twenty years, that's going to be an interesting story to watch. We've been doing this for more than a while at Shaw — achieving transparency of all ingredients in our materials. How can we partner with them to accomplish the goal?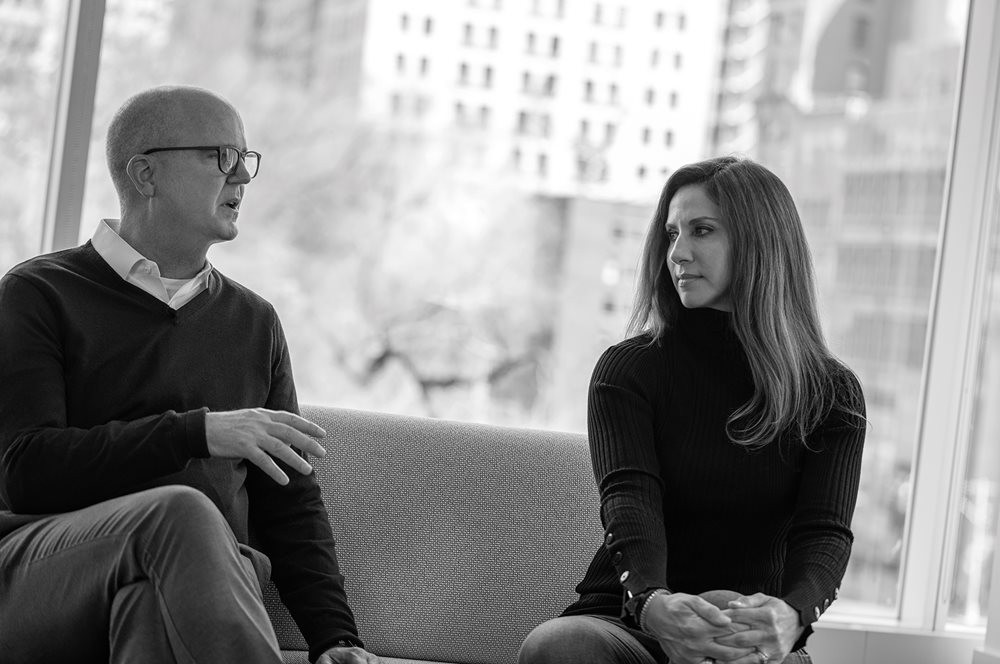 SO, YOU DO HAVE SOME SENSE OF OPTIMISM THAT CHANGE IS HAPPENING. THEY'RE STARTING TO LISTEN, THEY'RE STARTING TO TALK. DIALOGUE HAS BEGUN?
SB: Yes, yes. Today the recycling rate in North America is one of the lowest around the world. And, all of the packaging boxes that we get from Amazon, or others who make it very convenient for us as consumers, that's fiber which makes up a tremendous amount of the supply stream, along with many different grades of plastics. How do you pull out from that stream what you need, while making sure you're not doing harm going forward? How can you capitalize on making a product with that recycled stream? That is a real challenge.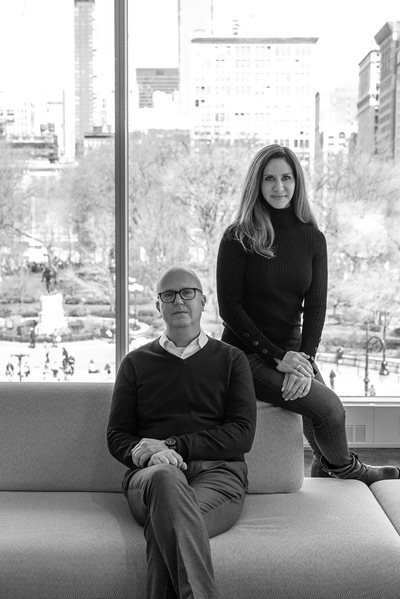 YOU TWO SHARE A COMMON VISION, BUT CLEARLY YOUR APPROACHES DIFFER. WHERE DOES EACH ONE OF YOU START?
SB: I look at the front edge of what we can do — how we source our materials and the types of relationships that we need to build within our supply chain to achieve the vision Shaw has for sustainability. We build relationships with suppliers, upstream of our suppliers, and within the community of engineers and innovative product development folks inside Shaw, so that we're achieving our ideals — and the best product outcome — as one single voice with multiple octaves and multiple ranges.
JS: Where Shannan's an engineer, I was a history major and writer. So, my approach is more about telling stories and thinking about ideas. Shannan's really good at figuring out how to make those ideas happen.
SB: I take his vision and see what kind of leverage we need in order to achieve it. Is there a specific relationship we need to have? Is it a specification that needs to change? Is there a new realm we need to push into?
SO, YOU HAVE RELATIONSHIPS BASED ON YOUR TECHNICAL AND SCIENTIFIC KNOWLEDGE?
SB: Yes. What I've grown up in — manufacturing, technical and development roles — informs how I look at materials and how I talk with our product development, technical and innovation folks, in relationship to understanding better the goals for product performance, in-process performance and the materiality of our finished product. We're trying to see an end result that meets the needs of the business, while increasing transparency and the longevity or circularity of our materials.
WHAT INSPIRES YOU? WHAT UPLIFTS YOU?
JS: For me, what's inspiring is that I see change happening and people who are doing really interesting work. I think we're beginning to see that sustainability is not just about the planet, it's about people. And when you see it's about people, the sense of urgency shifts and the push for action accelerates. That's beginning to drive change.
SB: Anything that I can do to help someone and make things better for individuals, for our communities and for the environment. The story we're trying to tell is one of life and improvement and change and sustainability, as well as circularity. It's a great aspiration for us to move toward.
IT SEEMS LIKE YOU SEE MANY DIFFERENT WAYS TO ADDRESS THE ISSUES AT HAND. DOES IT FEEL LESS DAUNTING, SOMEHOW, IF SUSTAINABILITY ISN'T JUST PURE SCIENCE, OR ONLY HAPPENING ON A GLOBAL SCALE?
JS: It's personal. It's personal and it's local. This is really an issue of dignity, of humanity and social justice, not just something that's unthinkably broad or disconnected to our everyday lives.
IT'S A LOT OF RESPONSIBILITY — BUT IT MUST ALSO BE UPLIFTING TO KNOW THAT YOU CAN MAKE A DIFFERENCE.
JS: Yeah, there is a sense of responsibility and accountability, but there's great optimism in the fact that the work we do can matter on a global scale because of the size of Shaw Contract and Shaw Industries as a whole. When we launch our PET Resilient product [a new hard surface flooring product constructed with 40% post-consumer recycled PET bottles], and when it becomes commercially successful, we're going to use a lot of waste material. It's going to have a meaningful impact.
SB: And what's exciting about the PET Resilient product from a technical perspective is the opportunity to use streams from a bottle recycling facility that don't get widely used. Typically, we would want something coming out a recycling facility to be a clear flake, without any color to it. But for the PET Resilient, we can take everything and use it. The multi-colored flake turns into a wonderful product which we digitally print, providing the customer with fantastic value.
WHAT ARE SOME OF THE RECENT ADVANCES IN MATERIAL RESEARCH THAT YOU'RE REALLY EXCITED ABOUT?
SB: Bio-based materials are very exciting, utilizing microorganisms to produce some of the petroleum-based chemicals in the marketplace. Those are some exciting advances as well as any sort of material reclamation, using larger volumes of reclaimed materials, much like we do with PET Resilient. How can we bring more recycled content to the products that we're using?
JS: We launched a bio-based resilient product last year; our clients are asking for that. There are breakthrough new materials. But also, how do you take existing processes and redesign them in a way that is more sustainable, more responsible and improves product performance? As consumers, we want beautiful products, we want them to be sustainable and we want them to perform. Ideally, you don't want to make trade-offs.
SB: Other areas that are exciting to me are related to ocean plastics. That's a tremendous opportunity for us to figure out.
THE STORYTELLING ABOUT OCEAN PLASTICS SEEMS TO HAVE EVOLVED RECENTLY AND IS NOW REACHING A BROAD AUDIENCE, A NEW AUDIENCE. CAN YOU SPEAK TO THAT, JOHN?
JS: Yeah. We're seeing the power of narrative. The visual evidence shown in the media, the staggering numbers, the idea that half of the weight of the ocean will be fish and half could be plastic by the middle of this century. Those kinds of stories really elicit a response and get people motivated to action. They give people a sense of the scale of problems and make them think: "I can do something about it." Trying to make a change as organizations, trying to make an impact on sustainability, I think there's a lot we can learn from that. How do we tell stories? How do we build narratives that give people real insight, that give them a sense that they understand the challenge and can be part of the solution as individuals?
SB: To build upon that, you're starting to see petrochemical companies try to contribute to alleviating that situation as well. We've seen projects where a supplier and endusers worked together on a beach cleanup, and then all of those plastics were used in concert with another resin to produce a new material for the marketplace.
WHAT ARE THE QUESTIONS YOU ASK YOURSELF WHEN YOU'RE EMBARKING ON A NEW PROJECT?
JS: For me it's "why?" Why are we doing this? Who are we doing it for? What kind of impacts will this initiative have? What resources do we need to be successful? And then, how do you define success?
SB: What kind of assumptions are we chasing with the project that we're trying to put in place? I'm asking about the "how" of it and the resources that we're going to need. What kind of leverage are we going to need outside of the resources we have internally? What kind of relationships are we going to have to develop in order to see that project or that product all the way through to completion? And, how can we quickly remove any sort of roadblocks to further progress?
SO LET'S TALK ABOUT MEASURING SUCCESS. WHAT ARE SOME OF THE AREAS IN WHICH YOU'VE MADE CHANGE? WHAT INITIATIVES ARE YOU PARTICULARLY EXCITED ABOUT OR PROUD OF?
JS: When we first got into the carpet tile business, we used PVC backing. That was the industry standard. But we set a goal — really a mission — to develop a more sustainable way to make product that was healthy, safe and designed for circularity. We developed a new process and changed the way we make carpet tile with a material called EcoWorx®. It's a high-performing carpet tile, designed within the Cradle to CradleTM protocol. EcoWorx® optimizes materials, energy use, and environmental impact, and becomes our raw material moving forward. When it's time for the customers to discard it, we want to get the product back and use that material to make new product. To me that was a successful framework for design that has continued to drive.
SB: From a sourcing perspective, we're really motivated by the recent adoption of the UN Global Compact's ten principles. We operate Shaw Industries and our business units according to those ten principles. With our sustainable sourcing policy, we work closely with all of our suppliers on their behavior as corporate citizens to ensure transparency, ownership and intentionality — doing the right thing as global corporate citizens.
HOW DO YOU ENFORCE THAT? HOW DO YOU HOLD YOUR PARTNERS ACCOUNTABLE?
SB: That accountability process goes through material ingredient disclosures. Any time rules change, such as Proposition 65 [California's Safe Drinking Water and Toxic Enforcement Act], our suppliers are required to notify us of anything on the list that's in their product. We institute ongoing site visits and audits and we peruse sustainability reports. We try to ensure that they are doing what they say they're doing. And we have ongoing conversations to continue to improve.
WHEN DID YOU FIRST REALIZE THAT ISSUES OF SUSTAINABILITY WERE OF UTMOST IMPORTANCE? WHAT WAS YOUR LIGHTBULB MOMENT?
JS: Maybe I'll cheat and choose two. Early in the 2000s, hearing Bill McDonough speak about Cradle to CradleTM provided a framework for my thinking about sustainability — and our thinking as an organization. Since then we've established a great relationship with Bill and have worked closely with him for more than a decade. The other moment that expanded my perspective was working with the organization Public Architecture at a symposium where we had people from banking, nonprofits, academia, design and government talking about the role design can play in sustainability, social justice and social impacts. That's when my perspective really shifted. I started to see how design interventions addressing sustainability had meaning on a human level, not just environmental.
LIGHT BULB MOMENT, SHANNAN?
SB: My grandfather was a farmer. My dad farmed. I come from an agrarian background, so I always could see the impact I had as a human on the plant or an animal. Now, conversations I have every day provide lightbulb moments — I'm continually seeing circular opportunities.
SO, CORPORATE RESPONSIBILITY IS NOT JUST A CATCHPHRASE FOR YOU, BUT REALLY WOVEN THROUGH THE DNA OF THE COMPANY?
JS: We've gone from "how do we reduce our impact?" or "how do we do less bad?" to "how do we do more good?" How can we redesign things to be positive for the environment? How do we redesign the way we engage with our communities, and broaden the definition of sustainability? For me, our involvement with organizations like the United Way or St. Jude is connected to sustainability and an evolution in the values of the company.
SB: Building on that, we're not just good corporate citizens, we're good citizens, period. We give back as a company through United Way, Make a Difference days and Habitat for Humanity. We also encourage our associates to volunteer in their communities however they want to participate.
WHAT WE DO AT HOME AFFECTS THE PLANET. HOW DO YOU APPROACH ISSUES OF SUSTAINABILITY ON A DAILY BASIS IN YOUR PERSONAL LIVES?
JS: What we do professionally does spill over to our personal decisions, right? We want to support businesses who are doing things that align with our values, whether we're buying cleaning products or eating out. For example, we do eat out a lot, and we frequent independent restaurants who support local farmers and producers. That's a conscious choice.
HOW DO DESIGNERS AND ARCHITECTS PLAY INTO THIS DISCUSSION?
SB: Design reaches all the way through how a community gets built. When a supplier provides material that is healthy and safe, that helps create jobs and financial security for people and a way to improve their lives, expand their families and improve their communities.
JS: Several years ago there was an issue of Metropolis magazine with the cover line "Architects Pollute." 50% of greenhouse gas emissions were attributed to decisions that architects and designers make. I think that was a wake up call for all of us. The more knowledge that we can share to make better decisions and understand the impact of those decisions gives us both a responsibility and a sense of empowerment. What we do matters and what designers do matters. Our choices have long-range impacts on things like climate change, like human health and safety, and the wellness of people who are in the buildings that we're designing or we're designing materials for. So yeah, there is a huge responsibility, but it's empowering to make decisions that have longterm, global ramifications.