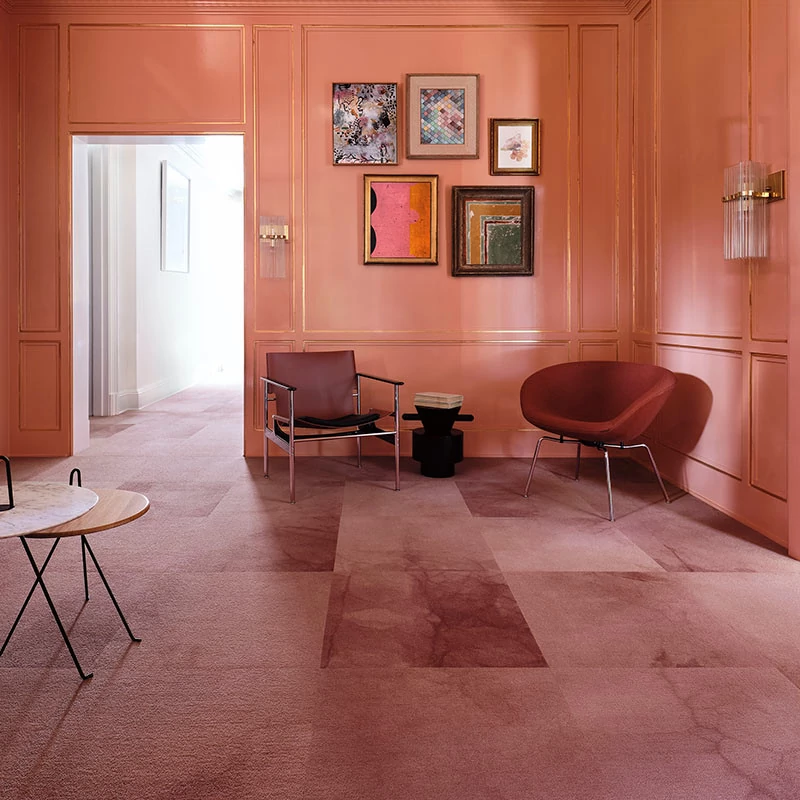 Experimenting with color is what the Dye Lab carpet tile collection is all about. For years, Dye Lab has brought a lush intimacy into the spaces we work, rest, and converge. Now, we're expanding its reach with exciting new colors.
Don't worry—we're keeping many of the beloved colors from the original Dye Lab collection. We're just updating the color palette with a few new intensely saturated hues in softer washes and expanding the range of neutrals for more versatility.
Drawing inspiration from natural dye sources, the new palette takes you on a colorful journey in thirteen new shades. In classic Dye Lab fashion, each color in the collection has many variations and ranges from light to medium to dark, from subtle to rich and back again. Every tile is unique in its shade and marbling, so every installation is a true work of art.
This collection update isn't just about color. We challenged the process in which we created each carpet tile in order to achieve these spontaneous results. This innovative approach mimics ancient wash and dye techniques of folding and bundling fabric. The finished product yields an unprecedented depth to the color with random nuances that progress from light to deeply saturated.
"To create the visual for Dye Lab, we confronted our process and challenged manufacturing to forget everything they thought they knew about how to piece-dyed product was made," says Ashley Olson, Design Manager, Workplace Studio. "We altered the status quo and created a product that is truly unique.
Click here to learn more about the collection.