Shaw Contract Introduces Gradation
Shaw Contract, a design leader in commercial flooring solutions and surfaces, is excited to introduce Gradation, a carpet tile collection that explores a new spectrum of color – a realm that merges the digital environment we live in and the physical interior spaces we inhabit. With Gradation, multiple hues combine to create distinctive and unique results. Color has a profound, subliminal effect on how we process and interact with the world, others and ourselves – this concept is at the core of Gradation.
In an image-saturated world, it is often color that halts our swiping and makes us truly take notice. More than ever, designers are intrigued by color and the impact that it can have in the built environment – but beyond the commonly used flat shades, gradients are increasingly in demand to create stimulating, inspiring "new colors." Gradation answers this need - memorable, creative gradients of color invite designers to play and blend the physical and digital worlds in this new, fresh flooring format. As the emotional, as well as the commercial, impact of color is now more widely understood, color development has gained new importance.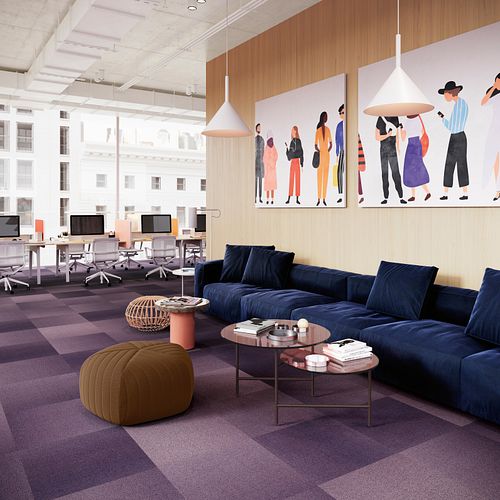 "Color is one of the most powerful tools a designer has to bring impact to the built environment," said VP of Global Design, Reesie Duncan. "Gradation explores how we use technology and color to realize digital interpretations of color scale and spectrum."
Often the most critical element of a project, color is both subjective and emotional. Drawn to the study of color as an emotional state, the Shaw Contract Design Studio studied the impact of color on the spaces we inhabit. Utilizing 72 dpi Canvas dye-injection technology, the team tested hundreds of gradients – experimenting with unique color spectrums. This advanced manufacturing technology creates incredibly detailed visuals and soft, complex gradients – previously unattainable with traditional tufting construction methods.
Through the blending of physical and digital worlds, a 24-inch x 24-inch carpet tile style developed– with unique patterns that showcase shifts in color. With Gradation, shades of a single color flow from light to dark. The palettes run the gamut of the color wheel, seamlessly blending shades to impact scale in modern spaces. The collection can be installed in a monotone, analogous or complementary color combination to create different spatial effects.
Gradation is constructed with EcoWorx® backing and Eco Solution Q® nylon and is Cradle to Cradle Certified™ Silver. Shaw Contract's reclamation program provides a responsible end of life plan for all Shaw EcoWorx® carpet tile. The collection is designed to positively impact the human experience in the built environment through its PVC-free material chemistry, biophilic design, texture and acoustical properties.
The topic of color and how color is changing is creating dialogue as we use creativity and express ourselves in new ways. The colors we choose for a space are emblematic of a mood, a culture or an intended outcome. How does this shade of gray make our patients feel when they're in a healing environment? Which shade of blue brings luxurious calm to a hospitality environment? With Gradation, designers have a tool to create environments with meaning and purpose – beyond aesthetics and functionality.