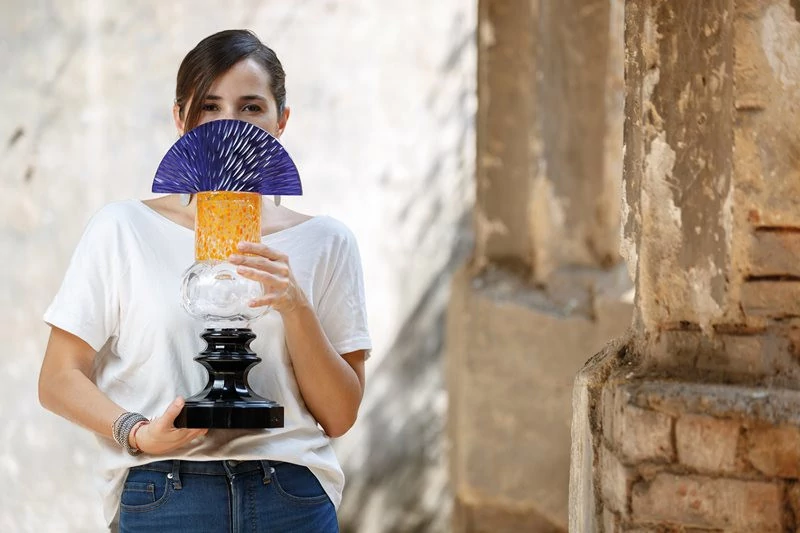 Second chances abound in the work of emerging artist Juli Bolaños-Durman. She transforms old beer bottles and other discarded glass into playful sculptures that spark emotion — delight, desire and a certain tenderness.
"My work pursues the concept of preciousness by appropriating found objects," she says. "As a maker, I don't want to create things just because I can. I try to bring new life to trash that people don't think about twice."
Bolaños-Durman found her medium as a graduate student at the Edinburgh College of Art where she had access to a variety of glass-cutting machines that the school had salvaged from the defunct Edinburgh Crystal factory. These tools allowed her to create a collection of 60 sculptures, made with found and blown glass which she intricately hand cut and combined in a process of intuitive play. Inspired by her grandmother's perfume bottles, each piece in this Ode to Intuición series exudes its own quirky posture. They dance and sway with a wonky charm. "If the work invites the viewer to have a bit of wonder, have a bit of a laugh, I feel like I've done a good job," she says.
Her continuing explorations have yielded international recognition for the Costa Rican-born artist. A series of glass headdresses inspired by cross-cultural costumes — the Made-Up Museum of Artefacts — will be shown through January 2020 at the Corning Museum of Glass in their New Glass Now show. And her work was included in the first edition of the Harewood Biennial in the UK — Useful/ Beautiful: Why Craft Matters.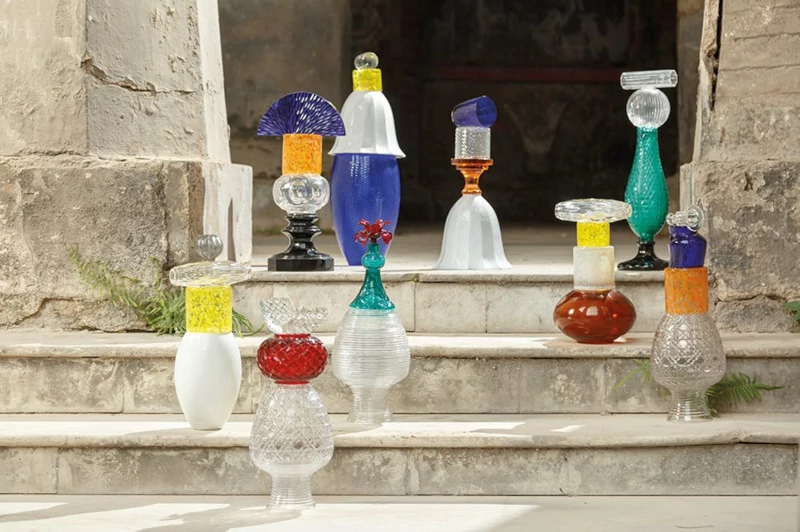 Recently, Bolaños-Durman completed a two-month residency with the Basu Foundation in Kolkata, India where she worked in collaboration with Karwaan Design Project and local artisans from the Firozabad community, which has a centuries old glass tradition. Inspired by the foundation's nineteenth-century palace and imagining its rich past life, she created Apparitions — Man Is Not the Centre, a series of sculptures made with chandelier parts in vivid hues. "There were inches of dust on top, when they started bringing out the crystal," she says. "They started with all the fancy ones, like you see in those French chandeliers. But after a few hours they brought me others that were a bit kooky, a bit off-center — and then I fell in love."
Juli Bolaños-Durman received her MFA from the Edinburgh College of Art in 2013. She won the ELLE DECORATION British Design Awards' ECO DESIGN Category in 2015 and the Inches Carr Scottish Craft Award in 2017. Her work is included in the collection of the Museum of Contemporary Design and Applied Arts (mudac) in Lausanne, Switzerland.
julibd.com @julibd_com