What does it Take to Foster a Culture of Dialogue?
Today, the design industry is complex. Key ingredients used to be attention to detail, market analysis, and strong technical knowledge. However, ethics and building consensus increasingly surface as more important design skills.
From a prototype-filled atelier in Stockholm's central north, where open critiques are turned out daily, we pinch some learnings from one of design's most progressive studios, Form Us With Love, sitting in on one of their weekly design review meetings.
It is nine in the morning and ten designers — with seven different nationalities — have gathered around a large table in St. Eriksplan. Allon Libermann, the 27-year-old Project Manager from Boston, has prepared to moderate the session. Today is Friday and the day where the designers at Form Us With Love discuss ventures projects, brands that the studio invests in — businesses they've initiated range from watches to acoustical panels. "All creative sessions are scheduled in the morning; we know that we work in the details later, but it is going to be harder in the afternoon to have an eye-opening meeting," Libermann says and smiles. To spark the dialogue, he has asked people to bring in studies for sustainable packaging materials, with a focus on recyclable paper containers and non-toxic glue.
The venture day starts with a workshop and is followed up by individual working hours, where each designer contributes work on someone else's ideas. Hye Jin Ahn, a designer from South Korea, has developed a concept for the package to fold before and after being used. She explains the mechanics and the others feed off her idea — quickly, the table is filled with paper and cardboard. Around twenty fast prototypes are accumulated during the session. While a few team members will be appointed to take that number down to three, the entire group will return to choose one strong concept next week.
John Löfgren, Creative Director at Form Us With Love is pleased with the goings of the morning session. "This is a typical, 'empty your pockets for ideas' session, where we talk about all the options possible and then we funnel them down," he says. The atmosphere is energetic and people are keen to show what they have in store. It is impressive to see the energy sustained. "Our culture comes down to two things, firstly we don't believe in the lonely genius, instead, one plus one is three. Secondly, it is important that all projects are democratic, we always see the benefit of bringing more people into the conversation."
The 'open studio workshop' lasts for three hours, and although it seems long, the dialogue is surprisingly smooth. "A first session tends to take longer, but we apply tools to evaluate every prototype and quickly move forward. We always test the ideas against parameters of, for instance, construction, scale, services, sustainability, craft and culture." Löfgren continues: "Sometimes we have to be honest and rearrange a task, perhaps do it in a smaller group, or simply revert back to research, it happens now and then, but we always have methods to accelerate."
The morning sun is leaving the table bathing in light and the performance before us makes the air in the room appear sharper, more focused, like watching a set of actors being brightly lit on a stage. The participants are concentrated and relaxed at the same time, anticipating every move. "Of course good ideas can come in the middle of the night, but we definitely have a method of pushing concepts along in a controlled manner. Take the intersection between culture and industry as an equalizer exercise, for instance. Firstly we talk about rational aspects, such as what kind of machines we are using, and then we rapidly switch to discuss the impact on daily life. Alternating between industrial and cultural perspectives makes the conversation concrete and less subjective," Löfgren remarks.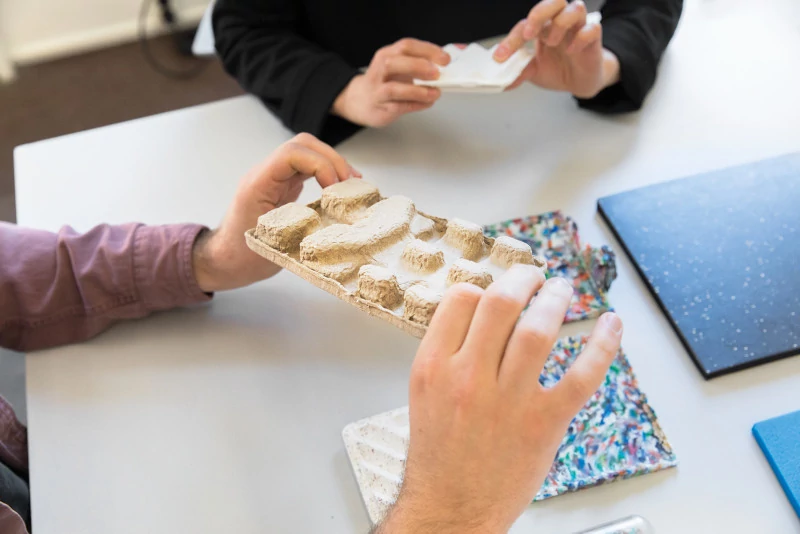 The design dialogue feels interestingly physical throughout, where sketches, prototypes and models serve as first-hand communication, as opposed to verbal ideas. You may begin to wonder: Is formulating your thoughts verbally the only skill to harvest when cultivating a dialogue?
"You do not have to be verbally talented, but you have to be into sharing things, whether it is folding a paper or building a structure of some sort — group mentality is a core characteristic of everyone that is here," Libermann explains.
Every June, the studio recruits new collaborative-minded designers through a two-day Trainee Workshop, with arranged accommodation in Stockholm. Young promising designers travel in from all over the world to participate. "We look for trainees that are curious, have the confidence to fail and most importantly respect each other. During a classic round table, it is everyone's responsibility to find a creative balance," says Löfgren.
One key venture project that informs the studio's design process is a forum called Prototypa — Swedish for prototyping. These workshops, exhibits and presentations bring the studio's habitual process to the wider design community on an extended scale. (More or less, the weekly meeting taken to the nth degree.) Over several years, design chiefs, makers, architects and manufacturers have shared their knowledge on how to best ideate together, opening up the quest for dialogue. "Through a forum like Prototypa, we stay open and invite people in the industry to share. The dialogue is dear to us, and listening to other people's experience is key to moving the design industry forward," Löfgren concludes.
Form Us With Love has collaborated with a range of international companies to create innovative products, including a click-lock assembly chair in wood polypropylene for IKEA and Inside Shapes, a new carpet system for Shaw Contract that gives designers a dynamic toolkit for creating individualized combinations of color and pattern. Other notable ventures include BAUX Acoustic Pulp — the first 100% bio-based acoustical panel.
formuswithlove.se
@formuswithlove