Shaw Contract Introduces Versatile Kinship-Inspired Collection for Commercial Environments
Shaw Contract, a design leader in commercial flooring solutions and surfaces, is pleased to introduce Community, a collection designed to work together in harmony. Each of its four core products complements the others, giving designers unlimited options to meet the demands of the new commercial environments.
Spaces of today/tomorrow no longer serve a single purpose. They are a reflection of the people who occupy them and the activities that take place within them. As the needs of communities change, both locally and globally, communal spaces are becoming more fluid and flexible, more layered and diverse. Community embraces these shifts – it's a multi-platform collection with a versatile suite of solutions to bring context and intention to each area within a space.
Community is a collective of four complementary products designed to layer and integrate with one another, lending themselves to a variety of flooring solutions. The ensemble brings together elevated 18" x 36" plush carpet tile, 9" x 36" dense loop carpet tile, tip shear and cut-loop construction broadloom and rug styles and COREtec® in wood and abstract visuals. The collection's rich diversity and strong visual impact come from the surprising interplay of organic lines and shapes, their imperfections coming together and drawing apart in seemingly random ways. Bold pops of colour interspersed throughout the strong graphics create a tactile and visual dialogue that intrigues and welcomes.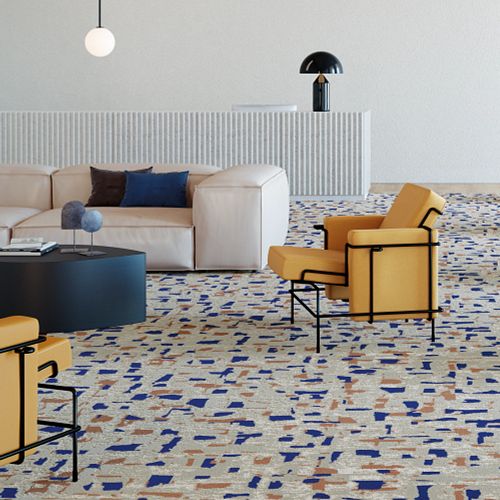 "Community speaks to the challenge designers face to create spaces that offer choice and flexibility, one where everyone feels free to exchange ideas, create a shared culture and connect people," said Reesie Duncan, VP of Global Design. "The result is a community of products that are as unique and diverse as those inhabiting them."
To gain a deeper understanding of the thread of community from modern iterations back to its purest inceptions, the Shaw Contract design team travelled to the heart of the Atlas Mountains in Morocco, where artisan communities have practiced their crafts for millennia. Working side by side with women in the local cooperatives, the team explored the strength of tradition and the trust of process. The spirit of community was in full effect
Coming away from the immersion, the design team found beauty in spontaneous design and experimented with new ways to contrast pattern and texture. Trusting the process, they strayed freely from original concepts, and brought together advanced techniques with back-to-basics freehand drawing. The result is Community: a collective of products with colours and patterns that honour the heritage of community, and awaken our sense of kinship.
Constructed with EcoWorx® backing and Eco Solution Q® nylon, Community carpet tiles have superior durability, style and recyclability. The Shaw Contract lifetime commercial limited warranty covers abrasive wear, tuft-bind, edge ravel and delamination.
For the hard surface portion of the Community collection, Shaw Contract looked to a patented technology that offers acoustic and moisture solutions. Community hard surface scores high IIC (Impact Insulation Class) ratings, making it an ideal choice for a hard surface product suited for a variety of applications.
The collection is made to perform with a scratch-resistant top coat. Interlocking construction allows for ease and speed of installation with no downtime required for adhesives and minimum floor preparation required before installation.